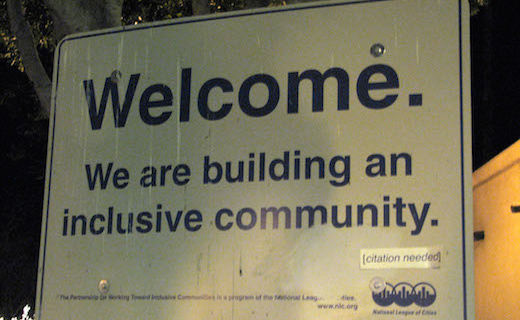 "A year from now we'll all be gone
All our friends will move away
And they're goin' to better places
But our friends will be gone away"
His name was Joe. I called him Good Joe. He was my next-door neighbor. He lived on the west side of my house and my other next-door neighbor, on the east side, is named Joe as well. Bad Joe. Long story about how the two Joes got their names, but needless to say I liked the one Joe better than the other Joe. I didn't just like Good Joe. I loved Good Joe and his whole family. Still do to this day. From the first day I met him and his lovely wife Judy, just moments after signing the mortgage papers to our new house in Royal Oak, Mich., they made me feel like a part of their community.
Where does that word "community" come from? As a wordsmith, I did a little investigation. The Latin word for one is "unum." Latin for with is "cum." So one with, or with one is "cumunum." The Latin word for common is "communi." And so derives the word community, as well as communicate. And that is what good neighbors do. Good Joe was the quintessential good neighbor. Need to borrow a power tool. Just ask Good Joe. Need to ask some tips on growing tomatoes. Just ask Good Joe. Want to jump in the swimming pool on a hot summer day. Don't even ask. Just jump in. Joe and his wife Judy always had a key to our house in case of emergency. Just what community should be; one with and with one.
Judy met Good Joe when she was just 13 years old. Judy told me her mother noticed him first. "Look at this gorgeous boy," her mother would exclaim as Joe walked down the sidewalk. Judy and Joe became pals at first; he was a couple of years her senior. When they first met Joe had a girlfriend his own age, but he and Judy became best friends. Judy says her mother never let her forget how special Joe was. Joe joined the Navy at 18, and the day before he was leaving for boot camp he asked Judy for a kiss goodbye. She replied, "I'm not giving you a kiss goodbye. You've never given me a kiss hello!' Joe replied, "If I thought I had a chance, I wouldn't have wasted all this time." Joe got his kiss and shipped off into the Navy for three years. The young Judy, who had never had a boyfriend until this time, waited for his return.
Joe returned from his service to our country in September of 1962. Joe asked for Judy's hand in marriage in December and they wed in June of 1963. They moved into the house next to where I live now in 1972. Joe joined our town's police force in 1966 and retired in 1992. He was the epitome of those Latin words, "cumunum." One with the community. As a letter carrier, I aspire to be that same part of the community as Joe was as a police officer. Coincidentally, and ironically, Joe had a connection to the same post office where I now work. He became the media liaison for the Royal Oak Police Department just before the tragic events of November 14, 1991, when five people died. Joe handled the media deluge. He was not just a part of the community; he was the communicator.
Joe and Judy raised two sons. From that came grandchildren. The in-ground pool in the backyard was the gathering place for the whole family. As a neighbor, there was nothing that screamed "summer" more than hearing the sounds of that family splashing in the water, smelling the grilled foods, and hearing the heartfelt laughter of three generations. I felt blessed to be a part of it. They made me feel like I was a part of their family. One with; "cumunum."
All good things, all great things, sadly do not last forever. Good Joe passed on this year. He succumbed to the ravages of ill health just weeks ago, and our community is still working on how to go on without him. When I say "our community" I am talking about the family, the neighbors, the children, the grandchildren, and the friends. On the night Good Joe crossed the river to the other side, his family was with him. He was at home, and they surrounded his bed. His grandson Ben picked up a guitar and granddaughter Katie joined him in song. Just high school aged, they courageously led their family in this solemn chorus:
"Rivers and Roads
Rivers and Roads
Rivers 'til I reach you"
Just moments after the last refrain of the chorus was uttered by his grandchildren, Good Joe took his last breath. After years of suffering, that song punched his ticket to freedom.
Ben and Katie sang that song at their grandfather's funeral just a few days later. Their younger brother Adam did a reading as well. I sat in the audience amazed and astounded. And weeping. Not just by the fortitude and resilience of this family; but also by my sense of being connected. I was one with them: COMMUNITY. Neighbors, but more than that. That's the lesson Good Joe taught me. R.I.P., Good Joe. You are gone but not forgotten.
Lyrics belong to "Rivers and Roads" by The Head and The Heart
Photo: Matt Mechtley/CC/Flickr