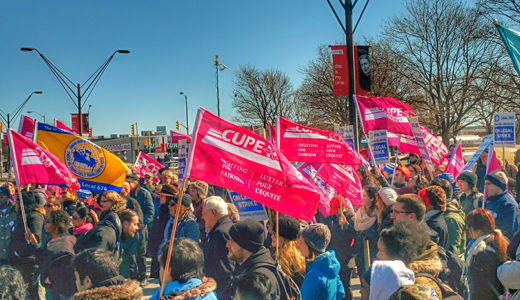 What does it mean to be a student of higher education? For many it means studying at a valued institution in the pursuit of knowledge, but increasingly with the rise of neoliberal universities, it also means working part time to afford such a privilege.
It didn't use to be this way. Studying used to be seen as full time occupation, a laborious project that deepens the mind and expands the heart. But as tuition rates spike, and students scramble for part (or full) time jobs to cover the costs, such studious labor tends to be ignored. But as Professor Adam Kotsko reminds us,
"School work is work. It's a full-time job. One of the biggest flaws in our current higher education system is that it forces students to take on a second (or third!) job that distracts them from their school work and keeps them from getting the maximum benefit from their one chance to go to college."
While attending higher education with your time completely focused on your studies is the goal (with the ultimate goal being free tuition so anyone, anywhere can attend), the reality of these dual types of labor – studying and working – exists for many students. In this time of neoliberalization, the latter type of labor can be used as a weapon to fight against the creep of precarious work and academic exploitation. As a graduate student at York University in Toronto, Canada, my participation in my local union, Canadian Union of Public Employees (CUPE) Local 3903, has taught me a few things about how students can unite for a better working and, by extension, learning environment.
Unions stand united against precarity
Being a student is a unique category. It's a transitive phase in one's life, full of movement and promise, but this can also translate to vulnerability and exploitation. Upon joining the union, I learned of the egregious exploitation and precarity students experience on a daily basis – from one department benefiting from ridiculous amounts of unpaid overtime from one student worker to another student unable to afford a bed to sleep on. This kind of precarity is something the union fights against on a daily basis.
The latest tactic of precarity from our employer, York University, is forcing a new funding model onto students, eliminating at least 670 student jobs in the process. Incoming master's students who would have normally worked for their department no longer have those valuable job opportunities, and are therefore prevented from receiving the various union benefits, funds, and protections.
Academic labor unions can protect students from such sneaky exploitation, and our employer knows it. Through a union-busting funding model, York hopes that incoming students won't realize what they've lost. The union, however, acts as a rooted vessel of institutional knowledge, and is able to educate new students not only in their rights and benefits as workers, but also the history of the institution and the union itself. As labor acts a tether, a connection to the place of work, unions protect those connections and foster bonds between members as well for a better working and learning environment.
Unions become a family, and a home
When I was considering York for graduate studies and first had a phone conversation with a professor in my potential department, she had mentioned a successful previous strike by Local 3903 that guaranteed tuition indexation for international students. I had known about the strike, following along online, and was relieved to hear this. With this information, I happily moved to Toronto to pursue my master's degree. It wasn't until I arrived at my new home that I heard the news: the university decided to interpret the language differently, meaning my $10,000 scholarship was quickly eaten up by unexpectedly higher tuition rates.
As an international student paying an obscene amount compared to domestic students, I attended any union meeting or event I could to fight against this. I soon found myself among friends and colleagues who cared about my education and my situation. The union office, with its coffee machine and kitchen, became a second home for me as I became more ingrained in the union. When the university finally settled and agreed to pay what had initially been won in the strike, I was overjoyed, and celebrated among colleagues that were as happy as I was. We fought collectively, and grew together as a result. In fighting precarity, union friends become your closest friends, united not just by a workplace, but by a passion for justice as well.
Union solidarity extends beyond your own local
As a strong local, we also support other unions in their fights for equitable work and better benefits. One such struggle included cafeteria workers at University of Toronto. As their work was shifting from an outside contractor to in-house, the U of T took the opportunity to strip the workers of their long-earned union benefits, such as seniority, placing them on probation and shifting them into a different union all together, while also hiring only 85 percent of the original staff.
Fellow union members walked the picket lines with the cafeteria staff, supporting them even amidst a controversy, as the other union raiding the cafeteria workers was a fellow CUPE local. But access to fair jobs is an issue we fight for together, not just on the campus, but across the city of Toronto and beyond. A good local is not merely insular, but branches out in solidarity with others for a better working world.
A place of power, a place of hope
Academic unions have the power to shape our place of learning for the better. Members separated into departments, programs, and campuses, can come together united under a common goal: solidarity for jobs and justice. The union is a place of rest and nourishment, but also of activism and change. Working with the union has been some of the most challenging, yet rewarding work I've done in my life, and I look forward to what we can collectively build for the future.
Jacqueline Ristola is a master's student in Cinema and Media Studies at York University in Toronto. She is Chief Steward for Unit 3 of her local, CUPE 3903, and an organizer with the 15 Years of Imperialist War in Afghanistan campaign.
An earlier version of this article appeared in Topology magazine.
Photo: Members of CUPE Local 3903 picket at the gates of York University in Toronto during a strike in March 2015. | CUPE Local 3903