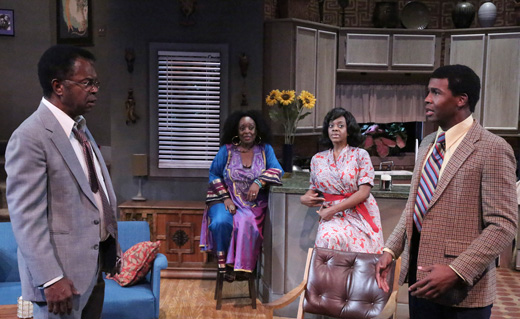 Only five years after Atlanta son Martin Luther King, Jr., was assassinated, Vice Mayor Maynard Jackson audaciously challenged the incumbent Mayor Sam Massell, and won with almost 60 percent of the vote. In 1973, at the age of 35 he became, in his own words, "the youngest, the fattest, and the blackest mayor of Atlanta." From that moment on, as the characters in Pearl Cleage's new play What I Learned in Paris keep saying, "Nothing's going to be the same." The work is enjoying a truly elegant West Coast premiere at the Colony Theatre in Downtown Burbank, adjacent to Los Angeles.
Maynard Jackson's mayoralty served as a giant stride forward for Black America-jobs, empowerment, political office. His major accomplishment was the construction of the new Hartsfield Atlanta International Airport terminal "ahead of schedule and under budget." When he died in 2003 at the age of 65, he was mourned at an Atlanta Civic Center memorial that drew a crowd of more than 5,000.
The play features a five-person all African American cast. J. P. Madison (William C. Mitchell) is a prominent lawyer being eyed for a high position in Maynard Jackson's administration, and much given to portentous, self-important statements like "Now we have to rise to meet the demands of history." He is divorced and (supposedly) remarried, to Ann Madison (Joy Brunson), press coordinator for the campaign, less than half his age, who has a great deal of self-discovery yet to do.
The young and handsome John Nelson (Shon Fuller) also worked on the campaign, under J. P., and has his own political and career ambitions. He and Ann are sweet on each other, but of course J. P. stands in the way. Hired political consultant Lena Jefferson (Karan Kendrick) from California plays an enabling role, to know what the campaign activists have to do and to get them where they need to be to do it. Similarly, in the play, she is the go-between who sees all and greases the wheels of dramatic action.
As the undisputed star of the play, and the "I" of the title, there's Eve Madison (Tony winner L. Scott Caldwell), J. P.'s first wife, brassy, bejeweled and bigger than life, who in response to the Jackson election, breezes unannounced back into town after her post-divorce decampment to San Francisco, sensing that a grande dame of her culture and sophistication may be just what Atlantans of all races need right now to start learning how to get along and share living space and political power.
What the program notes do not say, but which is on display in an accompanying photo exhibition at the theater about the first years of the Jackson mayoralty, is that the playwright was herself Jackson's press secretary. As prolific an author as Pearl Cleage has become (her first novel, What Looks Like Crazy on an Ordinary Day, was an Oprah Book Club pick), it is clear that this play comes directly out of the experience she had in her 20s in that game-changing movement forty years ago. She dedicates her crisply written play "to the people who lived it and to the ones who stayed around to tell the tale."
In all truth, What I Learned in Paris is mostly a clever, fast-paced romantic situation comedy (much opening and closing of doors with the comings and goings of these five players), whose director, Saundra McClain, keeps her audience joyously smiling at all the delicious hi-jinks on stage. But the very explicit historical backdrop becomes the metaphor for the characters' coming of age, or better, coming into the wisdom that is age-appropriate for the period and for the personae.
Or might it be just as much-or dialectically, as we like to say-the other way around? Maybe the personal stories, however comedically told, are themselves the metaphor for a political coming of age. From now on, every Black person in Atlanta in some way represents Maynard Jackson. The premier city of the New South has become "the new Black capital of America," presaging other big mayoral and even higher victories for Black political candidates.
What Eve learned in Paris was to appreciate, really for the first time in her life, her own power as a woman who could hold her head high, or "how to enjoy eating in a fancy restaurant by myself," as she puts it. She also grew to love the flow of good champagne. Then too, she is an emissary from the liberation movements of California, with her truth sessions, her relish for Alice B. Toklas brownies, and her new-found embrace of free love and meditation. Her ear has become attuned to the domineering way men deliver their pronouncements. Feminism has raised the bar for America, now too in Atlanta. There are many ways to unpack the idea of freedom.
The eye-popping detail in Charles Erven's stage set shows the comfortable interior of an Establishment Black doyenne's Atlanta home in the early 1970s, decorated discerningly with sculpture and artwork expressing pride in her African roots. The space had been used as Jackson campaign headquarters, so has a somewhat lived-in look, with placards and rally signs lying about. The sound design by Dave Mickey features a number of period songs audiences will remember with fondness. Dianne K. Graebner's costume design is spot-on with authenticity.
The Colony Theatre is now in its 40th anniversary season, occupying a modern, 270-seat facility with a year-round season of plays, musicals, and film showings. All of its actors appear under union contract. In the current play, the tight ensemble work makes their work highly indivisible, but standouts are certainly L. Scott Caldwell as Eve, William C. Mitchell as J. P., and Shon Fuller as John Nelson. It's a fine romp with some well considered messaging about managing our political and personal lives.
What I Learned in Paris plays through October 5, Thursdays and Fridays at 8 p.m., Saturdays at 3 and 8 pm, and Sundays at 2 p.m. The Colony Theatre is located at 555 N. Third St., Burbank. For further information, call (818) 558-7000 or email boxoffice@colonytheatre.org. The company website is www.colonytheatre.org. Q&A talkbacks after the performance will take place on September 24.
Photo: William C. Mitchell, L. Scott Caldwell, Karan Kendrick and Shon Fuller star in the Colony Theatre production of the West Coast premiere of 'WHAT I LEARNED IN PARIS," written by Pearl Cleage and directed by Saundra McClain and now playing at the Colony Theatre in Burbank. PHOTO CREDIT: Michael Lamont.