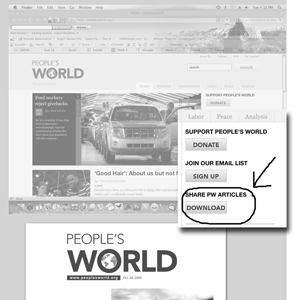 CHICAGO – As the People's World pushes forward as a daily online website, people have asked, "What about print?"
Anyone who can get online can go to our website and print out any story, make copies and distribute it to friends and coalition partners. They are a good size to hang on bulletin boards or tape on the wall of your union hall.
But print doesn't stop there. The People's World has a weekly downloadable edition, in color, with four stories in English and one in Spanish. The four-page edition is available on the website, now! So if you want to print a copy go to peoplesworld.org, and click on the button on the right hand side that says "Download." It will take you to a page that says Download Print Edition and has a list starting with October 1, 2009. Click on any date and the four-page edition will open. If you have a printer, click on the print icon and you will have it for on the go.
The new print edition can be copied and distributed locally, just like some of you distribute the newsprint version now.
Current subscribers who have no access to the Internet called and put themselves on the list to receive this downloadable print edition through the mail. The deadline for this list is now past. We are looking into printers, mailing and crunching numbers to get the lowest price possible for this service. A notice will be sent out in the next month, confirming the request and informing you of the cost.
The weekly downloadable version is part of the new and improved People's World.