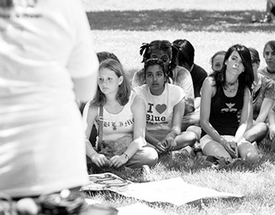 Teens march for peace
A group of approximately 50 teenagers demonstrated against the war in Iraq last June in Columbia, Mo. Marching downtown with signs that read "Support our troops — Bring them home," and "Kisses not war," the youth chanted slogans criticizing the policies of the Bush administration.
Rally coordinator Saxon Brown told one reporter that she hopes this event will become an ongoing outlet for young people to actively demonstrate and participate in the political debate. The group, "Youth March for Peace," is mainly for people 25-and-under, Brown said, but the average age is 17.
The demonstrators marched downtown and met at a park where they rallied. Stacy Hafley, president of the Missouri chapter of Military Families Speak Out, told the crowd, "Soldiers don't choose where we go to war. Those who vote — elected officials — do." She added, "As you approach voting age, these are things you have to think about. Voting can kill a person."
Mayor appoints youth to new advisory council
Sixteen teenagers were recently appointed to a new Youth Advisory Council in Rockford, Ill., by Mayor Larry Morrissey. The youth and students were selected through nominations and from attendance at the mayor's Youth Summit last May. The youth council was formed to bring a voice to young people in the Rockford community. Council members will focus on youth and student issues related to city planning, initiatives and special events. The group represents eight area high schools and has already started to meet. It will continue to hold meetings twice a week until school begins.
Student protest turns violent in El Salvador
What began as a peaceful student protest on the morning of July 5, in San Salvador, turned violent when riot police responded with extreme repression. Police tried to block a march of high school students near the National University who were protesting a dramatic increase in bus fare.
Police then tried to detain protesters and fighting broke out. Police shot rubber bullets and tear gas at the students, and shots were fired in response. Police then fired on the crowds from the ground and from above in helicopters. Numerous deaths and injuries have been reported. This violence comes three days after the torture and murder of the parents of a longtime progressive political activist and community organizer. For more information, visit www.cispes.org.
— Pepe Lozano (plozano@pww.org)