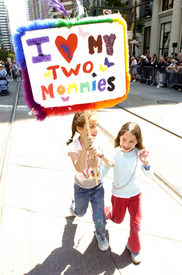 Youth rally against big tobacco
On June 21, in Sacramento, Calif., kids came from all over the northern part of the state to rally outside the downtown offices of Altria, the parent company of cigarette giant Philip Morris. The protest called attention to "big tobacco" that continues to market to kids. So they are fighting back by supporting a coalition of health care groups who are sponsoring the Tobacco Tax Initiative of 2006 and exposing big tobacco's predatory marketing tactics.
"We are tomorrow's voters, not tomorrow's smokers," said Janet Del Real of Modesto at the rally. Altria is the leading opposition to the tobacco tax initiative, which qualified for the November ballot, that seeks to reduce youth smoking in California by increasing the tax on smokes by $2.60. A report released by the California Department of Health services says the initiative would prompt 120,000 high school, and 30,000 middle school students to quit or not start because of the price increase.
CFM40 meets to fulfill the dream
Forty years after Martin Luther King Jr. and others pioneered one of the nation's first large-scale movements to end racial segregation in the North, veterans of the Chicago Freedom Movement, current civil rights activists, youth and students, educators, clergy, community members and historians are planning a "Fulfilling the Dream 40th Commemoration Conference," to be held July 23-25, in Chicago, at the Harold Washington Cultural Center. The conference will discuss challenges to the continued discrimination in housing, education, and jobs. A "Night of Arts and Social Change" is also scheduled with performances by socially conscious musicians, vocalists and poets. The conference will share experiences of the CFM, strengthen a new generation of activists, and develop a revitalized economic and social justice agenda for greater Chicago. Go to www.cfm40.org or call (312) 915-8602 for more info.
'2 moms. 2 dads. Too cool'
Hundreds of thousands nationwide took to the streets on June 25, for the annual gay pride celebrations. The theme of NYC's Lesbian, Gay, Bisexual and Transgender Pride March was "The Fight for Love and Life." The NYC parade marked the triumphant return of singer Kevin Aviance, who was beaten by four young men as they shouted anti-gay slurs at him. "A few hateful homophobes will not set us back," said City Council Speaker Christine Quinn, who is openly gay and marched in the parade.
Roberto Hermosilla of Miami, at his ninth parade said, "Everyone else has a chance to express their affection freely, and for one day in New York, you can be free and not feel ashamed or embarrassed."
Thousands lined Market Street in San Francisco's 36th annual event and thousands gathered for the 25th Stonewall Columbus parade in Ohio. One boy carried a sign that read: "2 Moms. 2 Dads. Too Cool." Many parades commemorated the Stonewall uprising of 1969, where gay patrons resisted a police raid.
— Pepe Lozano (plozano@pww.org)