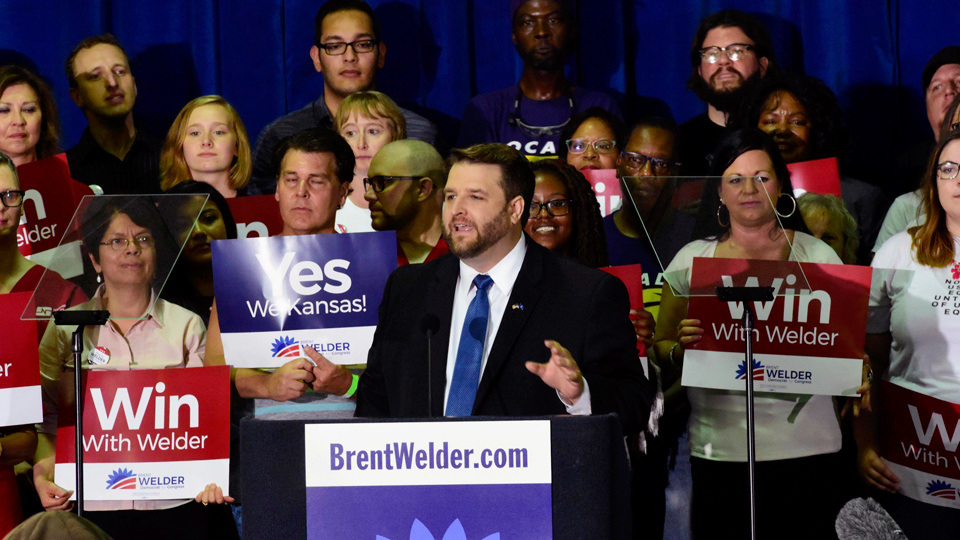 KANSAS CITY, Kansas—What's the matter with Kansas?
That was the title of a book by Thomas Frank published several years ago analyzing why people, particularly in farm belt states like Kansas, vote against their economic interests and for political candidates, almost all of them Republicans, who hurt them.
Now, recent Teamsters lawyer Brent Welder wants to find out—and to change voters' minds this fall. That's why he's running for Congress in what is the state's "swing" 3rd Congressional District, including Kansas City, Kansas, and its suburbs.
And he's got labor and the progressive wings of the Democratic Party behind him in the battle.
Welder is one of six hopefuls vying in the August 7 Democratic primary for the chance to take on vulnerable GOP incumbent Kevin Yoder. Yoder won by only 1.1 percentage points in 2016 in a district Democratic presidential nominee Hillary Clinton carried by four percentage points against GOP nominee Donald Trump that year. Overall, Trump won Kansas by 20.
As a result, though Yoder has $1.985 million in the bank, the GOP is scared enough that it sent in Vice President Mike Pence to do a $4,500-per-picture-with-a-donor fundraiser for him in mid-July.
There's a reason Welder has unions in his corner: He's a committed union man.
His union backers include not just his own unions, the Teamsters and the Brotherhood of Maintenance of Way Employees/Teamsters. Also in his corner: The Bricklayers, the Boilermakers—headquartered in Kansas City—Ironworkers Local 10, the Painters, the Laborers, National Nurses United, the Service Employees, and SMART Transportation Division (the old United Transportation Union).
After graduating law school, Welder's career, until 2016, was in the labor movement: He was a lawyer and National Field Director for the Teamsters after graduating law school, using that job, he says, to organize more than a million workers for electoral campaigns. Before that, he worked as a congressional aide and in the 2008 Obama campaign while in college and law school.
In 2010, Welder became national legal counsel BMWE through 2015, when he joined the presidential campaign of Sen. Bernie Sanders, Ind-Vt.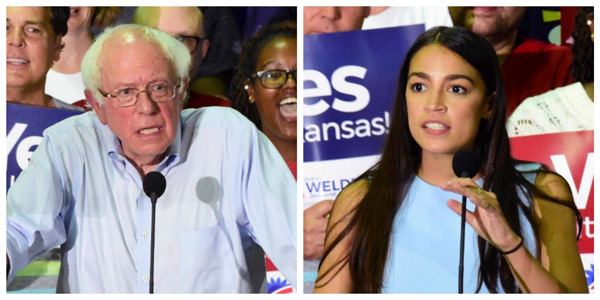 And that's one reason the Progressive Change Campaign Committee (PCCC), the Congressional Progressive Caucus and Our Revolution—along with Sanders and New York congressional candidate Antonia Ocasio-Cortez, the latest socialist/social democratic luminary—have swung behind him.
The senator and Ocasio-Cortez drew a capacity crowd for a Welder rally in Kansas City on July 20. Indeed, it was so oversubscribed they had to move from a 1,400-seat hall to a 5,000-seat arena.
"What we fight for is not just popular in Vermont, Queens, and the Bronx, it's popular everywhere," Sanders tweeted before that event.
There are other reasons: Welder's campaign positions.
Welder's platform includes a $15 minimum wage, debt-free public college tuition, and Medicare For All. He also strongly opposes so-called "right to work" laws, which unions and workers term "right to work for less" laws. RTW is legal in Kansas and on the August 7 ballot in neighboring Missouri.
"Raising the minimum wage to $15 per hour will pump billions of dollars into local communities, and ease underpaid workers off government assistance. In order to do this, we need real, actual change in Washington," he says.
"Brent is sick and tired of big corporations calling the shots," his campaign platform adds. "He is committed to fighting for hard working Kansas families, not Wall Street CEOs. That's why he won't accept corporate PAC money." That's also why he's against right to work.
To prove it, Welder's platform says he used a Democratic National Platform Committee spot in 2016 to insert a ban on corporate money from elections into the party platform. "He will fight to end Donald Trump's corporate welfare. Brent wants to wipe out corrupt tax loopholes for giant corporations and billionaires, so we can invest in our local communities and small businesses," his platform adds.
Racial justice, women's pay equality, "fair and comprehensive immigration reform that doesn't break up families and provides a pathway to citizenship," LGBTQ equality, increased veterans benefits and services, rejoining the Paris climate accord, and championing renewable energy are also parts of his platform. So is gun control.
"Gun violence is a serious threat that cannot be ignored any longer by Congress," his platform says. "Brent will stand up to the corporate gun lobby and demand that we pass strong, sensible restrictions on firearms. This should start with immediately reinstating the assault weapons ban, outlawing bump stocks, increasing background checks, stopping suspected terrorists, stalkers, and domestic abusers from buying guns, and enacting federal legislation putting in place Extreme Risk Protection Orders."
All this has led one of his primary opponents to scream that Welder is a "Bernie Sanders extremist."
And Welder, like the other Dems, would be left with a small war chest if he wins the primary. Though he had $362,000 in the bank as of June 30, that was before the campaign's homestretch. That doesn't stop Welder, or his supporters.
"Americans support Medicare for All, expanding Social Security benefits, gun reform, debt-free college, and a $15 minimum wage," Ocasio-Cortez wrote before the pro-Welder rally.
Like free stuff? So do we. Here at People's World, we believe strongly in the mission of keeping the labor and democratic movements informed so they are prepared for the struggle. But we need your help. While our content is free for readers (something we are proud of) it takes money — a lot of it — to produce and cover the stories you see in our pages. Only you, our readers and supporters, can keep us going. Only you can make sure we keep the news that matters free of paywalls and advertisements. If you enjoy reading People's World and the stories we bring you, support our work by becoming a $5 monthly sustainer today.