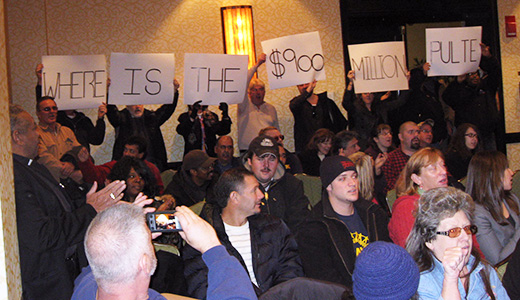 TROY, Mich. – PulteGroup CEO Richard Dugas ran for cover.
Who can blame him when 300 trade unionists, including laborers, sheet metal workers, painters, autoworkers, steelworkers and teachers, the faith-based community and more were shouting, "We are union," and demanding to know, "Where is our 900 million?"
Michigan-based PulteGroup is the nation's largest homebuilder. It received $900 million last year from the Worker Home Ownership and Business Assistance Act of 2009. Pulte had lobbied for the bill's passage. The act was intended by Congress and President Obama to be a job-creation measure. One year later, workers in this high-unemployment state are still waiting for those Pulte jobs. And they are riled up about it.
Dugas was to be the keynote speaker at the Detroit Economic Club's luncheon here last week. However when word got out that labor and community folks were going to be there to greet him, he "ran" and the whole luncheon was cancelled. But the workers and their supporters showed up nonetheless.
"This is truly a victory," said rally chair Saundra Williams, president of the Metropolitan Detroit AFL-CIO. "It is obvious he did not want to answer our questions. This is wonderful and we are going to shout it from the rooftops."
Michigan Congressman John Conyers, in a statement read at the rally, said the Worker Home Ownership Act "was designed to stimulate the housing industry, help homeowners keep their homes, and to avoid increasing the ranks of the unemployed. One year later Pulte has not indicated how the company has spent such funds on creating jobs or if any jobs were ever created. It's time we hold Pulte Group, the largest residential construction company, accountable. The company needs to be investigated."
Reports of Pulte's earnings show the company spent $8 million dollars between July and September of 2010 for employee severance and related costs. People at the rally said this is an indication of job-reduction, not job-creation.
Ben Horowitz from Painters Union District Council 15, traveled here from Arizona to join the rally. Unemployment is high among his membership, he said. "Our members and their families have been hit hard."
Horowitz also noted that the construction industry is one of the most dangerous industries in our country, and the workers building those homes have no union protection. A fact-finding delegation from Interfaith Workers for Justice reported that Pulte workers labor under unsafe conditions, are not paid for overtime, work 60 to 70 hours a week to make ends meet and lack health care and other benefits.
The labor movement and its supporters are holding Pulte accountable for a long list of wrongs. The Metro Detroit AFL-CIO's Williams said Pulte must be held accountable to homeowners for construction defects, to the community for its environmental practices, and "accountable to the nation" for pushing adjustable rate mortgages that contributed to the economic and foreclosure crisis. "We are going to make them be a good corporate citizen," she said.
David Eckstein, an organizing director for the national AFL-CIO, told the rally, "Stimulus money shouldn't just be free money. There should be a plan to pay it back. GM and Chrysler are paying the money back." Pulte, he said, "should be held accountable in the same way. There is no evidence they did anything smart with this money, none. And nobody is asking why."
Angel Rangel, a construction worker from Phoenix, traveled to winter-cold Michigan to ask where the money and jobs are. He wanted to know how the public money has been spent. "The public invested in Pulte Homes," he said. "Now it is time they invested in us."
Photo: PW/John Rummel