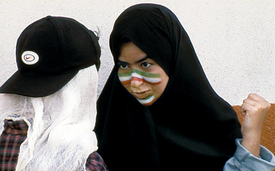 Movie Review
"Offside" is a casual, open-hearted and good natured movie that comes at a great time for Americans who are being subjected to the daily demonization of Iran by U.S. officials.
These Iranian actors — boys and girls — brandish their innocence instead of weapons, and the only fanaticism they display is for soccer.
The scene is the 2006 playoffs for the World Cup. Iran is playing against Bahrain to see who goes into the finals. Only male Iranians are permitted to watch Iranian men play, and Iranian women are allowed to watch only Iranian females play.
Iranian girl soccer nuts dress like Iranian boy soccer nuts, brightly painted faces and all, and try to sneak into the stadium for the big game. Some of them have tried it many times before, with some success, and they come up with ruses so original that only teenagers could have imagined them.
A handful of girls get caught. They, and the clueless, unarmed, soldiers who guard them as the game continues just out of sight, make up the main part of the story. Will the girls get to see the game? Will they be punished? Will Iran beat Bahrain? The teens wheedle the soldiers, as teens will do. The soldiers try to be tough, but keep reminding themselves that one of these girls could be their sister, and we in the audience keep reminding ourselves that they could be one of ours.
It's just an enjoyable, short, creative, lovely story about absolutely charming teenagers. There are no denunciations of women's oppression. There is no blood. There are no weapons of mass destruction!
flittle7 @yahoo.com
Offside
Directed by Jafar Panahi
Sony Pictures Classics, 2007
Farsi with English subtitles,
93 min., PG