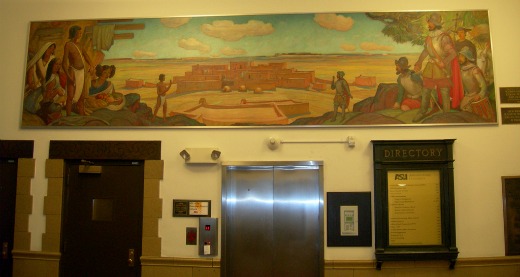 HIGHLAND PARK, Mich. – It was a hot day but the blistering temperature did not prevent the 100-plus crowd from rallying in front of the historic Ford Highland Park plant where autoworkers once built the Model T. The only reminder that manufacturing once took place here is a historic marker in front of the shuttered building.
"Retool for Peace" was the headline for last Friday's rally sponsored by Peace Action of Michigan and Southeast Michigan Jobs with Justice.
The former workplace was a fitting location to highlight the need for federal action on jobs. "We probably have 50 percent unemployment," Wayne County Commissioner Martha Scoot, formerly Highland Park mayor, told the crowd.
However the glaring need for federal investment in the economy runs smack against tea party ideology, said Rev. David Bullock of Greater St. Matthew Baptist Church. Bullock is president of the Highland Park NAACP.
Referring to last week's debt showdown in the nation's capital, Bullock likened the tea party to "kamikaze politicians" willing to blow themselves, and the nation, up. "You cannot reason with ideologues who do not care about America," he said. He called it a purposeful attempt to weaken a federal government needed for jobs like retooling factories.
Bullock recalled events of the 1960s when segregationist Alabama Governor George Wallace echoed the slaveholder secessionists of the Civil War era, putting a "state's rights" agenda ahead of the federal government.
In 2011, Bullock said, the new Confederacy is found in states like Michigan, Wisconsin and Ohio where Republican governors are "seceding" from a federal agenda of investing in jobs and infrastructure and conducting a war on the poor, seniors, children and unions.
"We need to reclaim the dream of a federal government that is stronger than the Confederacy," he said.
Helen Webber, Peace Action of Michigan co-chair, noted that the rally was taking place on the eve of the 1945 atomic bombing of Hiroshima. Since 1940 the U.S has spent at least $5.8 trillion on nuclear weapons and supporting infrastructure, she said. "What a difference even a fraction of that 5.8 trillion could make in creating jobs," she declared.
Showing those sentiments are also shared by labor, Webber read a recent national AFL-CIO Executive Council statement that said, "There is no way to fund what we must do as a nation without bringing our troops home from Iraq and Afghanistan. Militarization of our foreign policy has proven to be a costly mistake. It is time to invest at home."
Letter carrier John Dick, the labor co-chair of Jobs with Justice here, told the crowd how mail deliverers become part of the community. "You see all of the good things that go on. Also see the tragic side such as people losing their homes. It happens so often I've lost count," said Dick, who delivers mail in a suburban Detroit community.
He noted that in the 1930s the federal government, after considerable pushing from the people, enacted programs that put people to work building productive things like our national and state parks. Some of the most beautiful murals in the nation are found in post offices, painted by people from the 1930s employed by the Works Progress Administration, he commented.
"It's amazing to think in the '30's we had vision to do this and here we are in the 21st century still struggling with this" said Dick.
Photo: Post office mural. Jimmy Emerson // CC 2.0