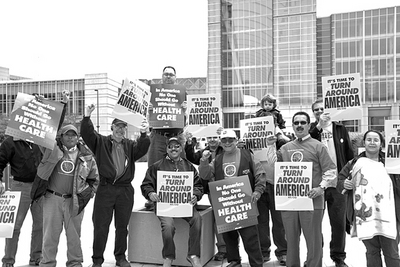 CHICAGO — Wherever John McCain goes, despite efforts to keep his schedule under wraps, labor is there letting everyone know that his election would be a third term for President Bush.
On May 19, the Republican presidential candidate slipped into Chicago where he spoke to a gathering of the National Restaurant Association. On 24 hours notice leading activists from seven different AFL-CIO and Change to Win unions showed up. They urged people coming into the event at the city's McCormick Place to ask McCain why he didn't support health care for restaurant workers and to ask him why he thought a 100 year war in Iraq was a good idea.
In St. Albans, W.Va. on May 17, also on very short notice, the West Virginia AFL-CIO organized a rally that drew 75 activists to a gun shop where McCain had stopped for a visit. Union members gathered outside the gun shop and demanded to know why he is proposing a health care plan that would create a new tax on working families and would end up with millions getting less coverage than they do now.
McCain operatives whisked him away from the site when they saw the trade unionists gathering. They took the candidate to an invitation-only meeting with local Republican leaders.
Avoiding union members on his tail is rapidly becoming an every-day task for the GOP candidate.
Only hours after he ducked the union crowd at the gun shop McCain attended the National Rifle Association convention in Louisville, Ky. He was confronted by more than 20 union volunteers who came out to tell people that McCain isn't "on target" when it comes to solutions for health care and other economic issues. The Kentucky state AFL-CIO organized that event.