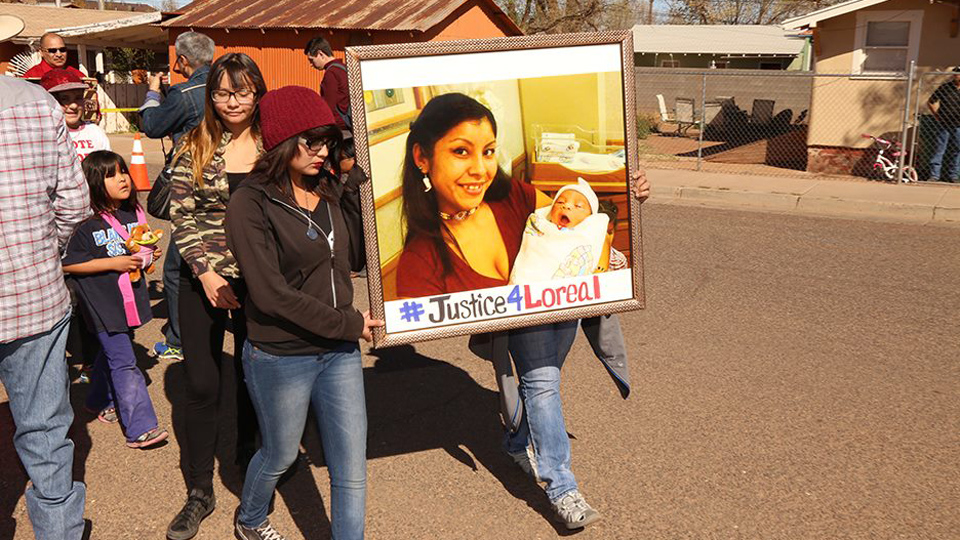 Last Easter Sunday, March 27, 2016, a young Navajo (Dine) mother, 27-year-old Loreal Tsingine, was barbarically gunned down at close range by Winslow, Arizona Police Officer Austin Shipley. The passage of a year has prompted renewed demands for justice by her relatives, her community and Indian Country nationwide.
To briefly recount the grisly details of the horrific slaying of the young Native woman, she was shot five times by Officer Shipley, who was accompanied by another policeman. These officers of the Winslow Police Department (WPD) were responding to a call from a Circle K store clerk claiming that a young Native woman had just shoplifted a case of beer. The officers accosted her walking about two blocks from the store. Shipley alleged that a struggle ensued and that Tsingine attempted to attack him with a pair of scissors. Eyewitness accounts and bystander cell phone video contradict the officer's allegations. These witnesses say they saw neither scissors nor beer at the scene.
Loreal's family found that her hands were grazed by bullets and there were bullet exit wounds in her back. This means that this terrified, helpless young mother reflexively threw her hands in a fear-stricken and vain attempt to ward off the barrage of bullets that tore through her body and ended her life. The bullet exit wounds indicate that Shipley was standing in close proximity when she was hit by bullet after bullet.
Her family and community demanded an investigation into the slaying because it was felt that the officer used excessive, unjustified, deadly force. An investigation was conducted by County Attorney Bill Montgomery of the Maricopa County Attorney's Office (in Phoenix) and in July 2016, he announced that no criminal charges were to be filed.
The Mesa Police Department (Mesa is an adjoining municipality to Phoenix) conducted an internal affairs investigation. The reports focused on alleged policy and procedure violations by Officer Shipley, and had no impact on the criminal investigation, according to the Mesa police. After the results of this investigation were sent to the WPD, Shipley resigned after being on six months paid leave. Shipley has not been prosecuted, never received any penalties or reprimands for the slaying of Tsingine. As far as the Arizona authorities are concerned this case is closed.
Demands for the prosecution of Shipley have been ongoing by Tsingine's family and members of the Winslow community, but to no avail as a year later nothing has happened. Last summer the United States Department of Justice Civil Rights Division announce that it was mounting an investigation of the case but so far there has been no word forthcoming from the Department. This was under the former administration and in many communities of color it is being bitterly noted that President Obama was virtually mute on these police killings that were occurring nationwide. Where was Obama? Where was even the pretense of caring as the innocent were being slaughtered?
The Navajo Nation and the Navajo Human Rights Commission is still waiting for a response from the Department of Justice. Last month was the anniversary of this hideous murder of the young mother and on the twenty-seventh day of each month her family gathers and holds a vigil where she was slain.
Tsingine's family is not able to hold the traditional Navajo (Dine) grieving ceremonies which are conducted following the death of a loved one. It is the custom to perform a series of grieving ceremonies as part of the traditional process, and when those ceremonies are completed the grieving may end. But in this instance the family can't hold these ceremonies because they are waiting for answers and justice for Loreal.
I first reported on this horrific tragedy a year ago, and as happens seemingly without exception, the racist police perpetrators of these hideous executions continue to have impunity from any consequences. How long are Native Americans and other people of color to be sitting ducks in a pond waiting to be the next victims of the vicious, racist, militarized police murderers?