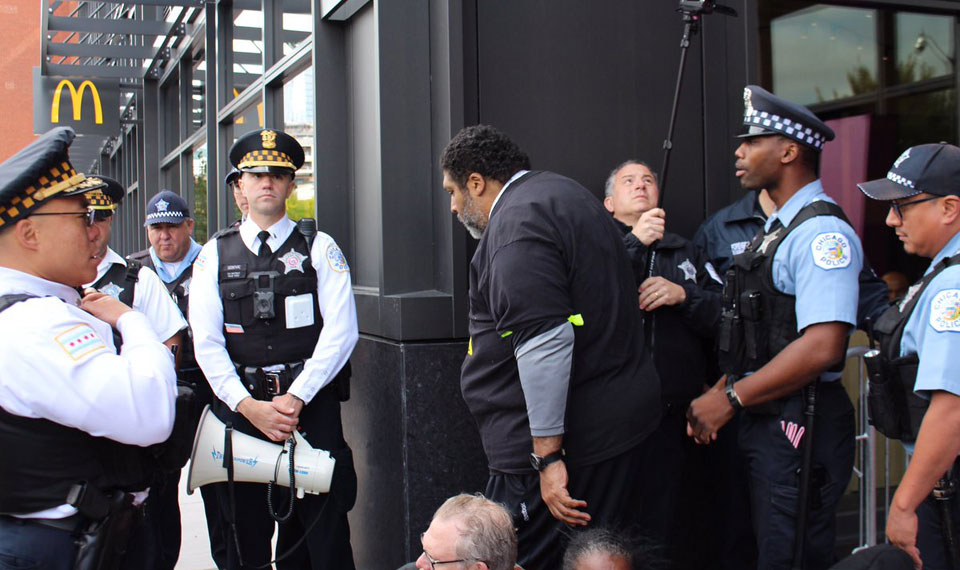 CHICAGO—At the very moment he was getting one of the world's most prestigious awards—a MacArthur Foundation "genius grant"—Rev. William Barber, co-leader of the New Poor People's Campaign, was getting arrested in Chicago's Loop while demanding McDonald's workers get $15 an hour and the right to unionize.
Somehow, it seemed fitting: Barber's been campaigning for workers' rights and civil rights from the day he started Moral Mondays in North Carolina years ago to oppose the anti-worker, anti-minority, white supremacist actions of the GOP-dominated state legislature.
Now he's gotten nationwide recognition of a higher order—-and $625,000 over five years to plow into the campaign, if he wants—-for that drive. And he brought it to the union-backed "Fight for $15 and a Union" campaign by the circumstances of his arrest.
Barber was a featured speaker at the rally at McDonald's headquarters in the Loop. Police subsequently arrested him, Rep. Jan Schakowsky, D-Ill., and dozens of others.
I'm "Honored to stand w/ the #Fightfor15 in Chicago today. Before this campaign fails we'll all go down to jail b/c everybody's got a right to live! #PoorPeoplesCampaign" he tweeted before being handcuffed.
"I've just been arrested in Chicago, and I'm waiting on their process," he told a leading North Carolina paper, the Raleigh News & Observer, while waiting to be booked. Why was he arrested? "For minimum wage, in front of McDonald's headquarters."
One McDonald's worker told the Chicago crowd she's been toiling at her fast food restaurant for eight years, had only one raise, and makes just 50 cents an hour more than the city's minimum wage. It's not enough, she said, to feed and house herself and her son.
The Chicago rally, which drew hundreds of people, was one of a string of similar rallies, all targeting McDonald's, across the Midwest. Besides the Chicago arrests, news services reported a counter-demonstrator drove into the protesters in Flint, Mich.
Local television correspondent Rachelle Spence reported that there were multiple people hit by a car at the Flint rally, with at least four people taken to hospital. Democratic candidate for governor Gretchen Whitmer was set to attend the event.
Barber, who walks with difficulty, did not get hit by a car in Chicago. Nor did Schakowsky, the pro-worker outspoken progressive from Evanston and the city's North Side. But they did get taken away in a Chicago police vehicle.
Barber's New Poor People's Campaign co-chair, Rev. Liz Theoharis, was arrested at another McDonald's protest, in Milwaukee.
Barber also told the Raleigh paper the MacArthur grant is "a gesture of support, to do more of what you're trying to do. It doesn't say rest on your laurels, but to keep on pushing. In this work, sometimes you get heavy criticism. People do say ugly things, 'You just want money.' I just want other people to have health care. You know, Jesus healed everybody and never charged a co-pay."
Barber was not the only worker advocate to get a MacArthur "genius grant." In what one pro-worker commentator, former OSHA Deputy Administrator Jordan Barab, called "a victory for investigative journalism," the foundation also honored investigative reporter Ken Ward of the Charleston (W. Va.) Gazette and Mail.
Ward is known for his persistent detailed digging and investigations into how the state's dominant coal industry, its chemical companies, and their barons, treat—or more often, mistreat—the miners. He's repeatedly exposed coal company law-breaking, subterfuges, lies, attempts to buy politicians, and even its try at buying the state Supreme Court's justices several years ago. He's also documented how state and federal regulators have frequently failed to protect the miners.
"Through a combination of tenacity, curiosity, and compassion for the residents of his home state, his investigations uncover the larger context surrounding specific incidents and inspire empathy for victims and their families," Ward's MacArthur citation added. He's the first investigative journalist to receive a MacArthur award.