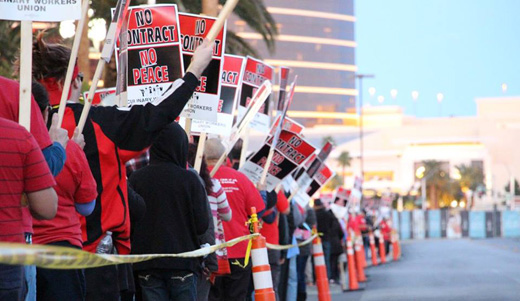 LAS VEGAS – Last night, participants in the Nevada Republican caucuses bought Donald Trump's claim he can "negotiate" away all of America's problems. Yet he refuses to negotiate with his own employees at the 64-story Trump International hotel even though the National Labor Relations Board has ordered him to do so.
It isn't that Trump voters don't know he's violating the rights of his employees. The workers, who voted to join the Culinary Workers Union last December, have been demonstrating regularly.
The Culinary Workers Local 226, an affiliates of UNITE HERE, is Nevada's largest union with over 57,000 members here and in Reno. The union has collective bargaining contracts with most of the casino resorts on the Las Vegas Strip and none have lost profits because of the agreements.
However, Trump, a billionaire many times over, has been fighting the decision by his employees to unionize. A National Labor Relations Board hearing officer last week ruled that Trump's objections were unfounded and that his company must begin negotiating a first contract with the workers' union.
"We're fighting for better treatment, for dignity, for better health insurance, retirement and job security," Maria Mendoza, a 51-year-old housekeeper at Trump's hotel told Susan Milligan, a reporter for US News and World Report.
Asked what she thought of a potential President Trump, Milligan reports that "the Mexican-born Mendoza shook her head with a rueful laugh, then said she'd rather talk about worker rights than politics."
Participants in the Republican caucuses, however, ignored Trump's violation of worker rights and gave him a double-digit victory over his nearest opponent in the presidential race, Sen. Marco Rubio of Florida. As of late last night, Trump had received 42 percent of the vote and Rubio 25 percent. Sen. Ted Cruz of Texas came in third with 21 percent.
Cruz, who has been campaigning as a born-again evangelical Christian, lost the evangelical Christian vote to Trump for the second time. Last week, in the South Carolina primary, evangelicals also went for Trump, even though he's twice divorced and has a life style few would equate with being a good Christian.
In a recent article, Sarah Posner explained in the Washington Post "why Donald Trump's glitzy style is attracting evangelical voters."
Posner says that not all evangelicals believe the same things. Those attracted to Trump have faith in the "prosperity gospel," which is, according to Posner, "a uniquely American contribution to the evolution of Christianity in the modern age, [which teaches] that God wants believers to be rich.
"It's also called the health and wealth gospel: its adherents believe that God blesses the faithful with great wealth, keeps their health robust and cures the faithful of every malady. …
"If you're poor or if you're sick, that's a sign of a lack of faith. Or in Trump's parlance, you're a loser."
In other words, Trump's supporters consider him to be a type of televangelist.
"Trump's style is … a marker of how prosperity theology has pervaded political culture," Posner concludes.
Evidentially, those supporting Trump because they believe his wealth is proof that God favors him do not care how he accumulates that wealth.
For example, they do not take into consideration the fact that Trump is trying to make even more profits by blocking his employees from exercising the same rights and having the same benefits as most other workers have in Las Vegas.
Photo: Culinary workers with Local 226 picket Trump International Hotel in Las Vegas. | Culinary Workers Facebook page