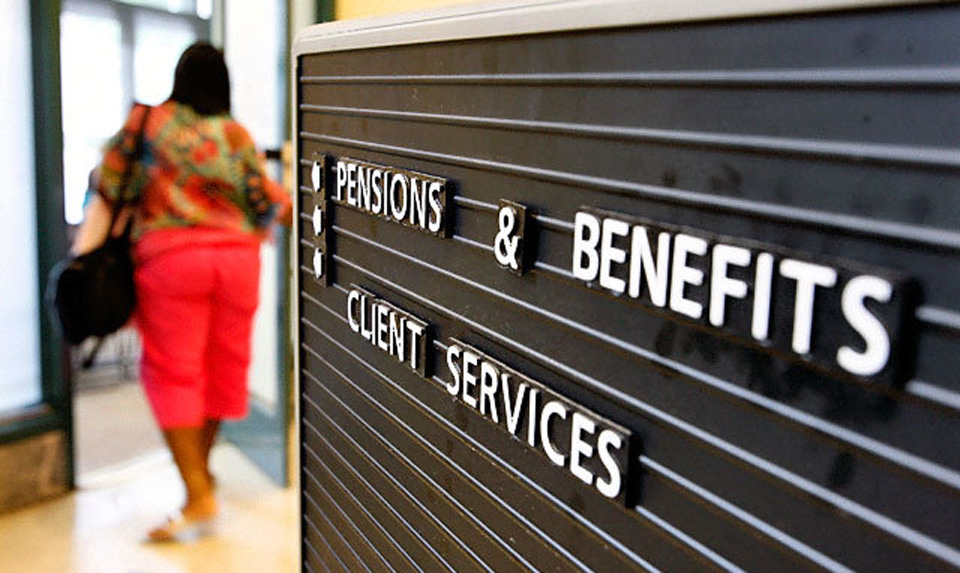 WASHINGTON (PAI) —President Donald Trump's proposed budget for the fiscal year starting Oct. 1 trashes federal workers, and particularly their pensions, leaders of the three top federal worker unions say.
And the impact, they predict, will be not just to cut needed services to the public, but also to discourage future applicants for federal jobs that open up as the baby boomers continue to retire.
Trump's budget, released May 23, drew a generally negative reaction from union leaders and their congressional allies (see reaction story). Even some Republicans were leery of his plans to cut social service spending.
But the GOP was also muted in its reaction to the federal worker cuts, in line with its past pattern of making the nation's 2.09 million federal workers into fiscal and political piñatas.
The Government Employees (AFGE), the largest federal workers union, said all federal workers would have to pay even more towards their retirement – without getting corresponding benefits when they leave.
The result, the union said, is a 6 percent pay cut, especially since Trump's budget would not only lower the base pay used to calculate retirement benefits, but also would kill cost-of-living increases.
"Thanks to years of pay freezes, meager wage hikes, and mandatory increases in retirement, federal employees earn 6.5 percent less today than they did at the start of the decade when adjusted for inflation," said AFGE President J. David Cox, a retired Veterans Affairs Department psychiatric nurse. Trump's cut, Cox said, is on top of that prior reduction.
In the last several years, the GOP imposed $182 billion in pay cuts on the feds, and Trump's budget would add another $117 billion to that, AFGE said. "President Trump's budget continues this race to the bottom by penalizing the working-class people who serve and protect their fellow Americans," Cox said. His union said that, if approved, Trump's budget would:
Increase current workers' out-of-pocket payments toward their pensions by about 6 percent, not including current payments to the federal Thrift Savings Plan and Social Security.
Cut future pension benefits by averaging an employee's highest five years of salary, instead of the highest three years, in determining their pension base. .
Eliminate annual cost-of-living raises for current and future retirees under the Federal Employees Retirement System, and cut the COLA for retirees under the older Civil Service Retirement System by 0.5 percent.
Eliminate supplemental payments to employees who retire before age 62, such as law enforcement agents and firefighters.
Eliminate student loan forgiveness for college graduates entering public service, including government service.
Cut thousands of federal jobs, particularly at the Environmental Protection Agency and the Agriculture, Interior and Treasury Departments. The National Labor Relations Board, though small, would also undergo an 18 percent job cut (see NLRB story).
"This budget rips away any sense of financial security that federal workers currently have and shows how little regard this administration has for the everyday Americans who keep our government running," Cox said. "Unfortunately, this budget stacks the deck against them by cutting their jobs, wages, and benefits – all to benefit Wall Street executives and the wealthy elite."
Other federal worker union leaders concentrated on Trump's trashing of the pensions.
Treasury Employees President Tony Reardon called the pension cuts "an assault on our nation's workforce." He declared "NTEU is determined to fight for the current and future well-being of the federal employees who have served this country.
"This budget seems to crudely celebrate the idea that federal employees should get smaller paychecks now and reduced benefits in their senior years. It is nothing short of a direct attack on the middle class families around the country who depend on these pensions to pay their bills month to month," said Reardon.
Reardon put an even higher figure on the cuts than Cox did, saying Trump wants federal workers to kick in $72 billion more over 10 years towards their retirement while cutting their benefits payouts by $76 billion. "Taken together these proposals prove this administration is intent on reducing the deficit on the backs of its own employees," he said.
"If you think these cuts only affect people in Washington D.C., think again. More than 80 percent of the federal workforce lives outside the nation's capital, which means they are in every city, suburb and state.
"If you applaud this policy, you are cheering for your neighbors to fall backward off the economic ladder. Last time I checked, that is not what this country is all about," he added.
Like Cox, Reardon said Trump's cuts to feds' pensions would help pay for tax cuts for the rich. He added the U.S. faces "a retirement crisis and this budget would add federal workers to the ranks of those Americans who cannot rely on a stable, secure retirement."
National Federation of Federal Employees-IAM President Randy Erwin sounded a similar theme. "President Trump campaigned on being a champion for working people and protecting people's retirement. Now, in his first opportunity to make good on those promises, he is throwing working people under the bus and gutting their retirement. We believe this may be the single largest attack on a group of workers' retirement in our nation's history. These proposed pension cuts are unconscionable.
"Gutting middle-class federal employees' retirement security to make way for billionaire tax cuts is not how you make America great again."