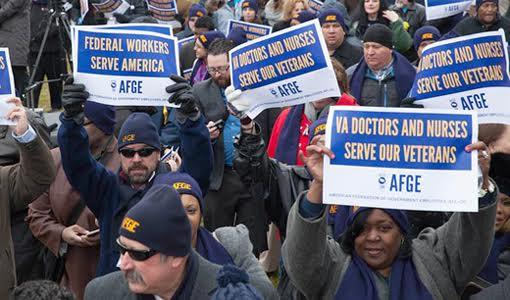 WASHINGTON (PAI) – The Obama administration has issued a veto threat against the latest House Republican scheme to let Department of Veterans Affairs managers virtually fire workers at whim, a measure the AFL-CIO, the American Federation of Government Employees and House Democrats tried unsuccessfully to stop.
The legislation, HR1994, by House Veterans Affairs Committee Chairman Jeff Miller, R-Fla., would virtually end all legal protections for any worker at the VA, the federation and the union said. Sen. Marco Rubio, R-Fla., a Republican presidential hopeful, authored and introduced the counterpart anti-worker Senate measure S1082.
AFL-CIO Legislative Director Bill Samuel adds if HR1994 becomes law, the VA would in essence return to the spoils system of the 1800s, where bosses could fire workers for political reasons – or none at all.
And the Office of Management and Budget (OMB) says that if HR1994 reaches the desk of President Obama, "his senior advisors would recommend a veto," including on constitutional grounds that it violates due process of law for the workers.
Samuel says the GOP's bill would let VA managers summarily fire anyone, including "housekeepers, police officers, cemetery workers, physician assistants, nurses, claims representatives, psychiatrists, psychologists, and social workers." All would be "at-will and subject to the whim of managers engaging in discrimination, retaliation, and patronage."
AFGE President J. David Cox, a retired VA nurse whose union represents the agency's workers, said HR1994, and Rubio's bill, too, would let managers fire whistleblowers – such as the AFGE-represented rank-and-file workers who exposed the VA's treatment scandals. Obama's OMB was more legalistic in issuing its veto threat.
"The centerpiece is a provision that allows a VA employee to be removed or demoted without the opportunity to appeal that decision to the full Merit Systems Protection Board," OMB said. The board decides agency-vs.-worker federal personnel disputes.
"These provisions remove important rights, protections, and incentives which are available to the vast majority of federal employees in other agencies…and are essential to ensure federal employees are afforded due process," OMB adds.
OMB noted all federal workers can be fired "for a variety of reasons" from being AWOL to falsifying records, misusing government property or sexual harassment. By giving the VA complete firing power for any reasons, "This bill will have unintended consequences," including scaring potential VA employees away, OMB adds.
Cox, trying to stop HR1994 before the House passed it July 29 on a party-line vote, said workers "depend on lawmakers to advance legislation to improve" the VA. The bill doesn't.
"We will fight HR1994 in the Senate as hard as we fought it in the House, because it is the antithesis of accountability reform at the VA," he said. Rep. Sheila Jackson-Lee, D-Texas, reinforced that point during House debate. She added "this is not a bill that helps veterans. In fact, it takes away consistent, long-working employees who see something and say something, and so I am voting 'no.'"
The union and the AFL-CIO are pushing alternative legislation in the GOP-run 114th Congress. That measure, by Rep. Mark Takano, D-Calif., failed in the House, but Sen. Richard Blumenthal, D-Conn., will try to substitute it for HR1994 when the Senate debates the issue.
"Their approach to VA reform preserves essential due process rights and allows employees to continue to speak up against mismanagement," AFGE adds. And while Takano and Blumenthal would immediately fire workers who "present a clear and direct threat to public health," their bill also "reduces mismanagement by curtailing a widespread revolving door problem in the VA and improving management training and performance measures."
Photo: AFGE Facebook page: AFGE "We are the doctors, border patrol agents, scientists, and food inspectors that keep America healthy and safe. We are AFGE."