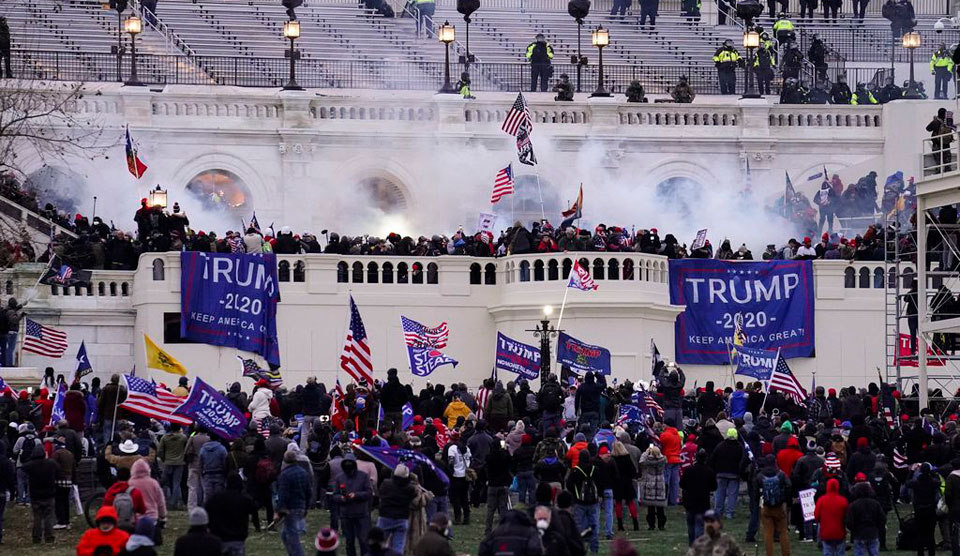 WASHINGTON—To quote the late Sen. Howard Baker, an old-time and sane Tennessee Republican, at the time of Watergate: "What did the president know and when did he know it?"
That's one of the key questions in the next phase of the fight to defend democracy, a fight ongoing despite Republican resistance. It's also a question the House Select Committee to investigate the Jan. 6 Trumpite invasion of and insurrection at the U.S. Capitol will tackle.
That fight is wide-ranging, even beyond the committee's scope. It includes onerous voter suppression laws passed in at least 14 states, all inspired by former GOP Oval Office occupant Donald Trump's claim the 2020 election was stolen from him, and all aimed particularly at voters of color.
It includes social media threats from coast to coast against officials, even conservative Republicans such as Georgia's Secretary of State, who stand up for the U.S. Constitution.
It includes retribution from GOP-dominated legislatures, who are stripping the power to decide elections from the hands of voters and putting it into their greedy paws, to insure their party stays in power, the voters—and the Constitution—be damned.
It includes threats of future violence at state capitals, too. One insurrectionist leader announced that plan through a bullhorn on the U.S. Capitol lawn as the invasion began. "We need 30,000 guns!" another yelled, on video watched by committee members.
"A violent mob was told to win…a trial by combat," committee chair Rep. Bennie Thompson, D-Miss., said. "Some descended on this city with clear plans to disrupt our democracy. One rioter said, and I'm quoting, 'We are not there to commit violence, but we are just there to overthrow the government.'"
After showing the tape of the invasion, Thompson quotes another leader: "'We'll be back,' he warns us. That reminds us that the threat hasn't gone away."
"It looms over our democracy like a dark cloud."
The committee opened its probe on July 27 with three hours and 40 minutes of riveting testimony from four of the police officers—two from the U.S. Capitol Police and two from D.C.'s Metropolitan Police Department—who were among the defenders the Trumpite legions overran and injured in their invasion.
What it was like to be beaten
The officers described what it was like to be beaten, kicked, speared with flagpoles and hockey sticks, tased, hit with pepper gas and bear spray, trampled, and taunted with epithets. Cries of "coward" were aimed at one, an Iraq War veteran. One of two Black officers said invaders repeatedly screamed the n-word at him.
Once inside, the invaders paraded the Confederate flag through the halls, too.
"Is this America?" Capitol Police Officer Harry Dunn asked in testifying to the panel. Another called the invaders "terrorists."
Three of the testifying officers were injured, as were 140 officers, total. One, D.C. officer Michael Fanone, suffered brain damage from being beaten by flagpoles and other heavy instruments, followed by a heart attack the next day. Fanone now battles post-traumatic stress disorder.
One invader was killed while trying to storm the U.S. House chamber and three others died from medical conditions. One officer died of his injuries the next day and two others—depressed over their inability to stop the invasion—committed suicide.
The invaders ultimately failed in carrying out Trump's demand to "Stop the steal!" by stopping Congress's count of the Electoral College votes that ratified Democratic nominee Joe Biden's 2020 victory. They came closer than people realized, warned Thompson, who grew up in the segregated South and saw constant voter repression there.
But that still leaves questions open:
When did Trump learn about the insurrection, from whom, and what did he do—or not do—as the invaders trashed the Capitol and pursued lawmakers, staffers, and journalists?
The insurrectionists sought victims such as House Speaker Nancy Pelosi and Vice President Mike Pence. "Hang Mike Pence!" they chanted. They had erected a gallows on the Capitol lawn.
Who incited them, besides Trump?
How coordinated was the attack, both among the invaders, who came from around the U.S. and with Trump White House staffers?
Who paid? Getting thousands of people to D.C. for the invasion, plus installing a cache of arms for them across the Potomac River in Virginia, isn't cheap.
Says the threat continues
The committee is going to investigate those issues, says Thompson. And he made it clear the insurrection threat continues.
Yet, "Some people are trying to deny what happened," Thompson added in a low-key reference to Republicans, including GOP congressional leaders, in thrall to Trump and his dictates and catering to his irate white nationalist legions, including invaders who sported Nazi symbols.
But one GOP elected inciter may soon be brought to book. In a court filing, the Justice Department told a federal judge in D.C. on July 27 that Rep. Mo Brooks, R-Ala., one of the most-rabid Trumpites in Congress, can be sued for helping to incite the insurrection and endangering lives of lawmakers. Rep. Eric Swalwell, D-Calif., is trying to sue Brooks, and Trump, for doing so.
The U.S. Constitution's "speech and debate" clause ordinarily protects lawmakers from being sued for statements—even inciting insurrection—they make in the course of their official duties. But when Brooks egged on the invaders in a Trump-headlined pre-insurrection rally, the Justice Department formally said the Constitution doesn't protect him. Brooks was not "acting within the scope of his office or employment as a member of Congress at the time" of the insurrection, DOJ explained.
Other Republicans, including Trumpites, ducked reporters' questions about the invasion, claimed they didn't see the testimony or both. That disgusted the officers.
"I feel like I went to hell and back to protect them," the most severely testifying injured officer, D.C.'s Fanone, said. Now, "too many…are telling me that hell doesn't exist or that hell wasn't that bad."
Beyond the immediate invasion and its aftermath, the committee, which plans to resume hearings during the August congressional recess, has a wide range of  available evidence to dig into, including:
CNBC reported the pre-invasion rally near the White House, where Trump, his sons Eric and Donald Jr., his lawyer Rudy Giuliani and Brooks all egged the irate crowd on, was partially financed by a political "dark money" group named Women For America First. The group, headed by former Tea Party Chair Amy Kremer, also organized many of the buses that carried the invaders into D.C.
The political arm of the Republican (state) Attorney Generals Association sent out thousands of robocalls touting the pre-invasion rally. "At 1 p.m., we will march to the Capitol building and call on Congress to stop the steal," said the voice on the recording, according to NBC. "The calls did not call for violence," both CNBC and other outlets reported.
The so-called Black Conservatives Fund, partially funded by Dallas GOP multimillionaire Robert Mercer, also pushed people to attend the Jan. 6 pre-invasion rally, CNBC reported. It did not say whether the fund, which actually did not support any Black conservative candidates in 2020, paid their way.
The money question also is separate whether the committee will subpoena Trump, his top aides, his daughter Ivanka and House Minority Leader Kevin McCarthy, R-Calif., about incitement and Trump's later response. McCarthy now denies he called Trump to get him to call off the insurrection. Reports add Ivanka also tried to get her father to stop it.
McCarthy continues to pursue the Trumpite agenda and defy the evidence and the continuing threat.
The GOP leader tried to turn the panel into a circus by exercising his prerogative for such committees and installing two of the most-rabid pro-invader Trumpites—Reps. Jim Jordan of Ohio and Jim Banks of Indiana—on it. House Speaker Nancy Pelosi, D-Calif., in turn, exercised her prerogative to approve all members of all such select committees. She bounced both.