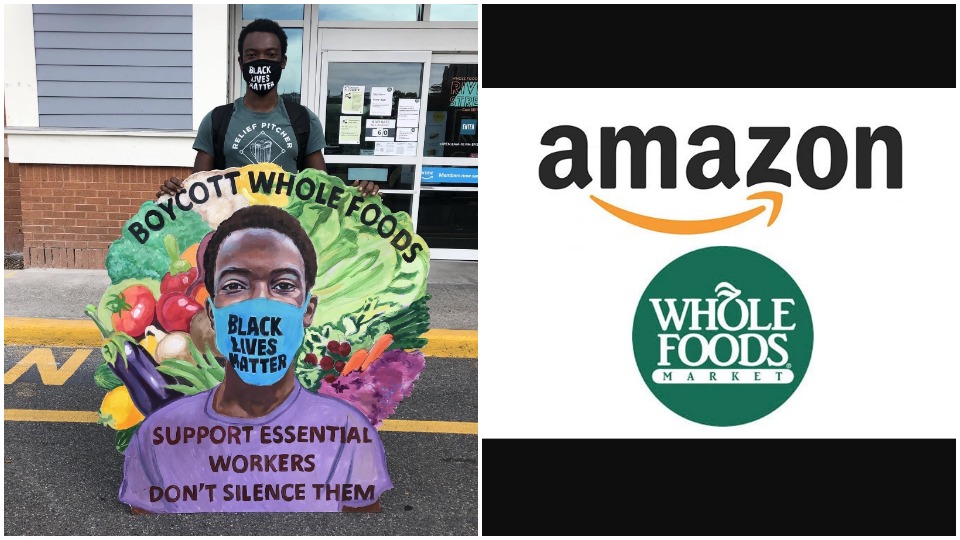 BOSTON—An old Republican politician said 50 years ago, "Watch what we do, not what we say." Well, 14 workers at the Amazon-owned Whole Foods grocery chain watched what their employer did—fired them for wearing Black Lives Matter apparel on the job—and marched into federal court in Boston to try to reverse that illegal action.
In court papers filed July 22, the workers, from Cambridge, Mass., Seattle, Berkeley, Calif., and Bedford, N.H., also said they're speaking for other employees of the grocery chain whom it fired or disciplined for doing the same thing. They want their case to be a class action suit.
"Whole Foods employees across the country have been prohibited from wearing Black Lives Matter apparel at work," the suit says. And since the firm's dress code, which it cited in firing the workers, doesn't bar other distinctive clothing, that's illegal, the suit adds. It wants the firings and other discipline reversed and back pay for harmed workers.
The worker Whole Foods singled out, now the voice of the lawsuit, Savannah Kinzer of Cambridge, was fired for wearing a BLM anti-coronavirus mask and for urging colleagues to do so, too. Kinzer is white.
The workers apparently are drawing community support. Marchers supporting the workers later appeared at one of the two Whole Foods stores in Boston, where six of the 14 fired workers were employed, and where managers intimidated others.
Whole Foods is owned by giant retailer Amazon, which is notoriously exploitative of its warehouse workers of color. Like other chains, Amazon rushed to pledge PR fealty to the BLM movement after millions of people took to U.S. streets against 400 years of systemic U.S. racism.
Amazon, owned by one of the nation's three richest people, Jeff Bezos, and Whole Foods pledged similar loyalty earlier this year to its LGBTQ staffers and didn't object to people wearing Pride T-shirts on the job. But the BLM movement is another matter.
Other retailers, notably Starbucks, have reversed course and allow BLM-inspired clothing. Whole Foods, though, didn't change course when it came to T-shirts, pins, anti-coronavirus face masks, and other BLM apparel. Only then did it start enforcing its dress code, banning them, the suit says.
It canned six Cambridge workers at Kinzer's store, and others at its other Cambridge store and in Bedford. Under pressure from bosses, the Berkeley worker quit. So did the Seattle worker, after being sent home twice. There, Whole Foods apparently accomplished labor law's "constructive discharge." Firms often use that illegal tactic to drive out pro-union workers during organizing campaigns.
At any rate, all the Whole Foods firings and the discharge are illegal retaliation, says their lawyer, noted pro-worker Boston attorney Shannon Liss-Riordan. Whole Foods unlawfully retaliated against Kinzer, who had filed formal charges about the apparel ban with both the Equal Employment Opportunities Commission and the National Labor Relations Board, she added.
When bosses learned Kinzer had encouraged colleagues to wear protective BLM anti-coronavirus masks and that she had complained to the agencies, they fired her. She was escorted out of her Cambridge Whole Foods store on July 18.
Nationwide, Whole Foods sent workers home and otherwise disciplined them for wearing the masks, the suit says. In a statement, Kinzer added: "In addition to being discriminatory, Whole Foods' policy on Black Lives Matter face masks is hypocritical."
"Whole Foods states prominently on its website and on signs in its stores that 'Racism has no place here,' but it won't allow employees to express solidarity with Black Lives."
"The actions of Whole Foods against its employees are not only illegal but shameful," Liss-Riordan said in her statement. "These essential workers have been asked to put their health at risk during this pandemic, and they have done so."
"The decision by Whole Foods to selectively and arbitrarily enforce its 'dress code' to specifically suppress the message that Black Lives Matter paints a picture about what the company values, and that picture is not pretty."
Whole Foods claimed it canned Kinzer because she was late for work several times and sometimes left early during assigned shifts. That sounds familiar.
Whole Foods parent, Amazon, fired Staten Island, N.Y., warehouse worker Chris Smalls in late March after he led a lunchtime walkout protesting lack of anti-virus personal protective equipment. Amazon later created a "reason": That Smalls endangered colleagues by not social distancing. New York's attorney general is investigating that firing and has asked the NLRB to do so, too.