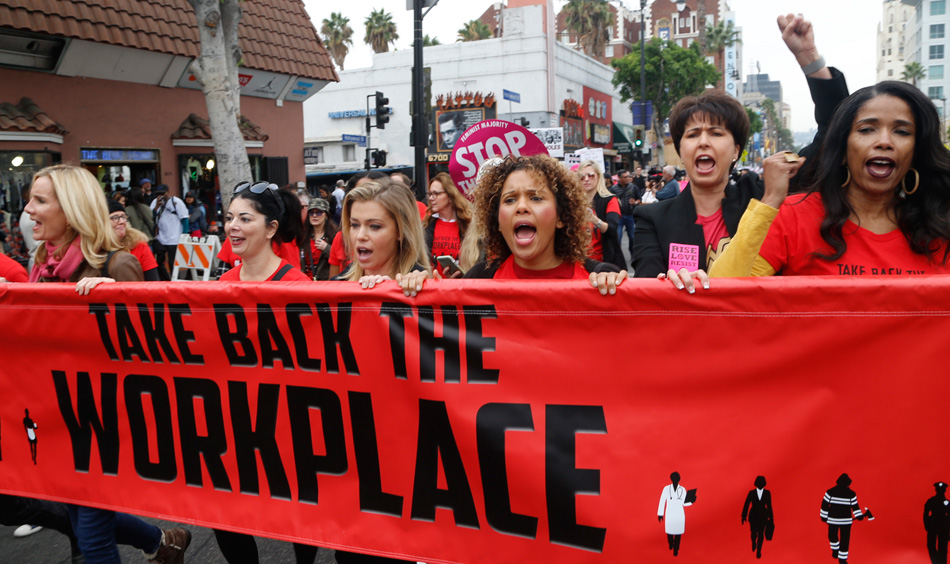 From #MeToo to #TimesUp, women are banding together to help fight structural sexual bias and abuses in their workplaces—but many are asking, why is this solely women's job to fix?
By now, many have heard the slogan of the #MeToo movement, founded ten years ago by activist Tarana Burke to share the common experience of sexual harassment of women.  The slogan was adopted and given wider attention when shared by actress Alyssa Milano, touching off a still ongoing conversation which began with a flurry of squalid revelations about famous entertainment kingmaker, Hollywood producer Harvey Weinstein, and his abusive misdeeds against women.
In subsequent months, powerful men have been toppled from executive positions, many in the media—as women who had before feared a backlash for exposing sexual harassment from them revealed a panoply of other such abusive misdeeds, several of them found to be longtime open secrets in the industry.
Women from many other industries have stepped forward as well, illuminating the ongoing and destructive experiences of sexual harassment that so many experience in their work lives.
One of the first groups to step forward in solidarity with the #MeToo campaign were the 700,000 female farmworkers of the Alianza Nacional de Campesinas, who published an open letter in Time magazine in November in support:
"Even though we work in very different environments, we share a common experience of being preyed upon by individuals who have the power to hire, fire, blacklist and otherwise threaten our economic, physical and emotional security. Like you, there are few positions available to us and reporting any kind of harm or injustice committed against us doesn't seem like a viable option. Complaining about anything—even sexual harassment—seems unthinkable because too much is at risk, including the ability to feed our families and preserve our reputations."
While the media spotlight created buzz and awareness, often the stories dwelled solely on the salacious details of the abuse, or on the public and professional stature of the perpetrator and his victims.
Rebecca Traister, in her article, This Moment Isn't (Just) About Sex. It's Really About Work, reset the focus on the issue of sexual harassment and its function as a way to enforce powerlessness for women in the workplace:
"We must regularly remind everyone paying attention that sexual harassment is a crime not simply on the grounds that it is a sexual violation, but because it is a form of discrimination.
"Women's access to work and to power within their workplaces is curtailed, often via the very same mechanisms that promote, protect, and forgive men, the systems that give them double, triple chances to advance, and to abuse those around them, over and over again."
Three hundred women from media and entertainment, such as Shonda Rhimes and America Ferrera, have created a new organization called Time's Up, which issued sweeping and comprehensive statements on the reality of sexual harassment, its impact on women's access to work, and outlined avenues for reform. For instance, it reports that, "Nearly half of working women in the U.S. say they have experienced harassment in the workplace."
The organization will also serve as a resource, providing a sexual harassment help line.  Also, within the first few days of its announcement, 9,000 donors contributed over $13 million dollars as the basis for a legal fund to protect and litigate sexual harassment cases.
The organization and the women behind it have faced scrutiny and even been criticized as being focused on wealthier white women with some power already, or not being representative of working-class women's experiences, especially women of color.  Women workers can and do organize in the workplace, and create labor-based movements to prevent sexual harassment and gender bias. However, existing institutions that these workers traditionally look to for protection from the boss, such as unions, have also not always stepped up to protect women from their bosses or their own union brothers.
In a major story in the New York Times, women workers, the majority women of color, at two Chicago Ford auto plants recounted gross and crude harassment, pressure from bosses to trade sex for better shifts, and a lack of support, or active hostility, from their union when complaints were lodged.
In a follow-up story reporting Ford's statement and apology for the decades-long abuse at their plants, it was reported that women workers had the experience that "some officials at the local United Automobile Workers union have harassed women themselves or discouraged them from filing complaints." The UAW has since issued a statement condemning sexual harassment.
This important and thorough news feature garnered little attention or pick-up from major media, or even in progressive and labor media. These outlets are usually the first to critique feminist organizations that are deemed corporate or bourgeois, why the silence on an issue that would seem to land right in their stated area of interest, working-class women? And where are the men?
Feminist and journalist Lindy West, in an op-ed for the New York Times asks: Why Is Fixing Sexism Women's Work?:
"One pervasive feature of the post-#MeToo landscape has been distraught men apologizing for their gender, fretting about old drunken hookups, and begging for guidance on what they can do to help. (Of course it took only moments to transform a mass catharsis into an emotional labor factory.) O.K., fine. You know what you could do to help? Everything."