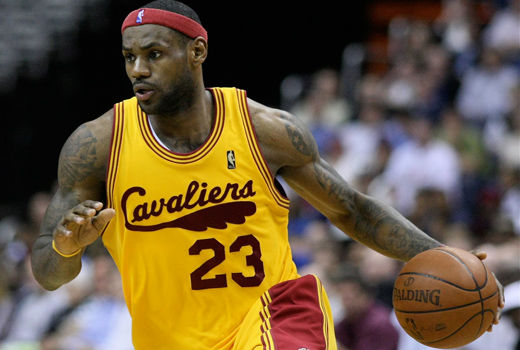 As an Ohio native, I have to admit I got a little teary eyed when NBA basketball star LeBron James announced he was returning to play for the Cleveland Cavaliers. I wasn't the only one. Celebrations erupted across Ohio and people danced and openly wept on street corners.
James will be returning to a team for whom he played his first seven years professionally after graduating high school as a basketball prodigy. His departure four years ago to play with the Miami Heat understandably upset his fans.
The Cavaliers have a core of young talent, and his addition instantly makes them a championship contender. The last title won by any professional sports team from Cleveland was 1964, when the Browns won the National Football League championship. I still vividly remember listening on the radio while charting the plays on a pad of paper on which my father had drawn the replica of a football field.
Normally, such news wouldn't have affected me much. The NBA is a global multi-billion-dollar business, team owners are billionaires, and many players are multi-millionaires and change teams often. The Cavaliers will profit handsomely from this and Lebron is due a big payday.
But both sides of my family have deep roots in the area. Like LeBron I was born in Akron, and grew up in Northeast Ohio, spending the majority of my early years there. I can relate to many of the things that drew him back – his identification with the region, the people and their history, his friends, family and fans.
LeBron, for all his millions, is also still that "kid from Akron" with deep working class roots and sensibilities, shaped by the region. He's in tune with what people are thinking and going through.
The millions who reacted with joy to his return were not responding to his celebrity status alone. For many working people and youth, his return offered a ray of sunshine, something to identify with and be proud of in the face of seemingly endless economic stagnation for working class communities across the state.
Team sport identity has been a big part of working class culture for a long time. Many early industrial towns boasted sports leagues, with teams made up of workers from different factories. It's no accident the Pro Football Hall of Fame is in Canton, Ohio.
Economic stagnation has affected the area since the mid-1970s when steel, auto and other basic manufacturing began shutting down, throwing millions of workers on the scrap heap and turning the entire region into the "Rust Belt." Manufacturing dropped 20% between 1970 and1985.
Akron was once known as the "Rubber Capital of the World," where one-third of all tires produced in the U.S. were made. The deindustrialization process began earlier in Akron, when the rubber factories started leaving in the 1960s for rural areas and developing countries as corporations chased lower wages.
The factory shutdowns led to long term mass unemployment and a massive growth in poverty in all the industrial centers in the Midwest. Shutdowns hit African American workers hardest and consequently African American communities, which today experience sky-high unemployment and grinding poverty.
Most of the new jobs are low-wage, non-union jobs. For example, after the steel mills closed in Youngstown, the new growth industry became private prisons. At one point there were as many prisoners as there used to be steelworkers, and prison guards were paid low wages.
Thousands of workers became economic refugees and settled elsewhere, sometimes thousands of miles away. Families were separated and communities frayed.
Working class communities and in particular Cleveland and its African American community became the epicenter of the home mortgage fraud crisis. Homes were boarded up, abandoned, and neighborhoods destroyed.
In the Midwest, the class and democratic struggle is historically rawer and more direct than in other parts of the country. Solidarity arises from everyday experiences in a bitter class struggle and is passed down as family and community lore. The kind of identification and solidarity LeBron showed for Northeast Ohio with his return is what working people know in their bones.
This solidarity includes the unemployed fights of the 1930s, the 1936 sit-down strike to organize the rubber factories in Akron that build the United Rubber Workers, (which preceded those in Flint, Michigan), the Little Steel Strike in Youngstown that helped build the United Steelworkers union.
This history has all along been intertwined with the fight against racism and discrimination in employment, promotion, housing and education, in particular for the African American community.
It stretches back to the Underground Railroad, the abolitionist Ohio universities like Oberlin and Antioch, the struggle against discrimination in employment and to desegregate schools and housing. In 1967 Carl Stokes was elected mayor of Cleveland, the first African American mayor of a major U.S. city.
Over the past 30 years Ohio has also been a center of the bitterly contested battle against the extreme right wing and their corporate backers. The state has been a battleground in election after election to block efforts to roll back worker and voting rights. The defeat of Senate Bill 5, which would have stripped public workers of the right to a union, and the defeat of voter suppression bills were recent victories.
In all of these fights labor and African American unity was a vital aspect of the victory.
This is the Ohio that LeBron came of age in. To his credit he is not only a great basketball player but outspoken politically, rare for a professional athlete. He campaigned for President Obama during the 2008 elections, was one of the first NBA players to call for the ouster of Donald Sterling, the racist owner of the Los Angeles Clippers, and led his former team, the Miami Heat, in protests against Sterling, the Trayvon Martin killing and racial profiling. He's played an active role in the NBA Players Union, and even considered running for president.
So here's to hoping LeBron and the young Cavs win a championship and bring some joy to Northeast Ohio. I'll join the celebration when they do.
Photo: LeBron James in 2009. Keith Allison CC