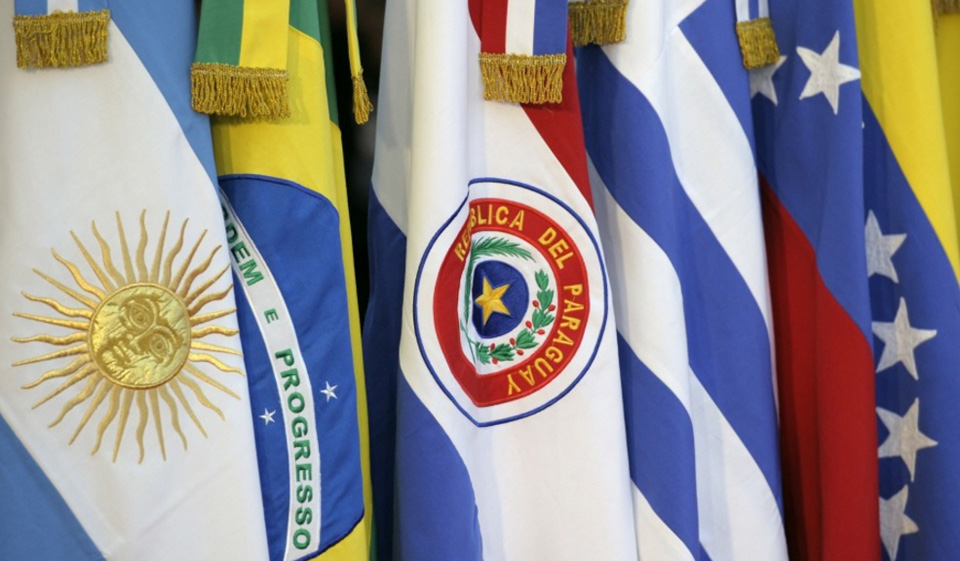 In a victory for the international Right, on December 2, MERCOSUR (South American Common Market) announced the suspension of Venezuela. Its stated reason for the suspension was for Venezuela's failing to comply with requirements for voting membership.  Previously the trade bloc had given Venezuela until December 1 to make the legislative changes necessary to come into compliance.  Venezuela was supposed to have chaired MERCOSUR since September, but had been blocked from doing so by the same member governments that have been pushing for its suspension.  MERCOSUR announced that the chair will now be occupied by the right wing government of Argentina.
MERCOSUR was founded in 1991 and includes five member countries:  Argentina, Brazil, Paraguay, Uruguay and, up to now, Venezuela.   There are also associate members:  Bolivia, Chile, Colombia and Peru.   Since several of its members are the biggest economic players in South America, MERCOSUR is in fact a large scale affair:  The combined gross domestic product of the MERCOSUR member states is over $2.8 trillion.   So the suspension of left-led Venezuela and the transfer of the chair to right wing-led Argentina gives more power to the international right wing coalitions.
MERCOSUR has become part of the system of treaties and alliances that further integrate the Latin American area and make the countries less dependent on the United States than they have been in the past.  It is for this reason that MERCOSUR countries, which were in the late 1990s and early 2000s governed by left-wing governments (namely Argentina, Brazil and Uruguay) pushed for the inclusion of Venezuela in the bloc. This was achieved, in spite of opposition from Paraguay's right wing government, in July of 2012. One of the arguments raised by the other states in support of Venezuelan inclusion in the bloc was the strength of the Venezuelan economy, rooted in the country's fabulous deposits of oil and natural gas.  The government of Paraguay, which opposed Venezuela's inclusion, was at that time, as today, a right wing regime which was brought to power after the ouster of left-wing President Fernando Lugo in a "constitutional coup" only a few weeks earlier.   However, left wing presidents Luiz Inacio Lula Da Silva of Brazil, Cristina Fernandez de Kirchner of Argentina and José Mujica of Uruguay all pushed hard for Venezuela's inclusion.
A rightward shift
But now the balance of power within MERCOSUR is radically changed.  On October 25, 2015, Kirchner's Victory Front presidential candidate, Daniel Scoli, lost the Argentine election to right winger Mauricio Macri.  Then, on August 31, Brazil experienced a "constitutional coup", in which Lula's elected successor, Dilma Rousseff, was ousted from the presidency and replaced by a far right wing politician, Michel Temer.  At the same time, Venezuela has been undergoing severe economic problems including raging inflation and scarcity. On December 6, 2015, the right wing won Venezuela's legislative elections, though President Nicholas Maduro, who succeeded President Hugo Chavez on the latter's death in March 2013   remains in power.
In all three of these major South American countries, the political right is pushing hard to reverse the accomplishments of the "Bolivarian Pink Tide" of left wing governments.   Macri in Argentina and Temer in Brazil have moved away from the emphasis on "horizontal" integration of the Latin American-Caribbean region and are promoting a neoliberal program of privatization and austerity.  Both governments are dominated, in sharp contrast to their predecessors, by big business interests aligned with transnational monopoly capital, and with United States' trade and financial interests.
In both Brazil and Argentina, the rightward turn is seen by many as threatening the rights and interests of many sectors that had benefited from the policies of the previous left wing governments. So in both countries, there are massive ongoing demonstrations of workers, students, women, minorities, environmental defenders and LGBT people in defense of the endangered progressive advances.  The threat to human rights is palpable.  It is clear that the right wing sectors which now control the national  legislature in Venezuela will follow the same course if, as they are trying to do, they succeed in ousting President Maduro through a recall referendum.
As for Paraguay, the right wing government of President Horacio Cartes is not getting a free pass from workers and their allies either; there are ongoing protests by students, small farmers, medical doctors and others against right wing policies and political corruption.
Venezuela and its allies fight back
So it is not surprising that newer right-wing regimes in Argentina, Brazil and Paraguay have all joined forces to try to oust Venezuela from MERCOSUR.  (This began with Paraguayan efforts to keep Venezuela from occupying the rotating chairmanship earlier this year.)
What is quite surprising is that the remaining member of MERCOSUR, Uruguay, abstained in the vote on Venezuela's suspension.  Uruguay's president, Tabaré Vazquez, is of the same political party as his predecessor, the internationally respected José Mujica, whom he replaced in the presidency in March of last year.  Mujica was an admirer and friend of the late President Chavez of Venezuela, and was one of the MERCOSUR presidents who fought for Venezuela's inclusion in the body.  (Some signs of a rightward shift in Uruguay did appear earlier this year, when Uruguay's representative to the Organization of American States (OAS), Luis Almagro, sided with the right wing OAS members in their efforts to suspend Venezuela's voting rights there.)
Whatever the reason for Uruguay's strange MERCOSUR abstention on the issue of Venezuela, its failure to support Venezuela is meeting with opposition at home, specifically from the Communist Party of Uruguay.  On November 25, anticipating the suspension of Venezuela from MERCOSUR, the Communist Party warned against Uruguay's supporting such a move as a big mistake.
"This position is wrong for several reasons.  In the first place, in the midst of a sharpening crisis of capitalism, of an imperialist counter-offensive in our continent, which will reach new levels with the triumph of Donald Trump [as U.S. president], to weaken the organs which express, institutionally, regional integration and unity, is a serious mistake…..
"To deprive MERCOSUR of the weight of Venezuela, with one of the largest reserves of oil and natural gas in the world, and with its relative weight in terms of population and Gross Domestic Product, beyond the difficulties which it is now experiencing, is to weaken [MERCOSUR] and make it and each one of the countries that constitute it more vulnerable to speculative and commercial manipulations by the great powers of the world, especially the United States.  MERCOSUR without Venezuela is weaker and not stronger."
The Uruguayan communists added that without the counterweight of Venezuela, their small country would have little influence in MERCOSUR which would be dominated by much larger Argentina and Brazil.  And to the argument that Venezuela had not complied in time with the legal requirements of MERCOSUR membership, the communists point out that none of the other MERCOSUR members had yet reached 80 percent compliance either.
Opposition to the suspension of Venezuela also came from Parlasur.  Parlasur is the parliamentary body of MERCOSUR. It described the situation within MERCOSUR resulting from the decision to suspend Venezuela as "irregular".  The vice president of Parlasur, Daniel Caggiani, accused the "triple alliance" of Brazil, Argentina and Paraguay of pursuing Venezuela's suspension for political motives, and called for outside mediation of the situation.
The Venezuelan government is not taking its suspension from MERCOSUR lying down.  Venezuelan Foreign Minister Delcy Rodriguez said on Friday that not only does Venezuela consider itself still to be a full member of MERCOSUR, but that it will continue to exercise the "pro tempore" chairmanship of the group.
Now President Tabaré Vazquez of Uruguay has clarified that he does not see Venezuela's suspension from MERCOSUR as being irreversible.  He and President Nicolas Maduro of Venezuela have agreed to meet to discuss the situation.