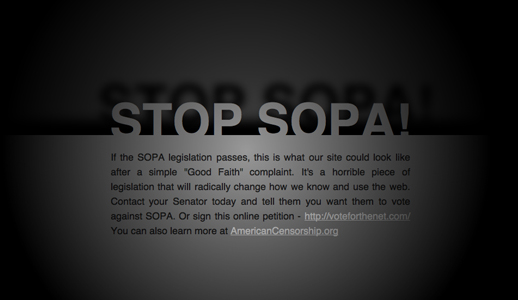 NEW YORK – Wikipedia, the popular online encyclopedia which has become an invaluable resource to millions of people worldwide, went offline this morning in protest of the Stop Online Privacy Act (SOPA) making its way through Congress. Reportedly as many as 7,000 other websites are also planning to go dark today like the popular social news sharing site Reddit, tech blog Boing Boing, and Mozilla, maker of the popular Firefox browser.
The Internet-wide protest today is the most public expression yet of broad anger over the bill that has spilled out on Facebook, Twitter and blog sites over the 2011 holidays and into the new year. Hundreds of nonprofits, businesses, academic, editorial boards, and an unknowable number of Internet users are lined up against SOPA and its Senate companion, the Protect IP Act (PIPA), which were introduced late last year with bipartisan support and backing from the entertainment industry. The bills aim to clamp down on Internet piracy and the rampant downloading of copyrighted material such as music, movies and video games.
If passed, the law would also threaten any website that links to websites that provide pirated materials, meaning every website would have to police and remove user-created content that might constitute piracy or promotion of piracy. Giant Internet service providers like Facebook and Google are none too happy about the being responsible for the activity of their hundreds of millions of users.
It would give the State Department the authority to force website hosts to shut down offending without court orders, a new power that alarms civil liberties groups.
But opponents claim the bill would do little to curb piracy and do a lot to infringe on civil liberties and privacy for users of the Internet and other digital services. Others argue that the existing Digital Millennium Copyright Act of 1998 as well as existing procedures on platforms such as YouTube, Google Search and Facebook for taking down content that violates "intellectual property" laws or are already effective at blocking piracy on otherwise law-abiding websites.
The digital rights organization Electronic Fronteir Foundation calls the measures legislation for an "Internet blacklist."
In response to a massive phone call and an online petition campaign, the Obama Administration weighed in this weekend stating that, the White House "will not support legislation that reduces freedom of expression, increases cybersecurity risk, or undermines the dynamic, innovative global Internet." Last Saturday House GOP leaders also announced that they would not allow a vote on the bill unless a consensus could be reached.
A House Judiciary Committee hearing will hear representatives on both sides of the issue later today.
According to Politico, the film, music and TV industries spent "more than $91 million on lobbying" by November 2011, a record amount. SOPA was passed unanimously from committee last year in a rare sing of bipartisanship in Congress.
While the support for SOPA/PIPA is bipartisan, so is the opposition to it. Rep. Darrell Issa (R-CA) has been one of the most vocal critics of the proposed law. Sen. Ron Wyden (D-OR) has promised to filibuster against the bill if necessary by reading the names of everyone who signed the petition to stop Internet censorship.
SOPA also pitted various industrial sectors against each other. The content providers, particularly the movie and music companies are lined up in favor of the bill which they heavily lobbied for and influenced. On the other side are most of the Internet service providers and cable companies who fear the bills will force them to police the use of Internet and mobile services. Some have described the conflict as old media versus new.
But not all tech companies are against SOPA. Some content providers like the video game industry represented by the Entertainment Software Association also feel the threat of online piracy and support the bill.
Former Sen. Chris Dodd, now head of the Motion Picture Association of America, one of the main lobbyists for SOPA says that failing the pass SOPA will condemn the jobs of "blue collar" workers and not just Hollywood stars and the big studios. "Our fight against content theft is not a fight against technology," Dodd said at a Center for American Progress event this week. "It is a fight against criminals… Indeed, it is fundamentally a fight to protect jobs."
A joint statement from the main entertainment unions (the Screen Actors Guild, the American Federation of Musicians, the Directors Guild of America, the Teamsters, IATSE and AFTRA) representing over 400,000 workers in the industry stated its support for SOPA. Writer's Guild of America West, another key entertainment union while supporting anti-piracy measures opposes SOPA and raised concerns with members of Congress.
David Cohen, Executive Director of the AFL-CIO's Department for Professional Employees which includes all of the entertainment unions called Internet piracy "wage theft" in a comment on a blog post about the bills on the AFL-CIO website.
Others critical of the bill think that SOPA is a potential threat to unions' free speech and right to organize.
As of the filing of this article it looks likes SOPA will not go forward as originally written, but PIPA still stands and it seems clear that some version of the bills are likely to pass. Whether bill authors will sufficiently address the concerns of the tech industry, rights advocates and critics has yet to be seen.
Protest rallies are also planned for Wednesday in New York City and San Francisco.
Photo: Creative Commons 2.0