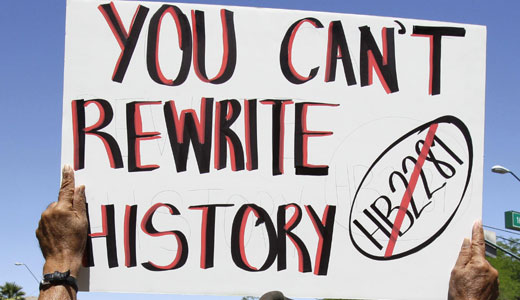 The 2012 elections are an opportunity to turn things around here in Arizona.
The state's working people are sick and tired of the right-wing extremists who misgovern Arizona. Gov. Jan Brewer and the overwhelmingly Republican legislature are at war against the people of Arizona.
There's the all-out attack against public education by slashing school funding and pushing charter schools and vouchers to shift funding to private schools, legislation to intimidate school boards, and endless attacks on teachers and students. Thousands of poor Arizonans are losing health care benefits, city streets are full of growing pot holes, public universities are defunded, and tuition will soon be out of reach for most families.
The attack against labor unions is now in full swing. There's an unending barrage of racial assaults on immigrant workers and their families, which also target anybody who might look like an immigrant. And to top it all Arizona has some of the worst voter suppression laws requiring submission of proof of citizenship when registering to vote and showing a picture ID at the polls, all of which is exasperated by massive unemployment and poverty, which prevents many youth from acquiring driver's licenses.
But the attacks have generated a fightback, which already resulted in the historic recall of state Senate Majority Leader Russell Pearce last spring. The organizers of that recall are now targeting notorious racist Sheriff Joe Arpaio who is up for election this year in Maricopa County, where 70 percent of Arizonans reside.
The Obama campaign, which bypassed Arizona in 2008, feels that Arizona is in play and can be won in 2012. This should help invigorate Democratic Party campaigns.
While some local Democratic Party leaders are advising Democratic candidates to move to the right, few seem to be listening. Working class voters are demanding candidates who will represent the 99 percent. One of the most exciting candidates to emerge is Wenona Bennali Baldenegro, who stands a chance to become the first Native American Indian woman in Congress. Baldanegro, who must first defeat conservative former congresswoman Ann Kirkpatrick, is building a strong grassroots organization across a large district that includes reservations, mining towns, the city of Flagstaff, and even some suburban areas of Tucson.
Progressive State Senator Kyrsten Sinema resigned from the legislature to run for Congress in Phoenix's 9th Congressional District, Arizona's new district. She will be opposed in the Democratic primary by Senate Minority Leader Schapira, another liberal, and by conservative Democratic Party leader Andrei Cherny. Sinema was chosen as best state legislator in the country in 2010 by the Nation magazine.
Congressman Raul Grijalva, who co-chairs the Congressional Progressive Caucus, is facing challengers in both the primary and general elections. Grijalva had a bit of a scare in the 2010 election when he was suddenly targeted by the right wing. He still managed to win by a 6 percent margin, and is building a formidable campaign with hundreds of volunteers that should also help turn out votes for other progressive candidates as well as the presidential and Senate races.
Progressive Mexican American Congressman Ed Pastor is expected to keep his Phoenix seat. Grijalva and Pastor are the only Chicanos ever elected to Congress from Arizona.
And in southeastern Arizona, including parts of Tucson, the race to succeed Congresswoman Gabby Giffords is already in full swing. Four Republicans are facing off to see who will face Giffords' aide Ron Barber to finish the last few months of her term.
Several Democratic state legislators are waiting in the wings to step in if Barber decides not to run for a full term in November. None of these Democrats are expected to run a particularly progressive campaign in this district, where Republicans outnumber them.
In the race for the U.S. Senate seat being vacated by Republican Sen. Jon Kyl, former Democratic Party chairman Don Bivens, a centrist, will face Richard Carmona in the Democratic primary. Carmona, who served as U.S. Surgeon General under George W. Bush, is surprising many with a reasonably progressive campaign. According to his web site he is supporting the DREAM Act, and is promising to strongly defend Social Security, Medicare, Medicaid, and reproductive rights for women.
The winner of the Democratic primary will likely face Republican right-wing Congressman Jeff Flake.
The races for the state legislature are not as clear yet. The Democrats took a beating in the 2010 elections, followed by redistricting that strongly favors the Republicans. There's also a massive game of musical chairs taking place with numerous legislators quitting to run for Congress, or being redistricted out of their current districts. Working class Arizonans are hoping that this huge shift can result in some big changes.
As usual, Arizonans will be under attack from a whole slew of propositions placed on the ballot by the ultra-right legislature.
One proposition is aimed at doing away with Arizona's public financing of candidates' campaigns for state offices.
And in Tucson, there will be a race for school board where three incumbents are accused of caving in to the racist attack on their Mexican American Studies program.
Much of the struggle will take place in Phoenix, where huge demographic changes have taken place over the last two decades. Most of the thousands of high and middle school students who walked out of schools in 2006 to protest racist immigration policies are now old enough to vote, and they are citizens, even if their parents may not be. The movements of immigrants and Chicano people against racist oppression has brought forward a new generation of activists who have already swept Russell Pearce out of office and stand a good chance to repeat it with Sheriff Arpaio.
These struggles have brought forth some new progressive, grassroots Chicano candidates running for local offices all across the Valley. This can only result in progress.
Photo: A protester in Phoenix demonstrates in opposition to the banning of a recent Mexican-American studies program in a school. Protests like these show that Arizonans have had enough of the right wing's attack on people. Matt York/AP