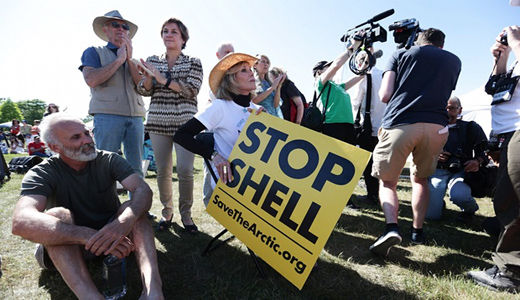 When Shell declared it would resume its Arctic drilling project, many activists waited with bated breath for the corporation to make the latest in a steady series of blunders, and now it's finally happened. A ship carrying equipment required for offshore drilling has been damaged, and is being sent to the West Coast for repairs. This newest mishap offers concerned environmentalists a moment of respite, but the battle against Big Oil is just beginning.
Those who oppose Shell's drilling plans need not get overly enthused; the company's drilling schedule for the Chukchi Sea this summer is not expected to be delayed by the incident. The 380-foot icebreaker, Fennica, is headed to Oregon to be fixed up before being shipped back out to the Arctic. Its hull was smashed July 3 when it struck an undisclosed object, tearing a hole in it about three feet long and a half-inch wide. The job of the vessel was to provide equipment that would stop an underwater oil well blowout, making this a sad irony for Shell, who assured all those concerned that they would pursue higher accountability and safety standards before renewing their drilling efforts.
This incident offers further vindication for what environmentalists have been saying all along: that accidents are unavoidable in this ecologically sensitive region.
The area would not even be open for exploitation, were it not for the continuing ripple effect of climate change. As a Foreign Affairs report noted, "The portion of the Arctic Ocean covered by ice has been reduced to its smallest size since record keeping began in 1979, shrinking by 350,000 square miles (an area equal to the size of Venezuela)" during the year of 2013. "All told, in just the past three decades, Arctic sea ice has lost half its area and three quarters of its volume."
Greenpeace writer Annie Leonard added, "Rather than taking the time to reflect somberly on the damage unrestrained carbon pollution is doing to our planet, governments and corporations have looked at rapidly shrinking ice with only dollar signs in their eyes. Melting ice didn't just open up the Northwest Passage, it also opened up access to billions of dollars' worth of fossil fuels and the carbon pollution that goes along with them."
Shell's drilling "places Big Oil above people," said Erik Grafe, attorney for Earthjustice. "It puts the Arctic's iconic wildlife at risk and the health of our planet on the line. It's far too risky and undermines the Obama administration's efforts to address climate change and transition to a clean energy future."
In the coming weeks, Shell is expected to move forward with their project as planned, mistakes and mishaps notwithstanding. Luckily, the anti-drilling movement had gotten a much-needed shot in the arm from the celebrity world, with actor Peter Capaldi (Doctor Who) and actresses Maisie Williams (Game of Thrones) and Jane Fonda speaking out against Arctic drilling, with the goal of trying to get 10 million signatures in a petition against it.
"We know this planet is a fragile one," said Capaldi. "Yet we stand and watch as the Arctic shrinks. The time has come to stop watching. We must act."
"The Arctic is a unique and beautiful ecosystem," Williams added. "It provides a home to both indigenous peoples and endangered species. Now it's under threat and we must act."
And Fonda concluded with a hopeful view, remarking, "I'm old enough to have seen change happen. I can be optimistic about people power because I know it works. We know in our bones it can work, we just need the political will. This is the one fight we must win, because without a livable world, nothing else matters. This is the fight of our lives."
Photo: Actress Jane Fonda participates in a Greenpeace event in Vancouver in protest of Arctic drilling. | Darryl Dyck/AP