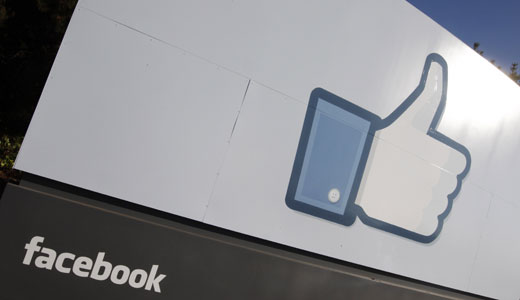 Facebook wants to reach China's Internet population, looking to boost connectivity and growth potential. But critics and analysts are doubtful of its prospects there.
The social network giant, now approaching a billion members, is planning its stock market launch in May; $5 billion worth of shares will be sold. Facebook, however, is estimated to be worth somewhere between $75 and $100 billion, and is looking to justify that value by expanding its advertising sales worldwide.
China appears to be part of that intended growth campaign, with Facebook noting in its IPO filing, "There are more than two billion global Internet users, and we aim to connect them all." But China, which had previously blocked the website three years ago, may prove to be a tough market to crack.
"It's actually a bit late for Facebook," remarked Hong Kong-based analyst Elinor Leung. "It will be difficult for them to introduce something that will allow them to differentiate themselves" from the current 'major players' in China's social networking climate.
Those social networks include Renren (which is similar in style to Facebook), and the Twitter-like microblogging service, Sina Weibo, both of which have millions of users each.
Facebook thrives on user-generated content, which "is very tough in China," according to Rebecca MacKinnon, author of Consent of the Networked, a book which examines the nature of the modern Internet, juxtaposing it with issues like freedom and civil liberties. "Google attempted to run a search engine in China," she said, "and they ended up giving up."
Internet companies in China, she explained, are expected to delete content identified as objectionable by the government, have important blocking software in place, and typically moderate all activity, reporting anything questionable to the police. This poses the question of whether Facebook is willing to modify itself enough to measure up to China's requirements.
Facebook admitted having concerns about complying with China's laws. "We do not know if we will be able to find an approach to managing content and information that will be acceptable [both] to us and the Chinese government," they said in their IPO filing. (Some would view this as Facebook being worried that by complying with China's concerns, its profit levels might not be high enough.)
Essentially, this means that whether or not Facebook and China can come to a compromise is anyone's guess.
Joe Chen, Chief Executive of Renren, said that if Facebook were re-introduced into China, it would be entering "a much more competitive market with a significantly different culture, business environment, and other characteristics than what it had previously experienced in the global market."
What it comes down to, some feel, is that Facebook might do better to simply stick to its own U.S. user base, rather than try and plant itself solely in the middle of a landscape already populated by more localized, China-oriented websites.
"The Chinese have been social for years, and Facebook would only be one more option among many," said Sam Flemming, a Shanghai-based social media consultant.
Meanwhile, the U.S. Internet community is asking how much further Facebook could expand. The network's business grew 77.8 percent from 2007 to 2008, 185 percent in 2009, 154 percent in 2010, and 89 percent in 2011. Basically, its growth rate is receding. This calls into question who would consider Facebook's business worth owning, and just how relevant Facebook will be a few years from now.
And in the end, suggested Beijing-based Internet consultant Duncan Clark, China's content objections may be anathema to Facebook's expansion campaign, anyway. "Chinese consumers don't ever want to have some second-class or dumbed down offering," he said.
Photo: "The outside view of Facebook's headquarters in Menlo Park, Calif. Facebook may now be setting its sights on China's Internet base." Paul Sakuma/AP Photos