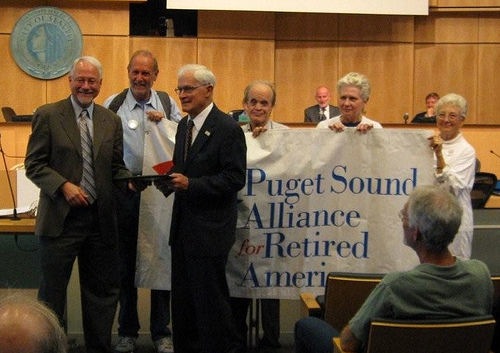 SEATTLE—Working class and progressive people throughout the Pacific Northwest are mourning the death of Will Parry who passed away May 13 at the age of 93.
At his death, he was the editor of the widely read Retiree Advocate, monthly publication of the Puget Sound Advocates for Retirement Action (PSARA), a grassroots organization Parry helped organize back in the 1980s. He served as PSARA's president, leading the fight against any attempts to privatize or terminate Social Security, Medicare, or Medicaid.
PSARA's current president, Robby Stern, said, "Will was a warrior for working people for more than seven decades. His leadership, compassion, and deep commitment to economic and social justice was an inspiration to several generations of labor union and progressive activists in the Puget Sound region."
Parry took on the struggle against global climate change in his last years. His front-page lead article in the Retiree Advocate, December 2012 was headlined, "To Save Planet Earth, Handcuff the Fossil Fuel Industry." The lead sentence reads, "This article is for my grandchildren. And yours. And everybody's all around the world. I want them – all of them – to live out their lives on a vibrant, living planet."
Jeff Johnson, president of the Washington State Labor Council, AFL-CIO, said, "Will Parry epitomized the best of the labor movement. He believed in collective bargaining, but he also believed in our obligation to fight for social and economic justice for all people and all communities. Will was soft spoken, but his words resonated loud and clear. I will remember his sense of humor, his sense of dignity and his music. Will's spirit remains with us each day we continue the good fight for the working class."
Until a few weeks before he died, Parry continued to attend meetings of his Communist Party Club in Seattle. Parry's comments on immediate struggles in Seattle, Olympia, and Washington, D.C. reflected his belief that the massive coalitions fighting for immediate progressive gains will one day lead the fight for socialism.
At a celebration of Parry's 90th Birthday in April 2010, Thurston Muskelly recalled Parry coming to the rescue of the Central Area Senior Center, which served mostly African American senior citizens in that part of Seattle. The Senior Center was facing bankruptcy. Parry and Muskelly together spearheaded a fundraising drive that brought in $131,000, saving the center from closure. The Rev. Harriett Walden, leader of Mothers for Police Accountability, also recalled Parry's support of MFPA over the years, fighting police abuse and brutality. Later that year, the Seattle City Council honored Parry for his "lifelong commitment, and work, to achieve social and economic justice for all the residents of Seattle."
Parry was a troubadour who played his well-worn guitar and sang folk songs at rallies and meetings. He serenaded senior citizens at nursing homes in the 1980s and 1990s, singing any song requested. He was tall, lean, and strikingly handsome. He had a quick smile and a ready wit.
In his final years, Parry's companion was Imogene Williams. They lived in her gracious home at the summit of Capitol Hill. It is here that Parry celebrated his 93rd birthday with chocolate cake and ice cream surrounded by those who loved him. A steady stream of his admirers came to visit him in his illness. He died peacefully with Imogene at his side.
Parry was born in Seattle, great grandson of a mayor of the Emerald City. His father was a small businessman, radicalized when his company went bankrupt. The father took Will to hear William Z. Foster, Elizabeth Gurley Flynn, both national chairpersons of the Communist Party USA, and any other advocates of socialism who visited.
After high school graduation, Parry attended Washington State College where he starred in track and field and graduated Phi Beta Kappa. In his final year of college, he returned home to Seattle. The nation was still locked in the Great Depression and Parry contacted the Young Communist League and joined. During World War II, he served in the U.S. Coast Guard.
After the war, he wrote for the San Francisco-based People's Daily World (a predecessor of this online publication). Cold War anti-communist witch-hunts forced staff cutbacks and Parry was laid off. He faced constant FBI harassment and blacklisting, including summons to appear before various witch hunt panels such as the House Un-American Activities Committee.
By now he had met and married Louise Long. They had two children. Despite the fierce Cold War repression, Will and Louise Parry lived lives filled with struggle, many victories, and much joy. Louise was a tireless, witty, organizer in her own right. For decades, the couple was an inseparable team, active in all the movements for union rights, peace and equality. She died in 2006 at age 85.
Parry finally found a job with Longview Fiber, a manufacturer of corrugated cardboard boxes with a plant in south Seattle. Longview Fiber's personnel director rejected the FBI intimidation and stood by Parry.
He worked at the box plant for 21 years, rising to leadership of the Association of Western Pulp and Paper Workers (AWPPW), Local 817. He was so effective that the AWPPW chose Parry to serve as the first elected union lobbyist in Olympia. AWPPW President Bill Farris said that Parry "was an advocate for people who needed help, an advocate for the union. I've lost count of the number of picket lines I've walked with Will."
During the depths of the Cold War, a top AFL-CIO leader told Parry he was not welcome at labor movement headquarters. As they say, the times they are a-changing. The Washington State Labor Council honored Will Parry with its "lifetime achievement" award in 2002, celebrating his uninterrupted struggle for the rights of working people. He had an office in the Seattle Labor Temple and no one was more beloved.
Will Parry is survived by his companion, Imogene Williams, his children, Naomi and Jon, two grandchildren, his brother, Tom, and by union brothers and sisters too numerous to name. A memorial is planned for June 29.
Photo: Will Parry, center front, receives a proclamation from the Seattle City Council for his work in the labor union movement and among retirees. (Alliance of Retired Americans)