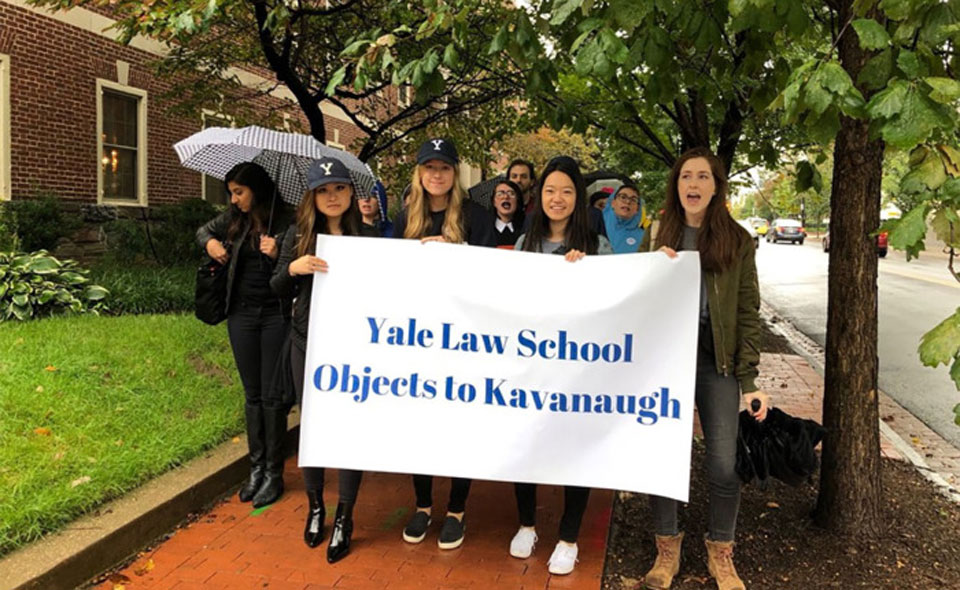 WASHINGTON — Win, lose or withdraw – and Brett Kavanaugh vows not to do that – the rush to put the right-wing federal judge on the U.S. Supreme Court serves one real and key purpose GOP President Donald Trump set: Rev up, gin up and get out the right-wing voter base this November.
And the right wing, led by Trump, admits it.
"The Supreme Court is one of the main reasons I got elected president. I hope Republican voters, and others, are watching, and studying, the Democrats' playbook," Trump tweeted several days ago. That "playbook," the GOP alleges, is to delay Kavanaugh's hearings and deny him a seat on the court.
When that happens, Trump voters will sit on their hands this fall, right-wing leaders fear.
As a result, defying evidence of sexual abuse by Kavanaugh, while dismissing Democratic and public objections, the Senate Judiciary Committee's ruling Republicans are staging a sham hearing on September 27 to hear from Kavanaugh and his first accuser, Dr. Christine Blasey Ford, back-to-back.
And leaving no time for any real reaction, the panel says it will vote on Kavanaugh the next morning.
After long opening statements by Judiciary Committee Chairman Charles Grassley, R-Iowa and top Democrat Dianne Feinstein of California, senators will get only five minutes each to quiz Ford, and five minutes each to quiz Kavanaugh.
Other witnesses, including former Kavanaugh Yale classmate Deborah Ramirez, the second accuser, and other former Kavanaugh classmates at both an exclusive all-boys prep high school and at Yale, who could back the two up, are barred.
The hearing room will be smaller, U.S. Capitol police will guard and escort both Ford – who has received death threats and been forced into hiding – and Kavanaugh, the press will be limited and spectators will be few.
And the GOP absolutely refused to put off the hearings to accommodate a non-partisan, professional FBI investigation of Kavanaugh's sexual abuse of Ford, Ramirez or D.C. resident Julie Swetnick.
Swetnick, a third accuser who came forward today, gave a sworn deposition to her attorney saying she was a victim at a high-school "gang rape" where Kavanaugh pals attacked her and other young women whose punch was drugged.  Swetnick's attorney passed it on to Michael Avenatti. Avenatti, attorney for Stormy Daniels, whom Trump had an affair with before the 2016 election, released it.
"We demand an immediate FBI investigation into the allegations. Under no circumstances should Brett Kavanaugh be confirmed absent a full and complete investigation," Avenatti said.
The GOP refused. But in a nod to the bad optics of having 11 white men, the Senate panel Republicans, grilling a woman about sexual issues, they hired Rachel Mitchell, head of the Maricopa County (Phoenix) DA's sex crimes office, to quiz Ford, using the GOP senators' time. The ten Judiciary Committee Democrats will handle their own questions.
After an expected party-line committee vote on Kavanaugh on Friday, September Senate Majority Leader Mitch McConnell, R-Kent., plans a full Senate vote after four days of debate the following week.
All this doesn't stop the constant protests against Kavanaugh, including visits to senators' offices planned by the Women's March, from 11:30 a.m. – 3 p.m. the day of the hearing.
"Dr. Blasey Ford is scheduled to testify before the Senate Judiciary Committee about her attempted rape on Thursday, September 27th," their e-mail said. "That same day survivors of sexual assault will gather at their senators' offices and share their own testimonies. They will #HearOurVoice."
"Make sure to bring a letter asking your senator to vote NO on Kavanaugh. We've written a sample letter that you can print out and deliver, or you can write your own! We also suggest you write "I BELIEVE" on your hands in marker, and you can download images for signs here."
"Whether you're a survivor or an ally, please join us. Let's #CancelKavanaugh and build a world where we all #BelieveSurvivors."
The email includes a "sign up" box to click.
None of this fazes Trump, the Republicans or the right-wing voters they want to turn out this November.
McConnell told a convention the week before of so-called "Values Voters" Kavanaugh would be "plowed right through."
"In the very near future, Judge Kavanaugh will be on the United States Supreme Court. So, my friends, keep the faith. Don't get rattled by all of this. We're going to plow right through it and do our job. We're going to have Judge Kavanaugh—Justice Kavanaugh," McConnell declared.
If they don't get Kavanaugh as the key fifth right-winger on the High Court, the right-wingers will sit on their hands this fall, says their top radio talker, Rush Limbaugh. Other GOPers back him up.
"If Grassley doesn't get a handle on this, I'll tell you something else, which everybody also knows. If the Republicans do not get this vote taken and have Kavanaugh confirmed, you can kiss the mid-terms goodbye," Limbaugh said on his radio show. "You can kiss goodbye holding the House and you can kiss goodbye holding the Senate."
"Because whatever the Democrats think of their base, the one thing I know that if you guys fold on this and cave and keep bending over backward …if you guys don't conduct this vote in defiance of all this and if Avenatti gets one foot in the door to a Senate committee to start telling his story, then you can kind of kiss good-bye Republican chances in the midterms in November. Because people are gonna logically say, 'What good does it do?'," Limbaugh added.
"Rush is right," longtime evangelical leader — and GOP right-wing strategist — Ralph Reed tweeted.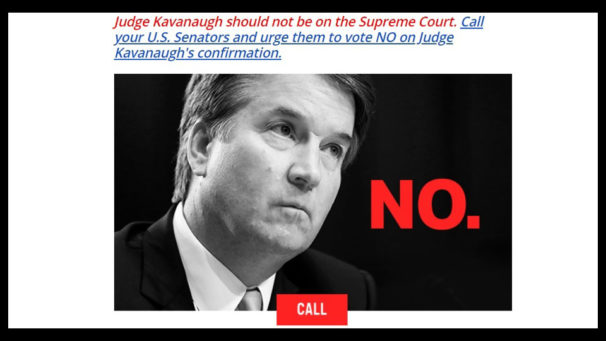 Meanwhile, progressives hit the phone lines, as well as the streets, to urge senators to stop Kavanaugh.
In one example, "The need to call your Senators is even more urgent, as hearings this week could decide whether or not Judge Kavanaugh is confirmed to the Supreme Court. Your calls could stop this confirmation — so take 3 minutes and call right now," Everytown for Gun Safety urged.
When you reach a staff member or voicemail, tell them that you want your Senator to vote NO on Judge Kavanaugh's confirmation.
With one potential fence sitter, Missouri Democrat Claire McCaskill, having announced her opposition, the focus is on Democrats Heidi Heitkamp (N.D.), Joe Manchin (W. Va.) and Joe Donnelly (Ind.) – all up for re-election in states Trump handily carried two years ago – and pro-choice Republicans Lisa Murkowski (Alaska) and Susan Collins (Maine). Kavanaugh's lower-court rulings and other statements put him solidly against reproductive rights and choice.