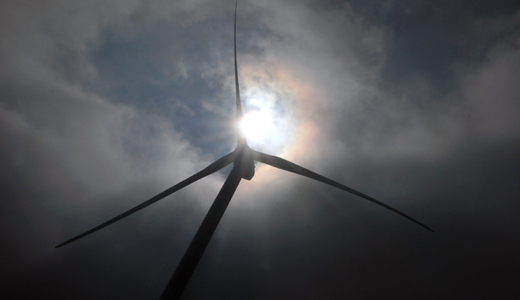 Wind energy production in the U.S. may see a steady rise in the future. However, the wind industry has an ongoing situation that needs to be remedied, reports MSNBC; they have fallen short on worker safety.
Thousands of giant wind machines used in the industry violate a federal requirement – in short, they don't allow enough maneuvering space for technicians who work inside the towers. In fact, it often prevents them from being able to get up and down their ladders safely.
There are roughly 36,000 towers in the U.S., and that number is always increasing. The majority of them are produced overseas, where the manufacturers ignore the U.S. standard for safety.
Patrick Bell, a senior safety engineer with the California division of the Occupational Safety and Health Administration, said that luckily, they aren't aware of serious worker injuries so far. However, he emphasized that these overseas companies "evidently didn't look into U.S. codes and standards – especially safety standards – in doing their designs."
The American Wind Energy Association and the United Steelworkers union have released a joint "Framework Agreement," according to Reliable Plant, in order to create a "Partnership for Progress" – a push to accelerate wind production in the U.S.
USW international president Leo Gerard remarked, "The Framework Agreement is the beginning of a road map to help ensure that our nation makes real progress in developing alternative and renewable sources of energy production on a scale that is commensurate with its vast potential. We expect this will advance the promise of green jobs being key to our future."
At the moment, Occupational Safety and Health Administration officials are bewildered by the current number of safety violations, and are trying to determine the extent of the hazard – and what action ought to be taken.
"We could conceivably issue citations," said Bell, "But we might end up taking all of our compliance officers off other industries to run from one wind farm to the next."
There are also other serious safety issues.
In August 2007, one worker was killed and another injured due to the collapse of a tower at a wind farm near Wasco, Ore. And just last year, OSHA fined Outland Energy Services $378,000 for safety violations when a worker suffered severe electrical burns at an Illinois wind farm in October.
Clearly, something is wrong.
In an attempt to right these wrongs, AWEA has teamed with OSHA, forging an alliance that will focus on worker exposure to electrical, crane, and fall hazards in the wind-energy industry.
David Michaels, assistant secretary of labor for OSHA, commented, "As part of the emerging green jobs industry, wind-energy jobs promise to be kinder to the environment and transform our economy, but these jobs are not necessarily safer for American workers. I am confident that our alliance with AWEA will further OSHA's mission to ensure that wind energy workers are protected from preventable injuries and death."
As part of their two-year initiative, OSHA and AWEA plan to develop materials for workers that specifically address maintenance and operation standards. They will also hold forums to discuss safety hazards and potential violations, and to raise awareness among workers about these types of situations.
Two field technicians in the industry are trying to draw attention to these issues as well, as they have been exposed to the problem – and are stunned by its prevalence.
Ed Oliver, 47, of Dana Point, Calif. noted, "Between my friends and I, we've been in thousands of wind turbines and haven't found one that's compliant with this issue."
"We can't believe this exists everywhere we go," added Nick Nichols, 45, of Zephyr Cove, Nev. "The regulations are there for a reason."
Photo: Robin Scholz/AP Photos & The News-Gazette