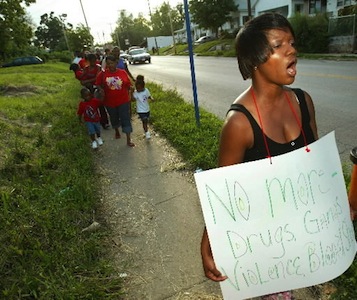 CHICAGO – The city once known for wind is now known for gun violence. The Windy City is called a war zone.
There were 275 murders – most of them from gunshot wounds – here within the last seven months. That exceeds the number of soldiers killed in combat in Afghanistan during the same time period.
Police say the violence stems from gangs fighting over drug turf.
Most of the victims are young. Most of them are Black or Latino innocent bystanders.
Phil Cadman, a resident of South Shore neighborhood, describes walking his dog four blocks to the nearest park. On three of those blocks he passes homemade shrines to three victims of shootings.
"They are 12 years old. One was just trying to ride his bicycle," he said.
Another young victim was a 7-year-old girl, Heaven Sutton, hit by a stray bullet while selling candy outside her home.
As the nation deals with the aftermath of the Aurora, Colo., attack, violence plaguing some neighborhoods gets little attention.
President Barack Obama did take note of daily violence while reflecting on Aurora in his weekly address.
"I hope everyone takes some time for prayer and reflection – for the victims of this terrible tragedy … and for all the victims of the less publicized acts of violence that plague our communities on a daily basis," Obama said.
Chicago police chief Garry McCarthy once called the nation's permissive gun laws racist. Gun manufacturers and sellers – with their lobby group the NRA – push local, state and federal officials to adopt laws that result in high sales and profits – legally and illegally – from their wares.
Last weekend, area faith leaders called for action to stop gun violence, urging the public to combat violence by contacting their legislators and demanding stricter gun laws, like an assault weapons ban that is currently languishing in Congress.
They also urged a multi-pronged, citywide approach.
Chicago Mayor Rahm Emanuel is in the hot seat over a change in police tactics – based on a campaign promise for more beat cops – which some aldermen have pointedly criticized as ineffective.
Policing is just one piece of the overall problem, though, and Emanuel has not substantially addressed any underlying factors and solutions.
He did speak on "values" recently.
"We've got two gangbangers, one standing next to a kid. Get away from that kid. Take your stuff away to the alley," he said in a CBS interview.
For impoverished communities, which also face systemic exclusion to jobs, home ownership, education and health care, it's not that easy, says Sun Times columnist Mary Mitchell.
In some neighborhoods the "largest employer" is the "drug trade," she writes.
"There is no way Chicago is going to significantly reduce the violence without investing resources in the communities where the violence is occurring."
Ex-felons without job prospects, young people struggling to learn basic skills and trying to survive in "neighborhoods hard hit by foreclosures and high unemployment" are all "ripe for trouble," Mitchell writes,
In a time of budget slashing, tea party Republican austerity policies and their promises to spend more on war, public investment in neighborhoods, schools and job creation seems a distant dream.
According to studies, it costs taxpayers $1.2 million dollars per shooting for medical and criminal justice expenses, in reduced business and property values and dealing with the long-term effects on children who witness violence.
Costs increase when you factor in removing people from economic productivity either through incarceration, injury or loss of life.
"Why do we spend at least 1,000 times more money protecting ourselves from terrorism than we do protecting ourselves from gun violence?" writes Andrew Cohen in The Atlantic.
Then there is the quality of life impact on the wider community.
One local high school principal has attended eight funerals of current and former students. In an interview on WBEZ, principal Leonetta Sanders described the tragic impact in human terms.
"We are literally picking up students in the morning in our own cars and bringing them to school because they cannot walk through certain areas," Sanders said.
Last June she started a list she called the Harper High School Victim and Offenders Binder.
"One day after-and I can't remember which incident-I just started a list….LaMont Goggins, Marcus Nunn, Deondre Alexander, Cedric Bell, Sergio Penex, Brian O'Neill, Darius Farley…" she said.
The list now has 27 names, 19 shot and eight dead in one school year.
"As I wrote the list, tears just ran down my face. Because it's different when you see it like this. When you see the total number of students in one high school that have been affected by gun violence," she said.
Photo: (CC)