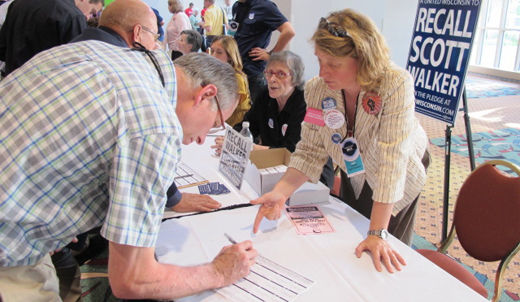 Republicans in Wisconsin were dealt a major blow June 27.
The state's Government Accountability Board ruled that state Rep. John Nygren, one of two Republicans who filed to challenge Democratic state Sen. Dave Hansen, is disqualified from the ballot because he filed an inadequate number of signatures. The GOP challenges are an effort to punish Democratic state senators who fled Wisconsin in February to block a vote on Gov. Scott Walker's bill destroying collective bargaining rights for state workers.
To appear on the ballot, Nygren was required to submit 400 valid signatures. He filed only 424 and the GAB ruled that only 394 of them were valid.
Unions note that workers and their allies have been able to collect more than 15,000 valid signatures in each of the six districts where they are recalling GOP state senators who backed the anti-union measure. By contrast, Nygren, who had the full backing of the Republican Party of Wisconsin and the Committee to Elect a Republican Senate, was able to collect only a few hundred valid signatures.
The development means the Democrat Hansen will now face a far weaker Republican challenger, David VanderLeest, in a July 19 general election. The six Republicans' recall election is a week earlier, July 12
VanderLeest's past has been the subject of material for the media and strong criticism from the Democratic Party.
In 2007 he pleaded no contest to two different disorderly conduct charges. He has a court record of two misdemeanor convictions.
He has received fines for multiple building code violations.
An ex-wife sued him for child abuse in Oconto County in 2011, but the case was dismissed.
In the past he has been charged with battery and domestic abuse. Those charges were also later dismissed.
VanderLeest has admitted to drunk driving while in college.
"I have made mistakes in my past," VanderLeest told greenbaypressgazette.com, "but Hansen made a mistake in February when he left the state." He said that "any scrutiny of court records or filings will show that my ex-wife recanted all statements ever made against me in any courtroom in Wisconsin."
Six Republican senators who voted for Gov. Walker's bill are facing recalls this July: Alberta Darling of River Hills, Sheila Harsdorf of River Falls, Robert Cowles of Green Bay, Dan Kapanke of La Crosse, Randy Hopper of Fond du Lac and Luther Olsen of Ripon.
Unions say the recalls result from a grassroots effort far bigger than anything the Republicans have been able to mount. In order to get on the ballot in those districts pro-union volunteers had to engage several hundred thousand voters on a one-on-one basis.
Republicans challenged the Democrats' signatures but all their claims were thrown out by the Government Accountability Board.
Democrats have to win only three of the six recall elections against Republicans to take control of the Senate.
Republicans appear to be bracing for defeat.
The local press reported last month that Kapanke fears it is the public service workers whose rights he voted to take away that will put him out of office. In a talk he gave at a country club, which was leaked to the press, he said: "We've got tons of government workers in my district – tons. From La Crosse to Prairie du Chien and to Viroqua and to Ontario and to Hillsboro, you can go on and on. We have to overcome that. We gotta hope that they, kind of, are sleeping on July 12 – or whenever the election date is."
Photo: Activists in Wisconsin have begun collecting pledges to support an eventual recall of Gov. Scott Walker. Democrats want to recall six Republican state senators this summer, and they hope to also recall Walker next year. Dinesh Ramde/AP