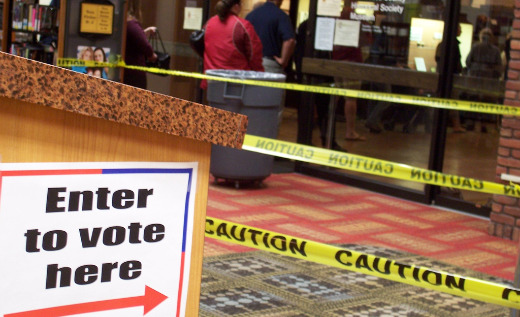 MILWAUKEE – A coordinated plot by the Republican Party, tea party and billionaire Koch brothers to suppress the vote in Wisconsin on Election Day has been exposed. One Wisconsin Now, a progressive voter advocacy group which exposed the plot, has sent a letter to the U.S. Justice Department requesting an investigation.
Wisconsin is a battleground state, with Democratic Sen. Russ Feingold engaged in a close race against millionaire businessman Republican Ron Johnson. The governor's race has Democratic Milwaukee Mayor Barrett trailing Republican Scott Walker, the Milwaukee County executive.
Johnson, who has the support of FreedomWorks, the group behind the tea party movement, advocates privatization of Social Security and has been blasted by the Wisconsin AFL-CIO for opposing unionization of his workforce and wanting to cut unemployment benefits.
The vote suppression plot centers around the use of "caging," a technique utilized heavily by Republicans and the extreme right wing over the past few election cycles. It is targeting heavily Democratic voting blocks, primarily African Americans, Latinos and university students.
In the "caging" practice, letters are sent to targeted voters to intimidate them by saying they have to call a number and verify their information or they will be removed from voter rolls.
And if the letter sent to a voter is returned as undeliverable, the voter's name is put on a list and their eligibility is challenged on Election Day.
Denying a person's right to vote in this way is patently illegal and a violation of federal law.
Voters who are challenged will have the option of returning home to get the necessary documents to prove their residence or to reregister. This will discourage many voters from returning.
The other option is to vote by provisional ballot. But voters must return the next day to validate their ballots, and provisional ballots are not counted 35 percent of the time.
Americans for Prosperity, the outfit funded by the billionaire Koch brothers which used various front groups to fight the president's health reform legislation and other initiatives, and whose efforts to take down the Obama administration were exposed earlier this summer in a lengthy piece in the New Yorker magazine, agreed to send out the letters to voters.
The Republican Party has provided the voter database, and has agreed to train poll watchers and arrange for attorneys to be present to challenge voters. The tea party will provide Election Day volunteers.
One Wisconsin Now legally obtained a tape of a meeting where the discussion of the plot took place. In it, Tim Dake, leader of the Wisconsin Tea Party known as the GrandSons of Liberty, is heard saying:
"So, what we're hoping is that the various groups in the coalition plus Americans for Prosperity and Mark Block [head of Wisconsin Americans for Prosperity], and this is coming all the way from the top: Reince Priebus [chair of the Wisconsin GOP] has said, 'We're in.' And there's a reason why these guys are volunteering to work with us. They have access to what they call 'Voter Vault,' you know the records of voting. They can go in there and look for lapsed voters. They can go in and compare lists of voters and say, 'Oh look at this. This person is registered in this county, this county, this county, and this county.' And do something about this. So we're talking about a broad based support behind this idea. What they're offering is training."
In an article in the Milwaukee Journal Sept. 20, Dake claims the voter suppression plot was shelved. But according to Scott Ross, executive director of One Wisconsin Now, the group has e-mails from as late as Sept. 17 proving the plan is active.
"The Tea Party groups and Americans for Prosperity are claiming their collusion with the Republican Party of Wisconsin is long over," said Ross. "Then why did Tim Dake from the Tea Party send these documents from the Republican Party outlining the voter suppression plan and the non-disclosure agreement five days ago?" he asked.
"We need the authorities to investigate these allegations to guarantee that every voter has the right to cast their ballot in the election," said Ross. One Wisconsin Now is urging anyone who received the mailing to contact the organization at 608-204-0677. For more information about the alleged voter caging plot, visit SaveWisonsinsVote2010.org.
Progressive radio host Thom Hartmann said on his show Sept. 20 that 8 million votes were suppressed by Republican tactics in the 2008 elections, and 6 million in 2006. It is not clear if plans similar to what is unfolding in Wisconsin are being made in other states for this year's elections.
Photo: http://www.flickr.com/photos/tinfoilraccoon/3005537118/ cc 2.0