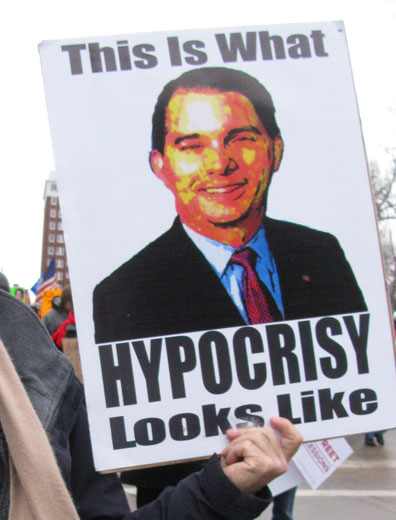 MADISON, Wis. – Republican Gov. Scott Walker is facing a serious recall campaign and the GOP is running scared.
In a sneak attack on the democratic rights of the voters to recall elected officials, the Republicans are proposing a bill that would force petition gatherers, who already have to certify each petition they collect, to have those certifications notarized.
The drive to recall Walker officially gets underway on Nov. 15, when United Wisconsin, a coalition of labor and community groups, will file papers with Wisconsin's Government Accountability Board to begin the recall effort.
Scheming to derail that effort, Republican lawmakers are pushing a new bill in the Wisconsin state Senate to make the recall process much more difficult.
It would force people who gather any of the 550,000 signatures required for a ballot spot to notarize their signatures. The GOP hopes the measure will slow down the petition gathering enough so that signature gatherers miss the Jan. 15 deadline.
The GOP claims that the bill is designed to prevent "voter fraud, not the exercise of democratic rights."
Republican state Senator Mary Lazich, speaking about the current law which requires signature gatherers to certify their own signatures, said, "Over the course of the last year, we have seen that this is not enough to ensure the integrity of the recall process. It was widely reported that people signed under false names, used inaccurate or incomplete addresses, and signed papers that they were not qualified to sign."
Democrats say that Lazich's claims are "nonsense" and they note that if the GOP believed that signatures gathered for the summer recalls were so questionable, Republicans would have challenged those signatures before the Government Accountability Board or the courts.
Labor organizations and their allies say that the latest Republican scheme may actually be unconstitutional. The state constitution reads, "Laws may be enacted to facilitate its operation but no law shall be enacted to hamper, restrict or impair the right of recall."
Supporters of the recall note that hundreds of thousands of signatures were gathered by labor and its allies over the summer for successful recall elections of state senator's who backed a Walker bill that destroyed collective bargaining rights. There were no reports of signature fraud in any of those efforts, they note.
Photo: At Madison, Wis. solidarity rally, March 5. John Bachtell/PW