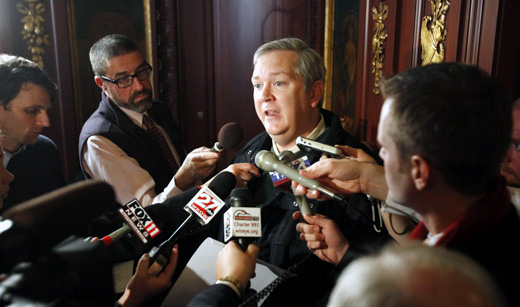 MADISON, Wis. – Even among this year's new wave of Republican governors, Wisconsin's Scott Walker sticks out for his anti-union, anti-state worker legislative package. But his proposals, due for a vote in the GOP-run state legislature on Feb. 17, might go down the drain in the state senate.
That's because, according to reports out of the state capital of Madison, four GOP senators – enough to swing the vote there – are leery of Walker's package of pay cuts, health care cuts and attempts to turn historically progressive Wisconsin into a right-to-work state.
Walker's package, unveiled in early February and enclosed in a budget bill, would limit unions representing state and local workers to bargaining on wages – as long as the final figures don't exceed the rate of inflation – but not benefits. He would also make dues payments voluntary and enact "paycheck protection," outlawing voluntary labor campaign finance committees' donations to political campaigns.
Walker claims his moves would help close a 2-year $3.6 billion budget gap. The legislature's joint budget committee held hearings on his package on Feb. 15 and was expected to approve it the next day, with a showdown on the floor of both houses on Feb. 17.
The Wisconsin state house, with a 57-38 GOP majority, is expected to handily pass Walker's anti-worker anti-union package. The GOP controls the Senate 19-14, but four senators were uncommitted as of the weekend of Feb. 12-13, and four others did not return Wisconsin reporters' phone calls.
Walker's moves are in line with anti-union agendas of other GOP governors and legislatures nationwide, but go farther. In Ohio, for example, new GOP Gov. John Kasich questions pay and pensions for state workers and wants to yank collective bargaining rights for home health care aides. Indiana GOP Gov. Mitch Daniels and the GOP-run state legislatures in Missouri and Michigan are considering right-to-work laws.
Even before Walker officially unveiled his package, which he forecast in his inaugural address after saying not a word about it in the 2010 campaign, two top Wisconsin union leaders warned the anti-worker anti-union blitz is bad for the state.
"It is politically fashionable at the moment to attack public workers and their unions," state AFL-CIO President Phil Neuenfeldt and AFSCME Joint Council 48
executive director Rich Abelson wrote in the Milwaukee Journal-Sentinel. "At the county, city, state and national level, it is easier to look for scapegoats than to offer real solutions that will create good jobs, increase the tax base and get our economy going again.
"Rhetoric that demonizes public workers, seeking deep cuts without recognizing the reality of deep consequences, does little to balance the books and even less to make sure that vital services are delivered consistently and well," they added, in a column provided by the Milwaukee Labor Press.
Walker's cuts would mean hardship not just for state and local government workers and their families, but for all state residents, the two leaders added. They said "public-sector unions help ensure all citizens receive good value for their tax money.
"We all must be vigilant, lest our public services cross the line from lean and mean to frail and ineffective," they said. "Union negotiations are the most democratic way to make sure that government workers have the tools and incentives that they need to do their jobs properly…No one, with the possible exception of a few shortsighted politicians, benefits when the relationship between public workers and taxpayers becomes adversarial."
Other sources told Press Associates that government workers in Wisconsin, had already said they would sit down and negotiate sacrifices – on top of cuts local teachers chose during the prior GOP gubernatorial administration of Tommy Thompson.
Then, teachers and school districts statewide, given the choice between raises and keeping health care premiums down – at the cost of no pay increases – chose the health care, and banded together in a cooperative to increase their purchasing power.
Walker's proposals set off protests all over Wisconsin before the vote, prompting Walker to threaten to call out the National Guard against public workers. One protest was in Wausau on Feb. 12, and hundreds of University of Wisconsin students marched on the state capitol on Feb. 14 to show solidarity with the state workers on campus.
Leaders of unions representing Teamsters, machinists, electricians, construction industries, teachers, University of Wisconsin employees and nurses spoke at a pro-worker press conference the same day. Teamsters representative Danny McGowan said Walker declared war on unions.
"Even if you don't like unions, surely we all can agree that anti-freedom attacks that deny public employees the right to negotiate a fair contract are outrageous and wrong," Abelson said.
Photo: Rick Badger, executive director of AFSCME Wisconsin Council 40 speaks with media after Wisconsin Gov. Walker made his proposal to significantly strip the collective bargaining powers of state and local public employee unions, in Madison, Wis., Feb. 11. (M.P. King, Wisconsin State Journal/AP)