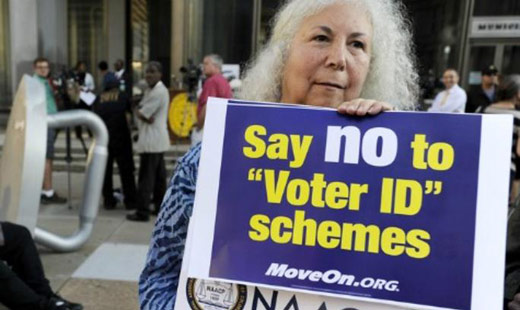 On Election Day, some 300,000 registered voters in Wisconsin could have their voices silenced. And that's exactly what Gov. Scott Walker (R), the Republican-majority state legislature and their corporate and extremist backers had in mind when they passed the restrictive voter photo ID law in 2011.
Why would Walker and his cohorts want to disenfranchise nearly 10 percent of Wisconsin's registered voters? Take a look at who, according to a University of Wisconsin-Milwaukee study, doesn't have a state-issued photo ID: Some 23 percent of Wisconsinites over 65; More than 17 percent of white men and women; About 55 percent of African American males and 49 percent of African American women; Some 46 percent of Hispanic men and 59 percent of Hispanic women; About 78 percent of African American males ages 18 to 24 and 66 percent of African American women age 18.
Doesn't really fit the profile of likely Republican voters does it? Wisconsin State AFL-CIO President Phil Neunfeldt said, "It is clear that the intentions behind the voter suppression law are to silence large portions of the population who tend to vote against Republicans."
The League of Women Voters of Wisconsin, which filed several suits against the law, said it was an "expensive proposal that would create barriers to voting for thousands of citizens in an effort to 'fix' a problem that does not exist."
In an editorial opposing the photo ID law, the Wausau Daily Herald wrote: "The case for a voter ID law would be different if there were reason to believe that widespread voter fraud were corrupting Wisconsin's elections. There isn't. There is no data to back up the notion that widespread vote fraud exists here.
There have been a number of legal challenges against Walker's photo ID law that have kept the voting restrictions from being enforced until this election. On Sept. 12, the 7th U.S. Circuit Court of Appeals upheld the law."
Courthouse News Service reported that in her dissent from the federal appeals court decision, Judge Ann Claire Williams "blasted the state's claim that 'the voter ID law will have little impact on the vast majority of voters.'" Judge Williams wrote: "It simply cannot be the answer to say that 90 percent of registered voters can still vote. To say that is to accept the disenfranchisement of 10 percent of a state's registered voters; for the state to take this position is shocking….The right to vote is not the province of just the majority. It is not just held by those who have cars and so already have driver's licenses and by those who travel and so already have passports."
The groups behind the lawsuit asked the U.S. Supreme Court last week to take emergency action and block the requirement ahead of the Nov. 4 election.
In a twist that's hard to believe is merely coincidental, Walker has shut and cut the hours of operation for state Department of Motor Vehicle (DMV) offices-the places where people have to go to get a state-issued ID.
Mark E. Anderson of Daily Kos reported last week that across 40 counties, there are DMV service centers that are only open two days a week or less. That is 60 percent of the state DMV locations only being open a handful of days before the election.
In a letter to the Walker administration, Assembly member Andy Jorgensen said:
If Wisconsin doesn't offer DMV service hours that make sense for its citizens, in effect, it will be stripping thousands of people of their right to vote.
Isn't that the point?
Click here to find out what types of IDs will allow you to vote in Wisconsin, how to apply for an ID and voter registration information.
The above article appeared on the AFL-CIO Now Blog. Photo courtesy MoveOn.org.