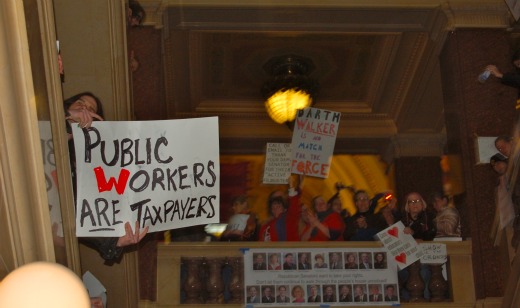 MADISON, Wis. – Neither Gov. Scott Walker's intransigence nor the cold and ice have deterred Wisconsin workers and students from protesting his attack on unions. If anything, the crowds were bigger than ever this morning, state police said. All three floors of the state Capitol were jammed with people, with thousands more outside, waiting for a major noon rally., including a "Hands Around the Capitol." Hundreds of people wearing green AFSCME T-shirts marched down Madison's main street carrying a banner declaring, "It's About Freedom."
On day six of the massive protests here, busloads of Chicago union and community activists arrived to show solidarity with their Wisconsin sisters and brothers.(Story continues after slideshow.)
Ann Mullany, a part-time student who plans on becoming a teacher, came from Chicago to join the demonstration because she sees this attack on teachers and unions as an attack on the entire country. Mullany is not in a union now but she said, "We'll be nowhere without teachers and unions. We'll be back in the dark ages if they get away with this."
In the Capitol rotunda, music and chants continued. Ironworkers from Local 8 in southeast Wisconsin, wearing their helmets, marched into the Capitol to great cheers.
About 100 steelworkers marched in with national Steelworkers union president Leo Gerard, who announced they'd be staying overnight with the Wisconsin protesters.
"I heard a nasty rumor that there was some talk of trying to clear out the Capitol building tonight," Gerard said. "Well let me tell you they don't know what it's like to try to move a steelworker when he or she doesn't want to move. And we don't want to move. We are sleeping here tonight."
Unions and allies are putting pressure on Republican state senators to say no to union-busting.
Referring to that campaign, demonstrators on the third floor of the Capitol unfurled an enormous banner that said, "Wisconsin needs three cou(R)ageous senators."
Gov. Walker and Senate Majority Leader Scott Fitzgerald, both Republicans, have refused to negotiate with the Wisconsin unions. Fitzgerald said he and Walker are determined to cut $1 billion out of schools and social services, and the only way to do it is to kill collective bargaining.
Union leaders have accepted the economic concessions demanded of them in the governor's draconian budget "repair" bill, but they will not accept the blatant attempt to take away workers' freedom to organize and have a voice on their job.
Senate Democrats, who left the state last week to protest the union-busting measures, said they will not return for tomorrow's Senate session. The move will prevent the Senate from voting on budget matters because they will not have a quorum. The chamber will be able to take up non-budgetary items.
Democratic Senate Minority Leader Mark Miller said they won't be coming back until the attack on unions is off the table. Miller said it's up to the Republicans now. "There has to be three Republicans who understand that attacking unions not a way to cut the budget."
Marie Clarkson, a 28-year-old emergency medical technician at University of Wisconsin Hospital and a volunteer firefighter in her hometown, stood on top of the base of a statue in front of the Capitol holding a sign that said "EMT Firefighter: Not the Public Enemy."
"I would lose $250 a month in benefits [under the governor's plan]," she said. "But that's not why I'm here. This is about all workers and not just public workers. This is unbelievable that this could be happening in a state where a lot of unions got their start."
Across the street, at a Subway sandwich shop, the clerk said people have been calling in from all over, putting $50 to $100 on their credit cards and saying it's for any member of a union or a protester to get a free meal.
The Wisconsin protests have electrified the nation as many see this as a fight for basic democracy and dignity.
As about 100 people lined up at 5 a.m. in front of Chicago's Plumbers Hall to catch the buses to Madison, Danielle Wylder, a 25-year-old gay rights activist carried a sign from her group, Join the Impact. "I am here because an injury to one is an injury to all," she said.
Slidshow: Scenes from Feb. 19 protests, including the paltry turn out by tea party. (Larry Ellis)
Photo: Protesters occupy the Capitol Feb. 18 in Madiscon, Wisc. (Teresa Albano/PW)