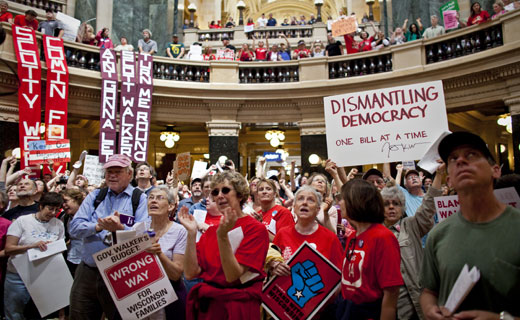 For the labor movement and its allies, today's recall election of Wisconsin's Republican Gov. Scott Walker and other lawmakers is only part of a groundswell of inspiring actions that began with a historic uprising early in 2011.
Walker came into office in the 2010 elections along with tea party, anti-union, and anti-public worker lawmakers who made gains all over the country. Super PACs and fat corporate donors have spent more than $60 million on behalf of Walker in an effort to make people forget that it was Walker and the Republicans, not workers' salaries, who created the budget crisis in Wisconsin. It was the Republican governor who gave $116 million in tax breaks to corporations, even before the presentation of a budget that granted them still more millions in tax breaks.
The public unions, they want people to forget, agreed to help fix the Republican-created mess by making pension and health care concessions. Walker turned down that offer from the unions and pushed instead to strip their collective bargaining rights. That action triggered the unforgettable events of February and March 2011.
On Feb. 17, 2011, a group of protesters that started out small in front of the state Capitol soon swelled to thousands as workers, union members and their supporters descended upon Madison, the state capital, from all directions. Troops of student nurses marching up State Street joined firefighters, teachers, librarians and truck drivers streaming into the center of town from the other streets leading to the Capitol building.
There were no flyers calling upon people to come out that day and hear speakers or listen to famous musicians. The thousands came because they wanted to be heard themselves. They came, they marched and then they made history by taking over the state Capitol and holding it for weeks on end as crowds, at times upward of 100,000, rallied outside.
On Feb. 26, 2011, 100,000 rallied in the deep snow. Small business owners, farmers, students, nuns, women's rights activists, environmentalists – thousands upon tens of thousands – trudged through the snow and the cold.
Weeks later, when it was clear workers would hold out indefinitely, Walker ordered the Capitol building sealed off and windows welded shut to try to end the occupation. His efforts eventually failed when a judge ruled the people have the right to peacefully protest inside the Capitol.
Democratic state senators in another historic action, meanwhile, fled to Illinois where they stayed to keep Walker from getting the quorum he needed to ram through his union-stripping bill. When the Republicans decided then to push through the bill illegally another historic effort got under way: a huge grassroots recall drive was mounted with 105,000 of almost one million signatures collected in the first four days alone.
The move was emulated by workers in many other states, with a successful effort in Ohio, for example, to overturn a similar union-stripping law by a public vote in November 2011.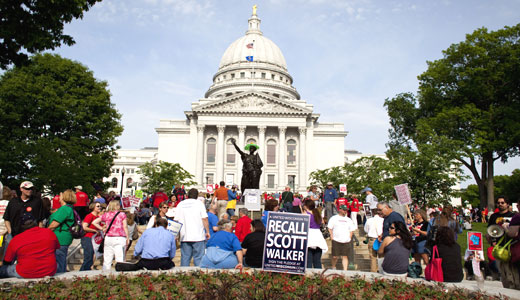 In today's recall election the issue of jobs has become as important to voters as the issue of protecting collective bargaining rights. U.S. Labor Department reports indicate that Wisconsin has lost upwards of 30,000 jobs under Scott Walker.
"It's so important to have a governor focusing on jobs," Walker's Democratic opponent Tom Barrett said yesterday, adding that the Walker agenda is "not working for the middle class. It may be working for the wealthiest people in the state, but for those students struggling to get out of college with mountains of debt and their tuition rising, it's simply not working."
Another big issue is trust. Only yesterday an indicted Walker aide, Timothy Russell, was in court pleading not guilty to embezzlement charges. The Walker aide stands accused of stealing more than $21,000 from a non-profit organization that Walker put him in charge of.
While labor has succeeded in getting through to the media its messages about the attacks on union rights, the importance of job creation and corruption in the Walker administration, it has not been as successful in getting the media to talk about how much of a victory has already been won, regardless of tonight's results.
If Scott Walker survives it will not, as some pundits claim, be taken by other Republican governors to mean they can repeat this attack on labor. Not unless they want to have to beg and scrape among their corporate backers to mount a $60 million election campaign to stave off a possible recall. Not unless they want to lose control of one or more of the houses of their own state legislature.
Recall efforts by labor and its allies in Wisconsin have already deadlocked the state Senate that Walker once controlled, and even one victory in the four state Senate recall races tonight would sound the death knell for the rest of his anti-labor agenda.
Polls show Mitt Romney well behind President Barack Obama in Wisconsin. The movement that has sprung up around the recall makes it even more likely that Republicans will not prevail in Wisconsin this fall.
Despite the overwhelming financial advantage provided by the right wing PACs, a high enough turnout level today can result in a Barrett victory. The people's forces are mobilized. In the movement's favor also is that state law still allows same-day voter registration and Wisconsin's new Republican-pushed law requiring photo identification is not in effect because of challenges in court.
Whether it's up or down today on the duration of Scott Walker's term, however, the movement of labor and its allies that has made history in Wisconsin will continue to make history both there and across the nation.
First photo: Workers occupied the Capitol for weeks in 2011, while crowds (sometimes of 100,000+) rallied outside. AP
Second photo: The recall election today is the culmination, thus far, of an uprising that has been going on for over a year. Tom Lynn/AP & Milwaukee Journal Sentinel