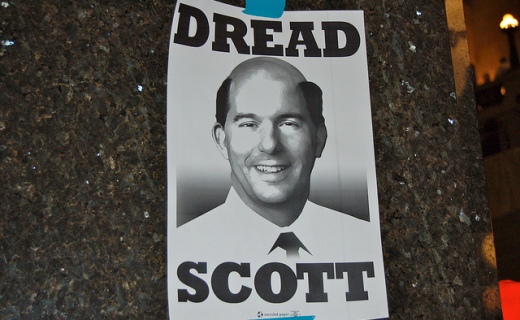 Riding the wave of anti-Scott Walker sentiment, political newcomer, Democrat Chris Abele handily beat his Republican opponent for Milwaukee County Executive April 5, the position held by Walker before elected governor.
Abele won 61% of the vote beating state Rep. Jeff Stone who garnered 39%, according to the unofficial vote count.
Abele financed his own campaign as he comes from a wealthy Boston-based family. He is described as a philanthropist and political neophyte by the Milwaukee Journal Sentinel. Abele tied his opponent Stone to the unpopular policies of Gov. Walker.
Walker, who has ties to the multi-billionaire oil tycoons Koch Bros., declared war on unions and working people with his so-called budget repair bill. People responded with massive demonstrations and an occupation of the state Capitol for weeks.
The bill contained language that stripped away union rights for public employees – from teachers to snowplow drivers. Fourteen Democratic state senators left Wisconsin to prevent quorum thereby halting the budget bill process.
In a high-handed and legally controversial manner, Republicans stripped the union-busting language from the budget bill and passed the anti-worker bill on its own.
Since then, the law has been in the courts and currently stayed by court order.
That put the spotlight on another hotly contested race: the state Supreme Court.
Labor-backed Assistant Attorney Joanne Kloppenberg is currently ahead by a mere 235 votes over incumbent and Walker-backed Justice David Prosser.
Kloppenberg was a virtual unknown before the anti-Walker uprising put the race into question. Wisconsin political analysts say it is almost impossible to unseat a sitting judge in an election, yet Wisconsin voters seem to be poised to do that impossibility.
The race is headed for a recount.
UPDATE: Abou 2:30 p.m. central, Associated Press announced Kloppenburg the winner. "With all 3,630 precincts reporting, Kloppenburg received 740,090 votes, while Prosser received 739, 886," the AP reports. The deadline to request a recount would be no later than April 20.
Photo: One of many leaflets and signs that hung in the state Capitol expressing people's sentiment towards Republican Gov. Scott Walker. (Teresa Albano/PW)