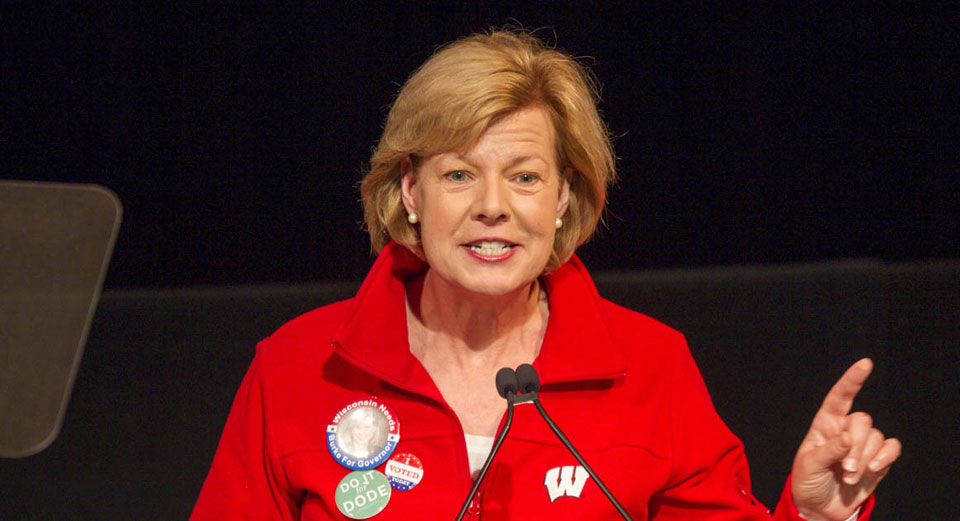 MILWAUKEE – Meet two political minds tag-teaming:
"The most important issue facing voters Nov. 6 is health care."
"The best grassroots campaign tactics are sharing the voters' actual stories about their family illnesses."
"Women will make the difference this year."
"And yes, in the last two years U.S. Sen. Tammy Baldwin became the No. 1 target of GOP political action committees in the nation."
In separate interviews and comments at Milwaukee suburban meet and greets Sept. 9, Baldwin and her special guest, Emily's List president Stephanie Schriock, were thinking independently but were natural allies sharing what they've learned on the trail.
Despite a welter of political topics and local pocketbook concerns from the voters, "health care is what I hear about most," said Baldwin, even if the media is consumed by the Kavanaugh hearings and the Mueller probe of Russian involvement in the election. Voters are not as interested.  Schriock, who travels the nation as head of the No. 1 funding and training organization for pro-choice Democratic women, agrees.
Which means that in Wisconsin, the Republicans are pitching right into the duo's wheelhouse. Baldwin is getting a lot of mileage out of attacking "junk health insurance" being pushed by both her Senate opponent and Gov. Scott Walker. These truly disturb the voters, she said, since concerns about their children and pre-existing conditions dominate their conversations.
"They want candidates whose life experience indicates true sympathy," said Schriock, speculating that is why there are more women successfully running in 2018.  "Listening to their stories and responding with plans are the best things a candidate can do."
Their female audiences have also changed in the last two years.  "Before the 2016 election," recalled Schriock, "Emily's List would be lucky to attract 900 women in the nation to run for public office.  This year it's 40,000."
Democratic women are saturating Wisconsin ballots up and down for local offices and the state legislature, which pleases Baldwin no end. She knows the mileage they get in their races translates into votes for her.  And vice versa, which is why local candidates were bringing their neighbors to these meet and greets. Surveying the voters at these events, you could find several older familiar activist faces but a lot of newcomers, several saying this was their first political event ever.
The senator and Schriock both said separately that the opposing GOP dark money is bigger against Tammy Baldwin over the last two years than it is against any other Senate candidate in the nation.
"At first frankly I was perplexed," said Baldwin.  "Trump barely won Wisconsin. There are states where he had a lead of 16 percent and they have Democratic candidates to pile up on.  Why me? Even before I had an opponent?"
In fact, Kevin Nicholson wasted $11 million in mostly third-party money to lose the Republican Senate primary in August to an equally billionaire-backed Leah Vukmir. Now the radically right-wing Vukmir is openly courting Illinois high roller Richard Uihlein and his active Americas PAC and Restoration PAC  to plunge that money into her campaign, there  to join billionaire Diane Hendricks of ABC Supply, the Kochs,  other rich people and the NRA as well as ALEC – all openly flooding her race with ads and other campaign buys.
"I finally decided it was a compliment on how effectively I'm doing my job," laughed Baldwin.  Her good humor underlies her television advertising campaign, which many have commented on.  For different TV half minutes, Baldwin sought out military veterans, cheese makers, union workers and a pheasant farmer, who required several takes before he unfroze before the cameras to make a joke.
The veterans represented a colorful factual rebuke to a black and white grainy Vukmir ad falsely attacking Baldwin on the veterans' opioid problems while her family story – that personal angle again – about drugs and illness is what the electorate remembers. "It's easy to grasp," said one voter at the events. "She is committed from her own experience."
Vukmir, an extreme Trump-style Republican, is mainly using attack ads against a senator "proud to point to my record," Baldwin said. The contrast in styles is remarkable. Vukmir's ads focus on a sour picture of the problems.  She opposes the Affordable Care Act and boasts she would be the Senate vote to kill it.  Though a former nurse, her attitudes about pre-existing conditions have brought comparisons to Nurse Ratchet of "One Flew Over the Cuckoo's Nest" fame.
Schriock believes it is Baldwin's warmth combined with aggressive commitment that is causing Democrats to worry more about other Senate races, such as Claire McCaskill's in Missouri and Bill Nelson in Florida, despite the money Baldwin is facing (and it keeps growing).
"I wish I could clone a Tammy in every state," she said.