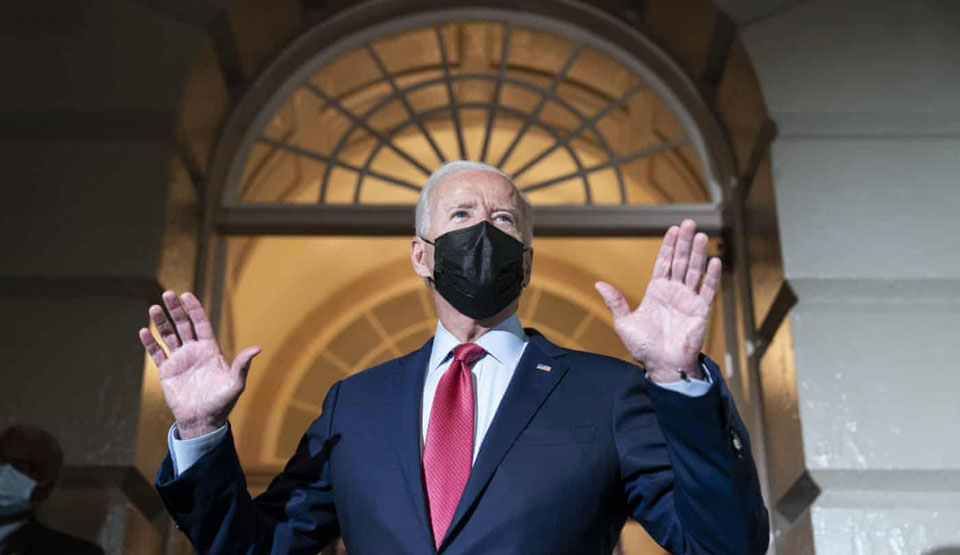 WASHINGTON—With President Biden and congressional Democrats apparently bargaining down the top-line number of his transformative Build Back Better bill, progressive groups are scrambling to save their provisions from the legislative chopping block.
Leading the way was the AFL-CIO, with a petition posted on its website. But it didn't cite one particular program. It's urging lawmakers to pass the entire measure, and an accompanying "hard" infrastructure bill, intact.
"The Build Back Better agenda means trillions of dollars will be invested in our jobs, families, and communities. Tell Congress to pass the budget reconciliation and the infrastructure bills," their petition declared.
"The infrastructure bill is transformative in that it invests in roads, bridges, transit, rail, climate change mitigation, electric vehicles, clean drinking water, high-speed internet, resilient transmission lines, and more that will create good-paying union jobs.
"Budget reconciliation," the BBB bill, "is investment in working people, good union jobs, health care, and more. It includes things like 12 weeks of universal paid leave and two years of free community college, and it reduces prescription drug costs.
"Working people in America have waited long enough" for such changes, the petition says. "Congress must pass both."
Democratic Party internal splits are the catalyst for the petition, and for the all-day talks at the White House. Virtually all Republicans are expected to oppose both measures.
Biden held long sessions with the Congressional Progressive Caucus and self-styled "moderates"—such as Sens. Kyrsten Sinema of Arizona and Joe Manchin of West Virginia–who are more beholden to business lobbies. The moderates demand to both cut the measure's cost and toss out key provisions.
Manchin, the Senate Energy Committee Chairman, believes his state still depends on King Coal and natural gas, as he does for campaign contributions. His ix bottom line: Cut the 10-year measure's cost from $3.5 trillion to $1.5 trillion and kill a key Biden environmental program, tax credits to get utilities to switch away from fossil fuels to clean energy. He also opposes a carbon emissions tax, Politico reported.
Sinema just conducted high-dollar fundraisers in Phoenix, Ariz., and Paris, France, right in the middle of bargaining. The only specific stand she's taken is to oppose the BBB's plan to virtually repeal the 2017 Trump-GOP tax giveaways to corporations and the 1%.
One progressive, Rep. Ilhan Omar, DFL-Minn., hit the ceiling over the moderates' demands. "Thanks to the butchering of Manchin, Sinema, and the greed of their corporate lobbyists, the Democrats' Build Back Better plan has been slashed down to just $1.9 trillion in spending," she tweeted after seeing the headline number in her morning newspaper.
But as the two senators' votes are vital in the 50-50 Senate, and since nine House "moderates" are threatening to sink the BBB bill there unless they get a vote on a smaller five-year "hard infrastructure" bill. Biden hosted both sides at the White House on Oct. 19.
He wants to take a commitment, on the carbon-cutting and environmental provisions in particular, to a summit on global warming, scheduled for Oct. 26 in Glasgow, Scotland.
News reports say the new version of the BBB includes shorter extensions of the child care tax credit and of Affordable Care Act subsidies for individuals who lost their jobs due to the coronavirus pandemic.
Still to be determined are the futures of other key social programs Biden and congressional progressives want to expand or institute. They include permanent paid family and sick leave, expanding Medicare to cover vision, dental and hearing care, and comprehensive immigration reform, including a path to citizenship.
Picked up at least one official
The paid family leave advocates picked up at least one top-level Biden administration official, Labor Secretary Marty Walsh, a Laborers Local 223 member and former Boston Building Trades Council president.
"95% of low-wage workers, who are predominately women and workers of color, lack adequate access to paid family leave. As the wealthiest nation in the world, we have to do better," Walsh tweeted.
Paid family leave and the other social programs are top priorities not just for Biden and the progressives, but for unions, too. So is another section of the legislation: Paying for the new initiatives not just by taxing the rich and companies, but by higher fines for labor law-breaking extended to a broader range of corporate malefactors—such as CEOs and board members—and for a broader range of offenses.
The fines are taken from the text of the Protect The Right To Organize (PRO) Act, labor's #1 legislative priority. Congressional rules governing so-called "reconciliation" bills, which is what the BBB bill technically is, bar including the entire PRO Act text.
Bargaining began before the White House talks. Senate Budget Committee Chairman Bernie Sanders, Ind-Vt., who crafted that chamber's version of BBB—and who has argued strongly for its total cost, its tax hikes on the rich, and the social programs—met with Manchin several days before and reported some unspecified progress. "I think this thing has dragged on for a very long time and the American people want it to be resolved," Sanders said afterwards.
After the White House talks, Congressional Progressive Caucus Chair Rep. Pramila Jayapal, D-Wash., said its top priorities—-including those news reports say are up in the air—-are still in the legislation.
"We agree with the president now is the time for all Democrats to come to the table, join together, and negotiate in good faith so that we can pass the entirety of the Build Back Better agenda as quickly as possible," Jayapal told reporters after the marathon session with Biden.
"We feel progress is being made toward an agreement that will make transformational investments in the five priorities the CPC laid out months ago," the caucus said in a statement. Those are "specifically the care economy—including child care, pre-K, paid leave, and home and community based care, housing, health care, climate action, and a roadmap to citizenship for immigrants.
"We also appreciate the president fighting for progress on all of these key priorities, even if it is for a shorter period of time," the caucus said.
"Build Back Better isn't about some topline number," Jayapal later tweeted.  "It's about investing in our communities. But since people are often focused on the topline number, let me remind you we dump more than $700 billion into the bloated Pentagon budget EVERY single year."
Meanwhile, "Billionaires have become $2.1 trillion richer while millions of people have struggled to keep food on the table. Oh, and they won't even be paying their fair share under the current tax code. It's time to tax the rich," her other tweet said.
Scrambled to save specific causes
As lawmakers and Biden talked, progressive groups and their congressional allies scrambled to save specific causes. Some examples:
"Did you know Manchin's proposal to slash the Build Back Better plan would cut the number of new jobs created in his home state of West Virginia by more than half?" the Poor People's Campaign asked, before their Oct. 22 press conference at the senator's West Virginia office.
"The Institute for Policy Studies says the Biden version of the plan would create 17,290 new jobs (there), compared to the 7,410 jobs created under Manchin's plan," PPC said.
Hundreds of thousands of West Virginians, and millions of people nationwide, will benefit from extending the expanded Child Tax Credit, the Earned Income Tax Credit, housing vouchers, universal pre-K and child care support, paid family and medical leave, home care for the aging, and the Medicare expansion, it added.
Kirsten Gillibrand, D-N.Y., and 15 other Senate Democrats urged permanent paid family and medical leave remain in the BBB bill. News reports said its fate is uncertain.
"Investing in a national paid leave program is long overdue and would contribute more than $1.6 trillion to the economy by giving women and families the support they need to remain in the workforce," she said in a statement. It "would cover all workers, provide progressive wage replacement to help the lowest earners, and cover all existing types of leave with parity."
"The (coronavirus) pandemic has wreaked havoc on the lives of women, families, and caregivers of all ages, genders, and backgrounds," said Lelaine Bigelow of the National Partnership for Women and Families, added in a statement backing Gillibrand's demand.
"Paid leave is one of the few policies that touches everyone. It's time to follow the leadership of the majority of voters, the majority of Congress, and the Biden Administration and pass paid leave for all."
"Congress has the chance to make a historic, first-of-its-kind investment of $5 billion in community-based gun violence intervention programs by passing the Build Back Better Act," Everytown for Gun Safety wrote lawmakers.
Doing so "would help deliver much needed resources to communities that have been disproportionately impacted by this public health crisis for decades."
The money, it said, would go for street outreach programs to de-escalate tensions and "prevent retaliatory violence," mental health, financial and educational services to gun violence survivors, "crime prevention through environmental design" such as adding lights and restoring abandoned buildings, and summer youth employment.