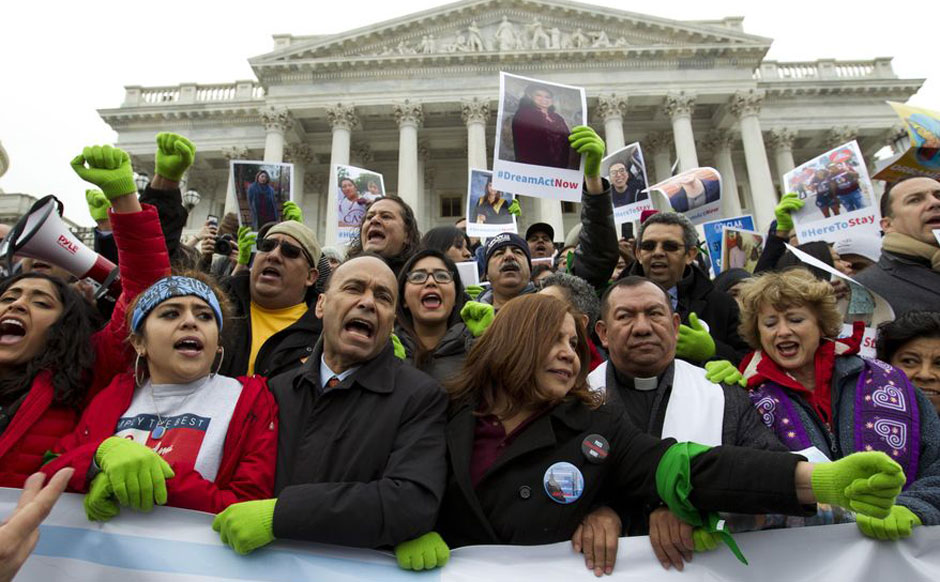 WASHINGTON—With a partial government shutdown looming on Jan. 19 at midnight, and with GOP President Donald Trump sowing confusion tweet by tweet, two groups of key players in the drama—Dreamers and federal worker unions—descended on Congress, demanding action.
Congress needs to pass a spending bill to keep all of the government going. If it does not, some 850,000 workers, such as those who handle Social Security disability claims, will be sent home, unpaid. A million others deemed "essential"—the military, air traffic controllers, and corrections officers among them—would have to work without pay.
Republicans in the House passed a short-term spending bill—a Continuing Resolution—Thursday evening by a vote of 230-197, with the backing of six Democrats. It does not include any action on the Dream Act. By leaving it out, the GOP has likely guaranteed a government shutdown.
As of now, it does not seem likely the GOP will be able to pull off on the Senate side what they did in the House. There, the ruling Republicans do not have enough votes, as of press time, due to revolts in their own ranks and their slim 51 seat majority.
GOP infighting gave the minority Democrats on both sides of Capitol Hill leverage over the money bill, and gave the Dreamers and the unions their chance to influence the votes.
Government workers rally
The unions, led by the Government Employees (AFGE), told lawmakers they want a "clean" money bill passed, funding both the Defense Department and domestic agencies at equal—and higher—levels than the Republicans desire.
In an indication of what faces the feds, Sens. Bernie Sanders, Ind-Vt., and Elizabeth Warren. D-Mass., joined AFGE President J. David Cox in a pro-Social Security worker rally on Capitol Hill on Jan. 18.
Even if the money bill passes, they said, Social Security has already seen a cut of $492 million in the past several years in money needed to administer its programs. Lack of a money bill would worsen the mess. Cox, who heads the largest federal workers union, urged lawmakers to pass a clean bill.
"It is very clear a federal shutdown could inflict serious pain on everyday working people," not just government workers, he wrote. Its impact would include unpaid work by the 1 million "essential" employees, unpaid furloughs for 850,000 others, delays in pay for the 2 million people in the military, and delays in education, compensation, and pension benefits for thousands of veterans, added Cox, a retired VA psychiatric nurse.
"We urge the president and Congress to keep the federal government open and provide the necessary resources so agencies can provide services the American people respect and rely on," he concluded.
"Unless Congress passes a clean budget, the government will shut down," warned Treasury Employees President Tony Reardon. "If the government shuts down, workers could go without pay—and millions of working Americans who depend on the services and benefits the Government provides would be left out in the cold."
"Congress has already procrastinated on fully funding the government three times by passing short-term spending bills. They cannot continue kicking the can down the road and playing politics with jobs and pay at the expense of the American public," Reardon said.
And federal union members, from AFGE, NTEU, and other unions, hit the Capitol switchboard with phone calls and e-mails—all sent on their own time—demanding lawmakers keep the government open.
Neither union president mentioned the other issues swirling around the money bill, including the Dreamers' fate and a six-year-renewal of a federal health insurance program (CHIP) for low-income children.
Dream Act now
The Dreamers, facing a March 5 deadline when Trump starts throwing all 690,000 of them out of the country, realize this money bill is their best chance to enact the Dream Act, keeping them here legally.
The short-term spending measure passed in the House did not include a Dream Act provision, though it did attach an extension of funding for CHIP (despite Trump's opposition to the latter). House GOP leaders falsely presented the bill as a choice between "illegal immigrants" and the military. Dream Act supporters are now focusing their attention on the Senate.
Sens. Richard Durbin, D-Ill., Lindsey Graham, R-S.C., and two others have worked out a compromise Dream Act which also includes more funding for regular border enforcement. Trump, however, wants more money for his Mexican wall, too. Its cost has risen to $20 billion.
Signaling the disunity in Republican ranks, Graham, along with GOP Sens. Mike Round of South Dakota, Mike Lee of Utah, and Rand Paul of Kentucky, have announced they will not be supporting the House version of the spending bill. Pointing blame at Trump, Graham told reporters, "We don't have a reliable partner at the White House to negotiate with."
Dreamers had descended on lawmakers' offices demanding a clean Dream Act attachment to the money bill—and daring Senate Minority Leader Chuck Schumer, D-N.Y., to keep his pledge and stand up for them and marshal all the Democrats to stop any bill that lacks a Dream Act.
The Dreamers appeared to have the support of Republican Senator Jeff Flake of Arizona, who announced Thursday that he was "not inclined" to vote for another short-term spending measure precisely because his own party's leaders had not stuck to a promise to hold a vote by the end of January on protections for the Dreamers.
United We Dream, the leading organization for the Dreamers, reported its members traveled from around the nation to lobby the offices of 11 key U.S. House members, including House Majority Whip Kevin McCarthy, R-Calif., plus Sen. Marco Rubio, R-Fla. The staff of Rep. John Culberson, R-Texas, were ordered by the congressman to throw one of them, 19-year-old Maria Aleman of Houston, out of his office, United We Dream reported.
The Dreamers and other pro-worker groups also targeted Democratic Sens. Tim Kaine and Mark Warner of Virginia, Debbie Stabenow and Gary Peters of Michigan, and Bill Nelson of Florida. The five were seen as waverers on the money bill vote. When the last temporary money bill passed in mid-December, minus the Dream Act, those five voted for it. On Thursday, after seeing what House Republicans had passed, Kaine and Warner publicly moved into the "no" column.
Hundreds of Dream Act backers from Make the Road NY, including unionists, plus the Jewish youth group Bend the Arc, sat in Schumer's office for an act of peaceful civil disobedience to get the Democratic leader to keep his troops in line for ensuring the clean Dream Act stays on the money bill. Others jammed Schumer's phone with hundreds of calls.
Referring to Trump's anti-Dream Act tweets, Make the Road co-executive directors Javier Valdes and Deborah Axt tweeted themselves: "We stand united and will continue to fight back against this and all other white supremacist attacks from the White House. We are #HereToStay."
By preventing any attachment of a Dream Act provision to the House version of the spending bill, Republicans seem to have united the majority of Senate Democrats in scuttling any agreement on a continuing resolution. Durbin of Illinois made the stance clear on Thursday, tweeting, "Unless we pass the #DreamAct, I won't support another short-term funding bill. Our Dreamers have waited far too long for a chance to be a part of this country's future."
C.J. Atkins contributed to this story.