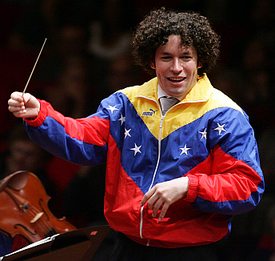 CHICAGO — The internationally acclaimed Simón Bolívar Youth Orchestra of Venezuela is travelling throughout the United States this week performing in Washington, D.C., Chicago and Houston. The first performance will be tonight April 3 at Jones Hall for the Performing Arts in downtown Houston.
Performances in Chicago and Washington have been sold out for months. However, the orchestra members are doing free, public programs throughout Chicago. (See schedule below and video recording of top Venezuelan young musicians.)
For 35 years, the orchestra has transformed the lives of more than 240,000 Venezuelan children – many from impoverished circumstances — through its free-of-charge training and musical education, opening the doors for the youth of Venezuela to become young musicians and to perform with some of the world's best-known orchestras.
The model of education (known as El Sistema) has been so successful that it is now being replicated in other countries, including the United States. El Sistema has grown to be a Venezuelan-wide organization of 102 youth orchestras, 55 children's orchestras and 270 music centers.
The orchestra was developed under the leadership of José Antonio Abreu, a retired economist and musician, who had a vision of creating a national system of youth orchestras in Venezuela dedicated to changing young lives through music.
Director Gustavo Dudamel, a 28-year-old phenom in the music world, is the most famous example put forward of what this system of youth orchestras has accomplished. He is passing on his enthusiasm and musical knowledge here in the United States. Dudamel was recently named Los Angeles Philharmonic music director and is starting a Los Angeles-style program for the youth of LA.
Praised recently in her congressional testimony to Congress on government funding for the arts, Linda Ronstadt pointed to Dudamel and the Los Angeles Philharmonic's example of starting the Youth Orchestra LA
"Access to quality music education should not be only for those who can afford it. The benefits are too great," the pop singer said.
"Today, children ages 7-16 in the urban core of Los Angeles receive free instruments, after-school music instruction and orchestra experience. The Los Angeles Philharmonic has already touched the lives of hundreds of children and their families and has plans to reach more. Imagine what can be accomplished if we support the arts, engage 'at risk' youth and help them succeed in school and in their lives. For 'underserved' families, indeed for all families, participation in music and the arts can help people reclaim and achieve the American Dream."
The tour is being sponsored by CITGO Petroleum Corporation, the national oil company of the Bolivarian Republic of Venezuela. In a company press release it said, "Citgo remains committed to the principles of solidarity under which it gives back to the community and to the most vulnerable in society.
"The work of the orchestra is a tribute to music as a universal language and what it can accomplish in terms of bringing different peoples and nations together for the common good."
Chicago Schedule from April 9-11, 2009:
OPEN REHEARSAL
Simón Bolívar Youth Orchestra with Gustavo Dudamel
Thursday, April 9
3:00-5:00 p.m.
Orchestra Hall at Symphony Center
220 S. Michigan Avenue, Chicago
Recommended for ages 10 and up
FREE, reservations required
Please note that space is limited and priority for reservations will be given to student groups. To reserve seats, call (312) 294-3044 or e-mail institute@cso.org.
——————————————————————————————————————————————————————–
ORCHESTRAL SIDE-BY-SIDE WORKSHOP
Saturday, April 11
1:00 p.m.
(This event will last approximately 90 minutes)
Orchestra Hall at Symphony Center
220 S. Michigan Avenue, Chicago
FREE, tickets required
There is a $1 handling fee per ticket.
Call (312) 294-3000 to reserve tickets (limit of six tickets per
household, and is recommended for ages 8 and up).
Bernstein – Candide Overture
Mahler – Symphony No. 1 in D major "Titan", Mvt. IV
A once in a lifetime opportunity to witness members of the Simón
Bolívar Youth Orchestra and talented young orchestral musicians from
Chicago working side-by-side under the direction of Gustavo Dudamel.
———————————————————————————————————————————————————————
Symposium I – Part I
Thursday, April 9, 1:00 p.m.
Grainger Ballroom at Symphony Center
220 S. Michigan Avenue, Chicago
El Sistema – Venezuela and North America
Learn all about Venezuela's national system of music education which
provides free musical instruction for 250,000 young people annually
and now extends into other Latin American countries and Europe
The distinguished panel will discuss the origins of the program, its
implementation, growth and vision for the future and will also explore
the international response to the program and current efforts to
replicate its success in America and other countries.
Moderator:
Phil Ponce, Host, Chicago Tonight
Panelists:
José Antonio Abreu, Founder, El Sistema
Eduardo Mendez, Administrative Director, El Sistema
Mark Churchill, Dean and Artistic Director of Preparatory and
Continuing Education at New England Conservatory
FREE, reservations required
Please call (312) 294-3846
——————————————————————————————————————————————————————–
Symposium I – Part II
Thursday, April 9, 2:30 p.m.
Grainger Ballroom at Symphony Center
220 S. Michigan Avenue, Chicago
The Technique of El Sistema
Meet and learn from master teachers of El Sistema about the methods
employed to teach young players In this hands-on session, Chicago
youth are taught by master teachers from El Sistema, offering
educators a rare opportunity to learn about the teaching strategies
employed in the Venezuelan program.
FREE, reservations required
Please call (312) 294-3846
———————————————————————————————————————————————————————
Events in the Community
Trumpet Ensemble, Simón Bolívar Youth Orchestra
Thursday, April 9
10:30 a.m.
Salme Harju Steinberg Fine Arts Center
5500 N. Saint Louis Avenue, Chicago
(Use campus entrance located at 3701 W. Bryn Mawr Avenue)
Northeastern Illinois University, host
FREE
———————————————————————————————————————————————————————
Brass Ensemble, Simón Bolívar Youth Orchestra
Thursday, April 9
7:00pm
Little Village Lawndale High School
3120 South Kostner Avenue, Chicago
The Resurrection Project and Enlace Chicago, hosts
FREE
———————————————————————————————————————————————————————
Chamber Orchestra, Simón Bolívar Youth Orchestra
Thursday, April 9
7:00 p.m.
Gottlieb Hall
38 South Peoria Street, Chicago
Merit School of Music, host
FREE
———————————————————————————————————————————————————————
Woodwind Quintet, Simón Bolívar Youth Orchestra
Thursday, April 9
7:00 p.m.
Recital Hall
802 W. Belden Avenue, Chicago
DePaul University Community Music Division, host
FREE
———————————————————————————————————————————————————————
String Quartet, Simón Bolívar Youth Orchestra
Saturday, April 11
11:30 a.m.
Sherwood Conservatory of Music
Columbia College Chicago, host
1312 S. Michigan Avenue, Chicago
FREE
———————————————————————————————————————————————————————
Chamber Orchestra, Simón Bolívar Youth Orchestra
Saturday, April 11
1:00 p.m.
Ravinia Festival, Music Institute of Chicago
Midwest Young Artists, hosts
Ravinia Park, Highland Park
Bennett Gordon Hall
FREE
———————————————————————————————————————————————————————
String Quartet, Simón Bolívar Youth Orchestra
Saturday, April 11
3:00 p.m.
People's Music School, host
931 W. Eastwood Avenue
FREE