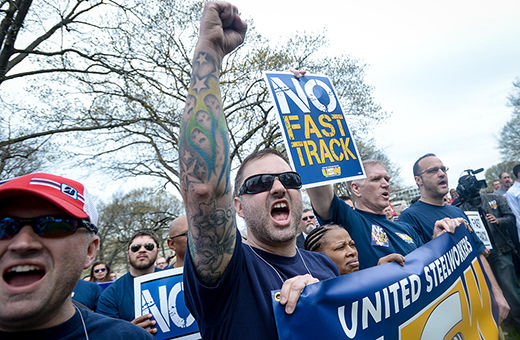 WASHINGTON – With a close U.S. House vote looming on so-called presidential "fast-track" free trade authority, unionists, and their allies continue ramping up their campaign to get lawmakers to turn down the scheme that would grease the skids for secret trade pacts.
In rallies, personal postings, emails, phone calls, and marches, unionists, community organizations, religious groups, environmentalists, and more are making it clear that fast-track hurts workers and everybody else, while aiding only the corporate class.
Besides the emails, marches, and protests, unions set up a toll-free number, 855-722-8441, for calls to Congress.
Particular harm, they point out, comes from the Trans Pacific Partnership (TPP) pact with 11 other Pacific Rim nations that fast-track would permit. TPP would emasculate workers' rights, trash jobs, open the gates to even more corporate outsourcing and offshoring and endanger everything from Buy America laws to job safety and health.
And the workers are under the gun: House Speaker John Boehner, R-Ohio, wants to vote on fast-track by the end of June. Other House sources predicted a vote by mid-June.
But workers and their allies are arrayed against pundits, President Obama, business and its Republican political puppets, such as the leaders of the GOP-run Congress. Fast-track backers' latest gambit is paying for aid to workers who lose their jobs to foreign imports by taking $700 million from Medicare. That drew protests from nine unions.
Obama spent his time strong-arming lawmakers – the latest convert was a congresswoman from Long Island – while workers countered with tales of lost jobs to past trade pacts and future harms from the TPP.
Fast-track would authorize secret talks for such trade deals – followed by up-or-down votes with little debate, no changes and no worker rights – on legislation implementing the TPP and other such pacts, not the pacts themselves.
"I've been there before and I know how this story ends," says AFGE President J. David Cox, a Veterans Administration nurse and a native of Kannapolis, N.C., a textile mill town devastated by a jobs loss due to the infamous U.S.-Mexico-Canada "free trade" pact, NAFTA .
"The TPP is called 'NAFTA on steroids' for good reason. It threatens to ship even more jobs to countries like Vietnam, where workers earn poverty wages and are forbidden from unionizing and where some of my best friends lost their lives," Cox said. "It would deregulate big business even further, endangering our communities and our environment. It would allow big pharmaceuticals to drive up the prices of life saving medications. And by fast tracking the TPP, big corporations are stopping our democratically elected lawmakers from even making changes to the deal.
"Not only do TPP's corporate backers have the gall to write and push this terrible trade deal, they want to do it behind closed doors, without even letting Congress read it. This deal is undemocratic, it is wrong, and it is a wrecking ball to the American Dream as we know it."
TPP and the other trade pacts fast-track would allow – one in services and the other with Europe – "will lead to smaller paychecks and fewer jobs while maximizing returns for the large multi-national corporations who are negotiating it," Cox said.
The national AFL-CIO bought TV ads through June 14 in D.C., California, Colorado, Connecticut, Delaware, Florida, Louisiana, Massachusetts, Nebraska, North Carolina, Texas and Washington. In Sacramento, it ran classified ads in local papers and on Craigslist for "a congressman with backbone," after Rep. Ami Bera, D-Calif., came out for fast-track. The New York State AFL-CIO rallied June 8 against Democratic Rep. Kathleen Rice's fast-track flip-flop.
All the ads "focus on how fast-track will stifle America's ingenuity and cost jobs by stacking the deck in favor of multinational corporations, driving down wages and undercutting our nation's competitive edge," the AFL-CIO said. Communications Director Eric Hauser said unions and their allies organized 650-plus anti-fast-track events, while thousands traveled to D.C. to lobby lawmakers, two million have called Congress, 18,000 sent handwritten letters, and digital ads against fast-track got 25 million hits.
"Fast-track is a one-way ticket to lower wages and unemployment for millions of Americans. True to its name, fast-track will accelerate the railroading of workers out of the middle class, condemning generations to poverty for years to come," added Amalgamated Transit Union President Larry Hanley, which represents bus and subway workers.
The Teamsters, AFGE, ATU, both teachers unions, the Communications Workers, the Service Employees, AFSCME and the United Food and Commercial Workers blew the whistle on robbing Medicare to pay for aid for workers who would lose their jobs to the TPP and other trade pacts.
They also said the trade aid would not go to government workers who lose their jobs to offshoring and outsourcing of public jobs thanks to fast-track. Citing a non-partisan report, Teamsters President Jim Hoffa said offshoring could endanger 12 percent of those jobs.
"We are alarmed the Medicare program would be raided to pay for completely unrelated legislation," their letter to lawmakers adds. "Maintaining the financial integrity of Medicare is necessary to ensure that it is able to provide the services that seniors count on to keep them healthy and to safeguard their financial security in their twilight years."
"We can't allow millions of public sector workers to be left out in the cold if their jobs are sent overseas as casualties of another failed trade agreement," said Teamsters President Jim Hoffa. "The Trade Adjustment Assistance" – the aid for workers who lose their jobs to subsidized foreign imports – "in this form is unacceptable."
On June 2, hundreds of unionists and their allies took their demands to the office of Obama's U.S. trade representative, the lead fast-track and TPP negotiator, to demand he make public the texts of the TPP and the other two pacts. They met locked doors.
"Let us in. We're U.S. citizens!" one marcher said.
"We're tired of the secrecy going on around all these trade deals," said AFL-CIO Secretary-Treasurer Liz Shuler. "The administration promised this would be the most-transparent of all the trade deals. Instead, we can't see the text…We're sick of relying on promises." "Show us the text!" the crowd chanted in response.
Demonstrators included members of the Government Employees, the Communications Workers, the United Food and Commercial Workers, the Office and Professional Employees, the Postal Workers and Newspaper Guild President Bernie Lunzer. Virtually every union in the U.S., plus environmental, religious, community and civil rights groups, opposes fast-track.
The TPP pact and two others are under wraps, with lawmakers sometimes allowed to examine them in a reinforced room deep in the Capitol, without taking notes, and barred from discussing the pacts' provisions with anyone else.
Indeed, the Obama-mandated secrecy around the pacts is so huge that the USTR censored all 11 pages of labor recommendations on TPP bargaining. Waving the results, Shuler said that "instead of sunlight, we have black magic marker."
The recommendations, sent to Obama trade rep Michael Froman, from his labor advisory committee headed by AFL-CIO President Richard Trumka, were completely covered when Froman finally released a "text," months after Trumka sent the proposals.
But Froman didn't black out Trumka's cover letter, demanding openness – and saying the U.S. wants to bring China, a notorious trade violator, into talks overran expanded TPP. The TPP is the most-dangerous of the three trade pacts.
To push fast-track through the House, Obama has recently been using the "China card" to argue that the TPP would counter China. He contends that if the U.S. doesn't set rules for Trans-Pacific trade, China, with its low labor standards, will.
But "at the most-recent Asia-Pacific Economic Community meeting, the U.S. agreed to China's request for a study to pave the way for a Free Trade Area of the Asia-Pacific that would include China and many other nations," Trumka's cover letter reminds Froman.
Photo: USW.org