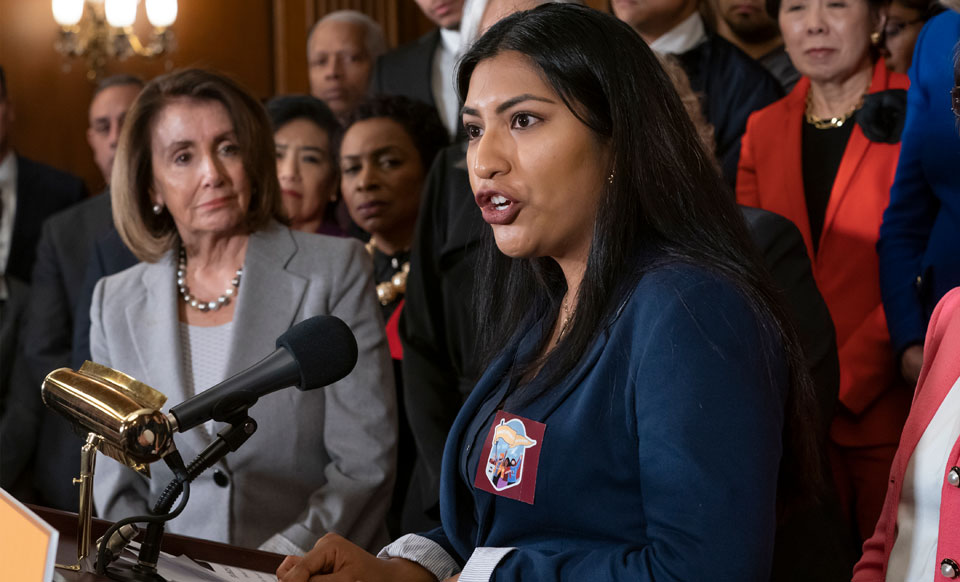 WASHINGTON—With strong support from organized labor, the Dreamers, Latinos, and Asian-American groups, the U.S. House approved legislation to keep an estimated two million Dreamers and hundreds of thousands of Temporary Protected Status beneficiaries in the U.S.
The 237-187 vote in early June, with seven Republicans joining all 230 voting Democrats, sent the measure (HR6) to the Senate, where right-wing lawmakers may try to block it.
The Dreamers are young people, many now in their 20s and early 30s, brought to the U.S. as children by their undocumented parents. They, too, are technically undocumented. An Obama-era program, Deferred Action for Childhood Arrivals (DACA), let them come into the open, get jobs, go to school, serve in the military, and more.
The several hundred thousand Temporary Protected Status beneficiaries fled countries riven by gang violence or civil war or devastated by natural disasters, such as earthquakes and floods. Many TPS recipients have been here for decades, but must pay several hundred dollars yearly to do so, and re-register periodically with authorities.
President Donald Trump, catering to his nativist backers, trashed Obama's DACA program and ordered deportation of all the Dreamers. Federal judges stopped that deportation, but Trump's also deporting the TPS recipients.
HR6 halts the deportations and lets both groups stay here. That's what organized labor wants, too.
"Our entire workforce benefits when people are able to live and work without fear, and the Dream and American Promise Act takes a necessary step forward by extending permanent protections to Dreamers, DED, and TPS recipients," AFL-CIO Legislative Director Bill Samuel wrote lawmakers. DED is a third group Trump seeks to dump: 4,200 Liberians covered by the Deferred Enforced Departure program.
In a tweet, Painters President Kenneth Rigmaiden, founder of a five-union coalition established specifically to lobby for the TPS beneficiaries, hailed House approval of HR6 and urged the GOP-run Senate to agree.
"In the Dream and Promise Act, the House recognized that law-abiding, tax-paying, hard-working immigrants deserve a shot at achieving the American Dream. We call on the Senate to get this bill to the president's desk for his signature," the tweet said.
House passage also elated United We Dream, the top organization of the Dreamers. It not only urged the Senate to pass HR6 but further urged lawmakers to yank all money from Immigration and Customs Enforcement and Border Patrol agents who—at Trump's orders—round up Dreamers and TPS recipients within the U.S. and split refugee children from their parents at the U.S.-Mexico border. The refugees seek asylum.
"The Dream Act has changed forever," United We Dream said.
The Dreamers, TPS, and DED recipients "are our neighbors and coworkers. They are the classmates of our children. And they serve in our military with distinction. Many did not even know they were not born here and were not citizens until they found they could not get drivers licenses or in-state tuition rates for college," House Judiciary Committee Chairman Jerry Nadler, D-N.Y., whose panel handled HR6, told his colleagues.
"Recipients of TPS, DACA, and DED help to build, feed, serve, educate and care for our nation. They work in every state of the union and across a wide range of industries. For decades, we have rightfully welcomed and valued these members of our families, communities, and unions. We all will be harmed if vital workers are needlessly stripped of their rights and status," the AFL-CIO's Samuel said.
Republicans almost unanimously opposed the House legislation, and no Senate hearings are scheduled on it yet. The tenor of GOP views can be summed up by the title of legislation the Senate Judiciary Committee will consider on June 11: "The Secure and Protect Act." The only witness will be Trump's acting Secretary of Homeland Security. His department includes both ICE and the Customs and Border Patrol.