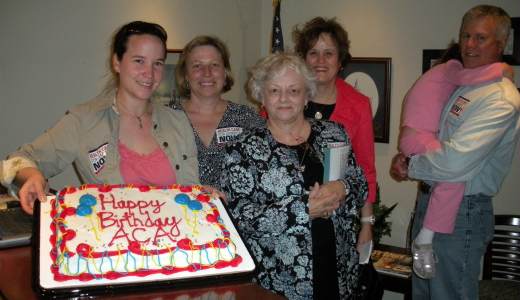 ST. LOUIS – "In the past year the Affordable Care Act has benefited me and 72,000 other Missourians," Joyce Clark told cheerful ralliers as they rallied to thank Rep. Russ Carnahan, D-Mo., on the one-year anniversary of the passage of the Affordable Care Act here March 23.
Carnahan, a progressive Democrat with strong ties to organized labor, is a supporter of the ACA.
Clark, a retired senior center employee, knows first-hand the difficulties of trying to navigate the for-profit health insurance companies.
She said, "I've seen seniors cut their pills in half to make them last longer because they could not afford food and medicine."
For Clark, health care reform is personal. She fell into the Medicare donut hole last year, but "thanks to the ACA, this past February I got a $250 check."
Additionally, Clark no-longer has to pay co-pays for her annual wellness exam and mammogram.
According to Earlene Jones, "Health care reform is a big F-ing deal. In its first year, the ACA has already helped so many people, and it will continue to help many more in the future. This is historic."
Jones, a member of the Communication Workers' of America Local 6300, said in an interview, "Every family has a story to tell. My sister has a rare skin cancer. She can no longer be denied treatment due to pre-existing conditions."
Democratic State Rep. Margo McNeil, representing District 78, also thanked Rep. Carnahan for his support, saying, "Health care reform has been talked about for 90 years, and we finally got it passed."
She went on to remind the participants "that thanks to the ACA, insurance companies now must spend 80-85 percent of premiums on medical care."
"This is particularly important for Missouri," she added. "Insurance companies come here to make even more profits. Missouri is one of three states that currently does not regulate its health care industry. We need to review rates and regulate the insurance companies."
Clark summed-up the cheerful mood of the rally with the following: "Wow! It is working. Things are getting better."
A small delegation then took a birthday cake into Congressman Carnahan's office to thank him and his staff for their hard work in passing the ACA.
According to Health Care for American NOW, similar birthday events happened all across the country.
Image: Tony Pecinovsky/PW