OAKLAND, Calif. – Mediation is to begin today, Dec. 11, in the nearly week-long strike by some 3,000 city workers here, the Service Employees International Union and city representatives have announced. The discussions are to take place with a mediator proposed by the union.
Picket lines have been up at City of Oakland facilities since Dec. 5, when some 2,000 members of SEIU Local 1021 declared an unfair labor practices strike against the city. Another 1,000 members of the International Federation of Professional and Technical Engineers (IFPTE) Local 21 are waging a sympathy strike, while city workers belonging to International Brotherhood of Electrical Workers (IBEW) Local 1245 are respecting the picket lines.
As mediation begins, the strike is to continue "until further notice," both the city and the union said.
Negotiations began last spring. The workers, without a contract since June 30, are calling for a new two-year pact with a 4 percent raise in each year. The city contends that is fiscally unsustainable, and proposes hiking wages 4 percent in the first year but just 1 percent in the second year, with an additional 1 percent possible if city finances permit.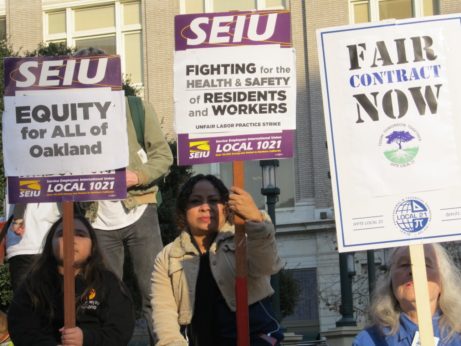 The day before the strike started, SEIU's chief negotiator, Rob Szykowny, said city workers "want to go to work tomorrow, but after working without a contract since June, and the city committing unfair labor practices in bargaining and toward our members at work, they are willing to strike."
Among facilities closed as a result are Head Start and Early Head Start, senior centers, public libraries, recreation centers and Civic Center buildings. Many services are unavailable, including parking enforcement, building inspections, street sweeping, and reporting and tracking non-emergency problems such as graffiti and potholes.
Last week Oakland Mayor Libby Schaaf and city negotiators rejected an earlier union proposal for mediation, and on Dec. 8 the city issued a formal declaration of impasse.
The unionists cite understaffing of departments, vacancy and retention problems, and growing reliance on temporary part-time workers. They also call attention to health and safety problems experienced by residents, resulting from a shortage of workers to deal with illegal dumping and mandatory overtime for emergency dispatchers.
On the picket line, SEIU 1021's Michael Pandolfo said the unions' biggest issue "is really respect and dignity of the work we do … We physically handle the trash, take care of the kids, run the libraries – and there's no respect for that kind of work." Pandolfo, a native Oaklander, has been a part-time temporary worker, with virtually no benefits. "For 17 years. I've had the same work schedule for 11 years, so you can't tell me the work is temporary – the only temporary thing is me, though they keep calling me back.
"To a certain extent," he said, "Oakland is gentrified. Now they want to gentrify their work force." While before, a large majority of the city workers lived in Oakland, "now you're lucky if it's 40 percent. People just can't afford to live here anymore."
Said IFPTE Local 21's Laura Takeshita, "No workers want to be out here. We gave the mayor an opportunity to come to the table. We had no other choice." Takeshita pointed out that the city has presented a proposal that "doesn't even keep up with the rising cost of living. There is money for solutions; the mayor has put out dubious information."
Local 21's research department says the city has "consistently under-projected revenue and over-projected expenditures." It says the city ended the past two fiscal years with $58.5 million and $44.3 million more in revenue respectively, than it had budgeted, and $61.9 million and $45.1 million less in expenditures. The union also points out that the mayor's proposal offers much less than the expected rise in the Bay Area's cost of living.
"You can't go anywhere in Oakland without seeing a crane somewhere," said Michael Patterson, chief steward for the IBEW city workers. "So you know there'll be a revenue stream flowing in, and when those buildings get filled, that's still more sales tax and property tax – those revenue streams will be coming in for a while."
The people out on the picket lines "would rather be at work, but we feel the city needs to be fair with us," he said, noting that during the Great Recession nine years ago, "we took concessions and furlough days when the city didn't have money."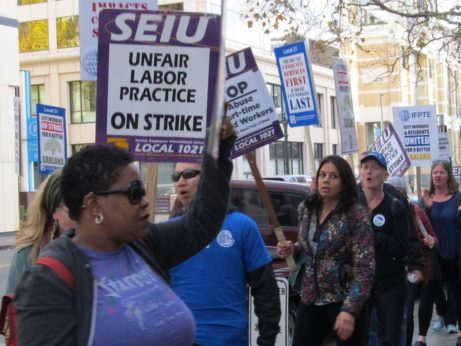 Other area unions and community organizations are expressing their solidarity, joining with the strikers in marches and rallies.
On Dec. 7, the California Labor Federation's Executive Secretary-Treasurer, Art Pulaski, sent Mayor Schaaf a letter expressing the "unequivocal support" of the federation's 2 million members.
"The data is clear," Pulaski wrote. "There is no rational affordability argument that justifies the city's position to not offer workers a fair contract." With nearby communities offering larger salary increases to help workers keep up with the cost of living, and the pay gap between Oakland and other cities growing, he said, the city's position "is an affront to each and every worker who does so much to make this city great."