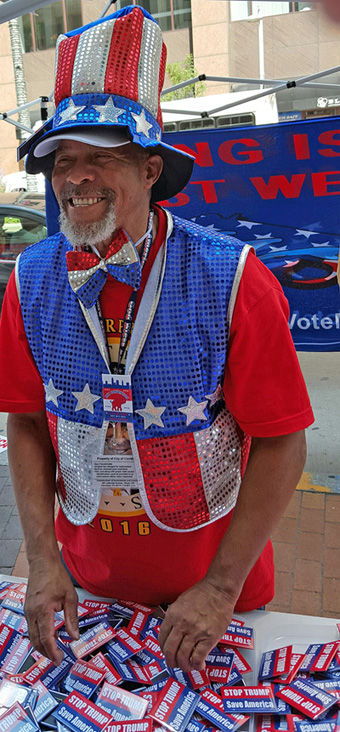 CLEVELAND, OHIO – As the Republican National Convention comes to a close, a recent NBC News/Wall Street Journal/Marist poll shows that zero percent of African Americans in this state support Donald Trump.
It's no wonder, given Trump's record of blatant racism.
What's more, by backing Trump, GOP leaders are signaling that they don't care if their party's racism becomes obvious.
"Calling the 2016 GOP convention the whitest of the whitest GOP conventions is not redundancy or a play on words," writes Earl Ofari in the Huffington Post. There are at most about 80 African American delegates, or about three percent, of the total of 2,500.
In modern times, the GOP has always been practically lilly white. The number of African American delegates at a national convention peaked in 2004 at a whopping 167.
However, for a hot minute, it seemed that GOP leaders were at least trying to put a fig leaf on the racism inherent in the anti-worker, pro-billionaire policies they promote. In the wake of losing the 2012 presidential race, for example, Republican leaders pledged they would put in place programs to make their party more "inclusive."
Today, however, it seems that Republican leaders have abandoned all pretext of not being racist. They're letting it all hang out. For example, throughout the four days of the national convention, speaker after speaker sneeringly demeaned attempts to address racism as efforts to conform to arbitrary "political correctness."
Their candidate, Trump, has been an outspoken racist for at least 40 years, and in the past few months he has demonstrated he has not changed.
According to Michael Kranish, writing in the Washington Post, "The first front-page news story about Trump was a 1973 report about the federal government's lawsuit against him and his father in a racial bias case. Trump denied discriminating against black housing applicants and settled the case without admitting guilt."
A few years later, John O'Donnell, retired president of the Trump Plaza, wrote in his memoir that Trump blamed his financial problems on African American accountants. "I've got … black guys counting my money!," O'Donnell's book quoted Trump as saying. "I've got to tell you something else. I think that the guy is lazy. And it's probably not his fault because laziness is a trait in blacks."
O'Donnell quit.
In the 80s and 90s, Trump called for executing a group of five boys, four black and one Hispanic, ages 14 to 16, who had been jailed for raping a woman in Central Park. Eventually, DNA evidence proved they were completely innocent and New York City paid $41 million to settle a wrongful imprisonment suit.
Trump never apologized. Instead, he implied they should have been put in jail anyway because "These young men do not exactly have the pasts of angels."
In more recent years, Trump became a leader of the "birther" movement and began to attack Muslims and immigrants.
In recent months, he has attacked "Black Lives Matter" and in a campaign victory speech this past June, Trump referred to African Americans as if they were his property. "We're take care of our African American people he said.
The remark elicited a storm of protest, but, of course, Trump has never apologized.
Then there was the time Trump refused to disavow the endorsements he received from the Ku Klux Klan and David Duke, a leading advocate of white supremacy.
Despite his record, Trump has attracted some African American support.
Cynthia Jenkins, for example, is an African American from Dallas who has been here all week as a Trump delegate.
This is her fifth GOP convention and she agreed that the number of blacks delegates has shrunk.
"I don't think it's from anything Mr. Trump did or said," Jenkins explained. "It's just that less people have decided to be active in politics."
She said she supports Trump because he would cut down on regulations that are hurting her business, a janitorial services company. She said she cannot afford to provide her employees with ObamaCare.
Jenkins also believes that the Democrats are responsible for the "tensions" between ethnic and racial groups because they "categorize people."
Siddiq Abdul Mumin, who has been selling souvenirs and memorabilia to delegates here, disagrees. "I believe strongly that the Founding Fathers got it right," he said. "They promoted the idea that everyone should have the same rights, regardless of class or color."
He said that although he believes Donald Trump has a right to believe and say anything he chooses, he is "advocating Confederate ideology that has no place in our society."
Photo: Siddiq Abdul Mumin at the Republican National Convention selling buttons that say "Stop Trump. Save America." | Larry Rubin/PW