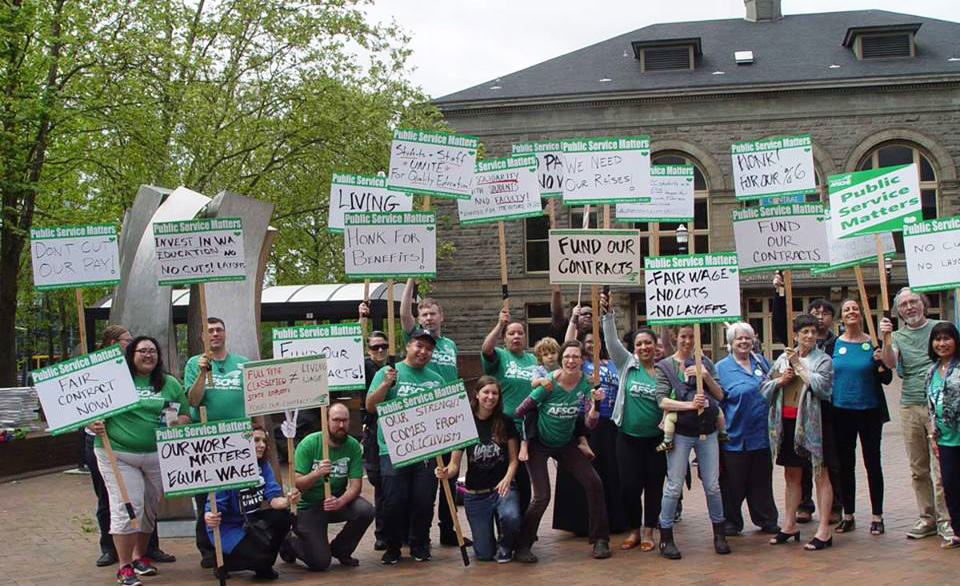 OLYMPIA, Wash. (PAI) — With a Washington state government shutdown looming on July 1, its unions – specifically AFSCME, which represents 26,000 workers, and the Washington Education Association, with 92,000 – are putting pressure on lawmakers to solve the budget impasse that could cause it, before doors have to close.
The pressure has ranged from a sit-in at the state capital in Olympia in late May to statewide demonstrations by the teachers on June 10, to a mass "Day of Action" on June 22 – and lobbying in between and beyond.
The unions aren't the only forces trying to get the lawmakers to act. Democratic Gov. Jay Inslee, frustrated by inaction at a second special legislative session that ended June 21, called the solons into a third special session the next day. He also pushed them into bargaining with each other. The Senate Republicans' budget cut demands are a roadblock.
"I appreciate the complexity of this challenge," Inslee told a June 21 news conference. "If there was an easy way to do this, indeed it would have been done already."
The shutdown is close enough that thousands of state workers have already received pink slip layoff warning notices.
The impasse is the result of the legislature's refusal to agree on funding for schools statewide over the 2017-18 and 2018-19 school years. A 2012 state Supreme Court ruling told the legislature to make school funding "adequate and uniform," but lawmakers have stalled on obeying it. Shutdowns were narrowly averted in 2013 and 2015, too. And the state senate's Republicans in Olympia want to cut funds for schools.
That led to creation of the All In For Action coalition, which organized the latest event, the day of action on June 23. The 50-group coalition includes the state AFL-CIO.
"Communities across the state will stand together to decry the human costs of a potential state shutdown and the Senate Republicans' proposed budget cuts," the coalition said. "Speakers will discuss the impacts to public safety, public health, state parks, and more." Demonstrations occurred in Seattle, Kirkland, Lakewood and Puyallup.
"This is real. This is happening. We must act," the Washington Federation of State Employees/AFSCME Council 28 added. "If the (GOP) Senate majority won't get the job done, services will suffer.
"If you're like most state employees, you don't have the luxury of even one day without a pay check. How will we pay our bills? Feed our kids?…We shouldn't let the Senate majority use us as political props…This isn't a game for us. And it's time that we fixed this problem."
AFSCME points out that 99 percent of Washington state workers earn below-market rates. More importantly, "we can't serve the people we're committed to serving" unless lawmakers pass a budget by July 1.
"The Senate majority budget cuts childcare funds, reduces assistance for the homeless, cuts offenders off supervision putting our communities at risk…and the list goes on."
"The state has failed for years to properly fund our schools," the Washington Education Association said. It denounced a "shell game" the Senate GOP planned. The Senate majority wants to grab local tax levy revenue to pay for state services.
That "reduces total funding for special education, caps how much districts can invest in school staff and doesn't provide the resources students need to learn," the union added.
In early June, teachers in Walla Walla and statewide kicked off eight days of "red for ed" demonstrations – they all wore red T-shirts – to protest the funding impasse. Legislative inaction could lead to a later statewide teachers strike, Walla Walla Education Association President Keith Swanson told local media there. His local represents 450 teachers in the small city's district.
"Districts are scrambling to fund enough money to run programs well and hire enough staff to meet the needs of kids," Swanson noted. "There is nothing to indicate this isn't going to come down to the wire at the end of June. The worst-case scenario for every (teachers' union) across the state is if we get to August and the state is not responding to the needs of students, each local has to make a decision about what to do," Swanson said.
"Which could include striking," with regret, and aimed at the legislature, he noted.