WASHINGTON—With mass citizen backing and union and worker support, lawmakers this week will tackle the central agenda item of the new ruling House Democrats: Comprehensive election and ethics reform.
The 662-page "For The People Act," given the highly symbolic number HR1, contains a huge raft of changes. They range from outlawing gerrymandering by mandating non-partisan state redistricting commissions to restoring the strength of the Voting Rights Act to making voter registration easy to making lobbying more regulated and more transparent.
It also includes a stronger ban on foreign money in U.S. elections, and measures against foreign cyber elections interference, reflecting discoveries about Russian machinations and mischief in the 2016 presidential election.
All are needed, outside groups from the AFL-CIO to the Communications Workers, Common Cause to the ACLU to the Leadership Conference for Civil and Human Rights say, to, in so many words, "clean up Washington."
Republicans are already howling. They claim HR1 is too partisan and too much of a takeover of a state function. The U.S. Constitution leaves regulating voting up to the states, but adds Congress "may at any time alter such regulations."
GOPers tried to convince the Democratic-run House Rules Committee, which sets rules for amendments and House floor debate, to let them offer "poison pill" changes to HR1. The panel voted them down.
The GOP Trump administration, whose party instituted abuses HR1 aims to correct, especially emasculation of the Voting Rights Act, has yet to weigh in on the bill. But others with more moral authority support it.
Rep. John Lewis, D-Ga., one of the few last living lieutenants of Dr. Martin Luther King – and who was severely beaten during the 1965 voting rights march in Selma, Ala. — says restoration of the Voting Rights Act is particularly important. His suffering in civil and voting rights cause gives Lewis a particular moral weight among his colleagues.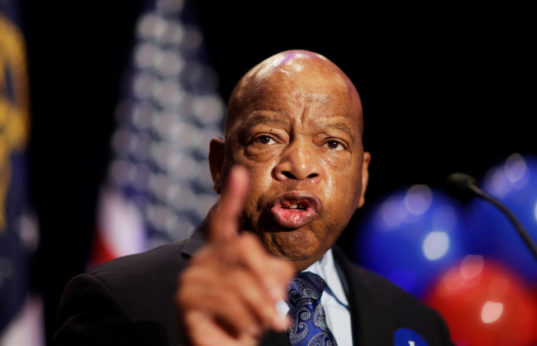 Lewis, the Rev. Jesse Jackson, Hillary Clinton and other progressives recently re-enacted that march, on its 54th anniversary, parading across the famous Edmund Pettus Bridge in Selma.
"Today, we should be making it easy, simple, and convenient to vote.  Instead, legislatures around the nation are creating barriers and making it more difficult for citizens to vote," Lewis said just days before that march.
Quoting the Brennan Center for Law and Justice, Lewis added so-called "voter ID" laws and other repression disenfranchised an estimated five million voters since the 5-man GOP-named majority on the U.S. Supreme Court cut the heart out of the Voting Rights Act.
The justices eliminated federal "pre-clearance" of any laws or election rules in jurisdictions with a history of voting discrimination. They said its formula was out of date and claimed, without proof, that the law had eradicated discrimination. A subsequent rush to voter repression by North Carolina, Texas, North Dakota, Wisconsin, and other GOP-run states proved them wrong.
HR1 would restore that preclearance, and also outlaw other voter repression moves. The measures all throw African-Americans, Latinos, women, students, workers and the elderly off the voting rolls. All those groups, except the elderly, are majority-Democratic and oppose the anti-worker, anti-woman, anti-minority, anti-LGBTQ agenda of the repressors.
"Many types of laws that are disenfranchising millions of voters: Voter photo identification laws, proof of citizenship laws, barriers to registration, elimination of early voting and absentee voting, and laws making it harder to restore voting rights for people who have paid their debt to society," Lewis said. "These laws are a barrier to an inclusive democracy.  We are stepping backward toward another dark time in our history."
"The right to vote is precious and almost sacred, and one of the most important blessings of our democracy. Today we must be vigilant in protecting that blessing…I was beaten and jailed because I stood up for it. We should not take a step backward with new poll taxes and voter ID laws and barriers to voting.  We must ensure every vote and every voter counts…We must never go back."
The AFL-CIO is among the strong supporters of HR1, as are the Communications Workers. Its passage is part of "the fight to restore the balance of power to working people," federation President Richard Trumka said.
He called HR1 "a major step toward ending the attacks on democracy that threaten damaging consequences to our country for generations. By expanding access to the ballot box, reducing the influence of big money in politics and strengthening ethics rules for government officials, we will begin to restore America's core value of being a country where the voices of many cannot be silenced by the money of a few."
CWA is urging its members to lobby lawmakers for HR1 by phone and e-mail. It texted all its members on March 5 in advance of the House vote, urging them to contact their lawmakers.
"Tell Congress: It's Time for a Fair and Functioning Democracy" its email is headlined.
"Corporate CEOs and the wealthiest 1 percent spent decades rigging the system to reduce our power. That has made it harder and harder to pass legislation that helps working people and makes a real difference in our lives," the union explained.
"The same corporate interests that fight us at the bargaining table are stacking the rules against us when it comes to political participation. They have put restrictions in place that make it harder for people to vote, flooded elections with money and weakened the rules that prevent elected officials from profiting from their public service."
"It's gone way too far and it's time to do something about it. Ask your member of Congress to support the For The People Act to ensure a fair and functioning democracy for us all."
"We are owed the right to vote. We are owed dignity and respect. We are owed those promises that were made to us and if we sit back and wait for someone to give it to us, it's not going to happen," Clayola Brown, president of the A. Philip Randolph Institute, one of two AFL-CIO constituency groups for minorities and women, said in a prior in-house TV interview with the Machinists.
APRI went to court to try to overturn Ohio's voter roll purges, which disproportionately prevent African-Americans, notably in Cleveland, from voting. Last year APRI, a black Cleveland veteran who lost his voting rights while serving in Iraq, and a city community group lost at the Supreme Court by the usual 5-4 partisan lineup. HR1 counteracts that ruling, too.
A random survey of 2,482 registered voters 11 months ago by the non-partisan organization Fair Vote showed 62 percent of respondents – including 53 percent of Republicans — strongly favor establishing independent non-partisan state redistricting commissions, while another 18 percent are "tolerably" for the idea. The rest are opposed.
"We the people overwhelmingly demanded change through our votes this fall," Common Cause explained in posting an online petition to lawmakers. "We want a government that works for all of us — that gives us all a say and puts our needs ahead of special interests."
"We want our elected officials to support the For The People Act and make sure it's a bold, comprehensive package of democracy reforms including: Independent redistricting commissions, citizen-funded elections, closing the revolving door between government and corporate interests, and protecting voters against discrimination."
"We need a democracy where voters are protected from discrimination and can make themselves heard at the ballot box. A democracy where electoral districts are drawn fairly so that every voter's ballot is worth the same. And a democracy where ordinary Americans — more women, people of color, and working people — can run for office without relying on special interest Big Money."