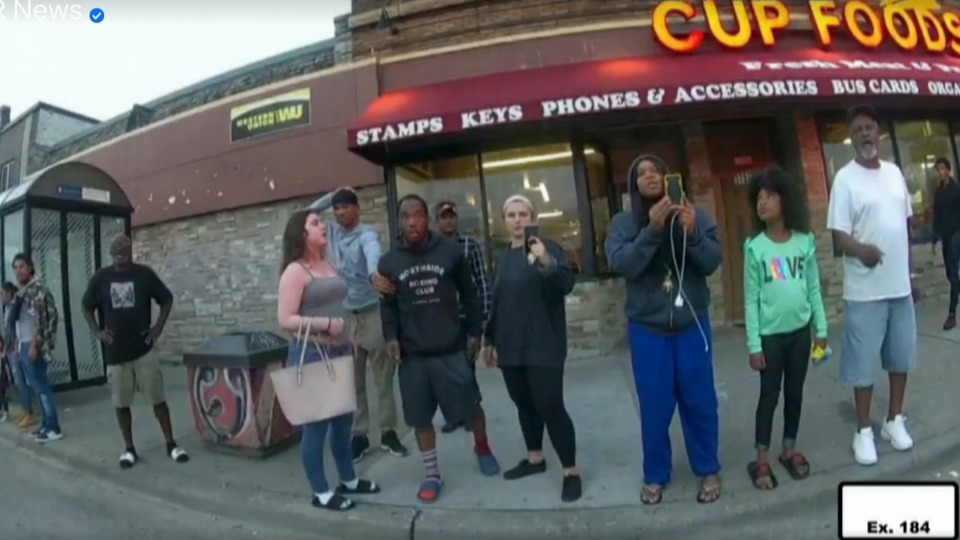 MINNEAPOLIS—In testimony Tuesday, witnesses who were bystanders outside Cup Foods could be seen reliving the trauma of May 25, 2020, the day they witnessed the life fade from George Floyd under the knee of Derek Chauvin.
The witnesses included three women in their late teens and a 9-year-old girl, a cousin of one of the older girls. Judge Peter Cahill shielded them by keeping them off camera, given the high-profile nature of the case. All but one lived in the nearby neighborhood where Cup Foods is located, although that young woman had lived in the area before her family moved to St. Paul.
A mixture of grief, anger, and regret could be heard in their voices. At times, they were overcome with tears during their testimony. The witnesses sat across the courtroom from Derek Chauvin, whom they pointed out to the jury as the person that had his knee on Floyd's neck that evening. Their voices turned from anger to anguish as they recounted the pain and powerlessness they felt witnessing the brutal death of Floyd.
Anger not only at Chauvin for killing Floyd, but for the fact that his actions burdened them with memories and pain they still struggle to live with. They also testified how both Chauvin and former officer Tou Thao, who was conducting crowd control, threatened and intimidated them even as they begged and demanded officers to let Floyd breathe and "get off him."
Their testimony made it clear they were well aware of the power police officers hold over anyone challenging their authority. To do so, even to save a life they saw officers endangering, would risk being arrested, physically restrained, tased, maced, or even shot. Such consequences kept them from intervening, but still, witnesses spoke of haunting regrets that they should have done more.
Darnella Frazier was 17 last May when she and her 9-year old cousin went to Cup Foods, the neighborhood convenience store they frequented. Police officers already had George Floyd pinned to the street when they arrived. Darnella escorted her cousin into the store to shield her from seeing Floyd "begging for his life." She then returned to the scene. She could hear Floyd calling out, "I can't breathe."
State's attorney Jerry Blackwell asked her to tell the jury how seeing what happened to George Floyd has affected her life. You could hear Darnella take a deep breath and exhale before replying. "When I look at George Floyd, I look at my dad, I look at my brothers, I look at my cousins, my uncles. Because they are all Black," she said as her voice began to tremble. "And I have Black friends, and I look at how that could have been one of them."
She went on to express the anguish she has lived with. "It's been nights I stayed up apologizing and apologizing to George Floyd for not doing more, and not physically interacting, and not saving his life." Still, she placed the blame where it belongs when, in referring to Chauvin, she said, "It's not what I should have done, it's what he should have done."
Another bystander witness identified as Alysa, 18, who lived in the area, arrived with a friend at Cup Foods on an errand. Like the other bystanders, she witnessed the slow death of Floyd while videotaping the officers. In the course of her testimony, the state's attorney stopped to asked her, seeing she became distraught, if this was difficult for her to talk about.
"It's difficult because there wasn't really anything I could do as a bystander. I felt like I was failing him," referring to Floyd. "I couldn't do anything physically like I wanted to do because the highest power was there at the time," she said, referring to the police. Asked if she had been to Cup Foods since, she said, "I still haven't been there to this day. I don't want to be reminded."
The last witness of the day was Genevieve Hansen, 27, who had joined the Minneapolis Fire Department two years earlier. She lived in the neighborhood and was on an evening walk passing by Cup Foods when she came upon the incident. As she approached the side of the street where Floyd was pinned down, she could hear him crying out. Given her EMT training, she could see that Floyd was struggling to breathe and at one point had passed out. She testified she implored the officers to let her check on his condition after she informed them of her employment. Thao, she said, replied that if she really was a Minneapolis firefighter then she would know better than to get involved.
As the ambulance drove off with the person she would soon learn was George Floyd, Hansen said she stood on the sidewalk in shock and disbelief. Powerless to end the nightmare she witnessed, she called 911 to report what happened and demand someone do something. In effect, she called the police on the police.
She testified that she stayed outside the store after the ambulance left as "I was still worried about witnesses on the scene, particularly because they were people of color and Black men. I was worried about their safety as officers were still on scene."
Donald Williams II, another bystander whose testimony ended earlier in the day, also called 911 to report that MPD officers murdered a man. Williams, a 33-year-old African American, is a martial arts trainer and competitor. His outrage and pent-up anger boiled over at the conduct of the police that night as it did with Hansen.
Asked by a state's attorney why he called 911, Williams said, "Because I believed I had witnessed a murder." The attorney then played a recording of Williams speaking on the call where he said, "Officer 987 [Chauvin's badge] killed a citizen in front of a Chicago [avenue] store," he told the operator. "He had his knee on the dude's neck the whole time…the man stopped breathing, he wasn't resisting arrest or nothing and was already in handcuffs." Williams reached for a tissue to catch the tears that welled up at hearing his voice in that moment.
The cross-examination of these witnesses by defense attorney Eric Nelson has no merit in the moral universe of these bystanders. He tried to make them out to be an angry, threatening crowd that distracted the officers. To the contrary, these citizens simply tried to exert their collective power as best they could to save George Floyd from officers who are supposed to "to serve with compassion."
The very citizens who are taxed to provide MPD officers a paycheck had no power to stop these officers from killing Floyd. Yet, the law enforcement system that Alysa called the "highest power" derives its authority from lawmakers that seem more concerned with safeguarding police than the public.
These witnesses' courage and moral integrity exhibited in court Tuesday, and on May 25, 2020, stand in sharp contrast with the cowardice and callousness of Chauvin and the other three officers.
Had these bystanders not had the courage to videotape the heinous murder of George Floyd, his name may have just been a note on the local news. Instead, their courage touched off a worldwide rebellion that is yet to finish its work. To them, we must be grateful.