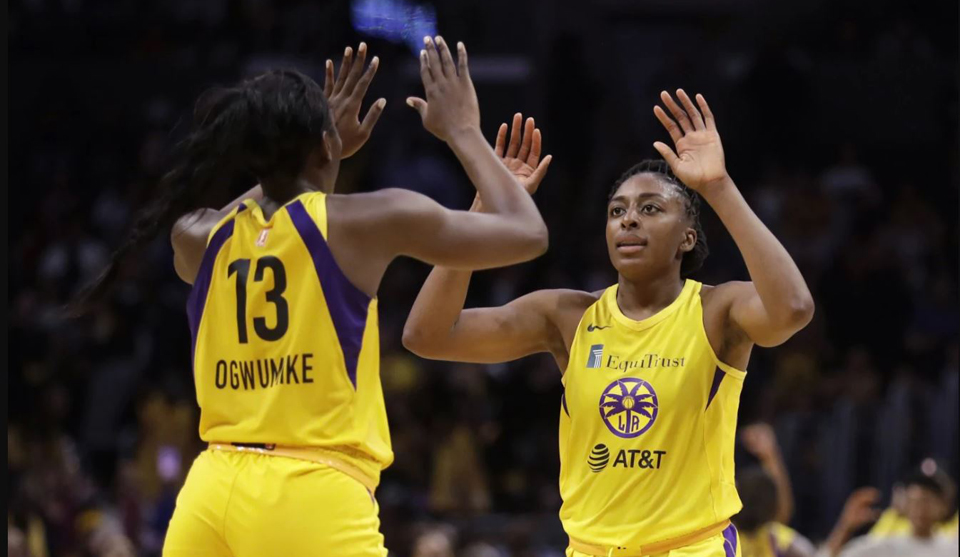 When I spoke with Imani McGee-Stafford, Women's National Basketball Association center for the Dallas Wings, back in 2018, collective bargaining negotiations between the WNBA and the WNBA Players Union was barely on the tip of everyone's mouths.
But even back then, McGee–Stafford pulled no punches when she said: "Yes, WNBA players deserve a 50 percent share of the WNBA's revenue.
At the time, she explained the players union would be focused on improving base pay (closing the wage gap), revenue share, and improving their working environment—better travel arraignments, childcare, healthcare, etc.…
And as far as male critics of the sports ridiculing equal pay for female basketball players?
"Why do you care? It always baffles me when people come out of the woodwork to protest us making more — this money doesn't come from their pocket. It's a direct attack on the fact that we are women, playing professional sports," said McGee-Stafford. "No one ever has any comment when NBA players hold out to get bigger contracts or think they're making too much."
A few months after our conversation, the WNBA players opted out of the current CBA, and began the negotiation process. And the risk payed off.
Early Tuesday morning, the WNBA and the Players Union announced a tentative eight-year contract which will raise the salary cap to more than $500,000 while the annual base compensation will rise above six figures for the first time in league history.
"Cathy Engelbert, the first WNBA Commissioner, brought her perspective as a former women's basketball student-athlete, her experience as a business professional and her passion for the game to these negotiations," said WNBPA President Nneka Ogwumike. "We found common ground in areas that confirmed the league's and the players' intentions to not only make meaningful improvements in working conditions and overall professional experience, but also to improve the business with strategic planning and intentional marketing that will keep the WNBA front and center year-round."
The contract will begin this season and run through 2027, will pay players an average of $130,000, guarantees full salaries while on maternity leave, and by 2021 players will have a 50-50 split of all league revenue—all based on the league gaining revenue growth from broadcasting deals, marketing partnerships, and licensing agreements.
"I was adamant on the 50-50 target," Engelbert said. "The league and players work together to market this league so we can share revenue with the players. We have to hit some targets."
The agreement also provides improved family benefits, travel standards, and other health and wellness improvements. Also, under the agreement, the maximum base salary would increase to $215,000 from $117,500, and the salary cap will go up 31 percent to $1.3 million in the first year—up from $996,000.
The rookie scale for the No. 1-4 picks will rise to $68,000 — an increase of about $15,000 from this year — plus the ability to qualify for league-guaranteed money under the marketing agreement.
"It was collaborative effort,'" WNBA players' union president Nneka Ogwumike said. "I think that we really all had the same things in mind and had different way of getting there. We really put our heads together and came with some ideas.
"We're hoping to lift, not just women in sports and women in basketball, but women in society.,"
This marks the fifth CBA for the WNBA since it launched in 1997, and like the previous agreement, there is a mutual opt-out clause after six years.
Other highlights of the new deal include:
–Minimum of $750,000 in prize money for special competitions beginning with the 2021 season.
— Increases in cash bonuses for performance awards (such as for WNBA MVP and Rookie of the Year), and newly created cash bonuses (such as for each player named to the WNBA All-Defensive First Team).
— Premium Economy class status (such as Comfort/Economy Plus) for all players for regular-season air travel.
— New, progressive family planning benefits of up to a $60,000 reimbursement for veteran players for costs directly related to adoption, surrogacy, oocyte cryopreservation or fertility/infertility treatment.
— The WNBA will work with its affiliated leagues, teams and sponsors to provide off-season job opportunities designed to prepare players for their post-playing careers and will advance diversity in coaching initiatives for veteran players interested in coaching careers.